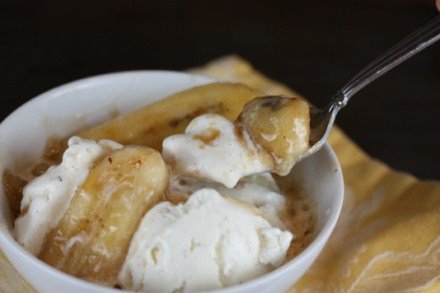 One of my girls loves bananas. She will eat them for breakfast, lunch, dinner, and snacks. And not only does she love bananas, she loves anything that contains bananas.
It has been several years since I made bananas foster, so when I saw them in a cookbook  that I have called Little Rock Cooks
, I knew it was time to try them again.
I am really not sure where I got this Little Rock Cooks
 cookbook, but I think it was a used book sale. I know I did not get it inLittle Rock, because I have never been to Little Rock.
It also has a copyright of 1972 and that is before I was even born, so I am guessing this is one I picked up used somewhere. But the fact that is is from 1972, or the fact that it is from a place I have never visited, does not bother me at all.
I love regional church or group type cookbooks, because they are usually full of everyday recipes that use everyday ingredients. And the women that usually put together these cookbooks can usually cook very well. Some of the best recipes you will find come from cookbooks like this.
This bananas foster was no exception. It was easy to make and so good over ice cream. If you love bananas and have never tried bananas foster, you really need to try them.
What is your favorite regional or church cookbook? 
Bananas Foster
6 bananas
lemon juice
1 cup brown sugar
1/2 cup butter
1/2 teaspoon cinnamon
Peel and half banana ingredients. Brush or toss with lemon juice and set aside.
Melt sugar and butter in a pan. Add bananas and cook until bananas are slightly tender.
Carefully stir in cinnamon.
Serve over ice cream and enjoy.