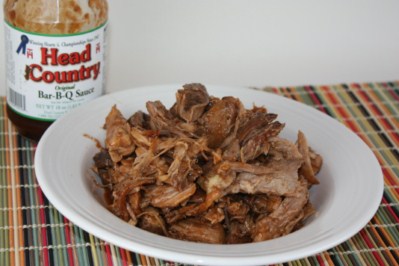 I have posted before how easy it is to do a quick barbecue pork in the crockpot. It is also a great meal to serve a large group because it is easy and pretty frugal.
I simple place a pork roast, usually a shoulder roast, into the crockpot and add about 1 cup of barbecue sauce.
I use Head Country brand of sauce, which is a local one, but you can use your favorite sauce. I then cook on low for 7-8 hours. When it is done, I shred the meat and add a little more sauce to it.
Recently though, one of my husband's staff members kept telling me that I should add a Dr. Pepper to my crockpot barbecue pork.
At first I was not sure what to think of this idea. First, of all we do not drink much pop. We rarely have any in the house.
Secondly, I was not sure what it would add or how it would enhance the flavor very much. But after several of my husband's staff kept telling me how good it was, I decided to give it a try.
I simply added about 12 ounces of Dr. Pepper to my pork and barbecue sauce when I put it in the crockpot and cooked it that same as I always had.
I was really surprised at how good this tasted and how much it added to my regular barbecue pork. It gave it a bit of a caramelized taste. It also gave it a little different texture than it normally had. It was really good. My whole family enjoyed this.
I might just have to keep a can of Dr. Pepper in the house to use in this recipe.
Have any of you tried this before? Or do you have another secret ingredient that you add to yours?
This post linked to Frugal Fridays.