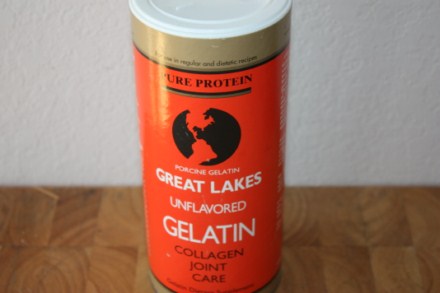 A few dessert and other type recipes call for gelatin, but it is definitely a more common ingredient in gluten free cooking. Now, I am not talking about the brightly colored, full of sugar and food dyes, gelatin. I am talking about the plain unflavored gelatin, like Knox brand.
The trouble with gelatin is it is expensive. Have you ever noticed how much that little box costs at the grocery store? It is really expensive to buy.
A few years ago, I learned a tip from a friend that has saved me a lot of money. She suggested that I buy my gelatin at the health food store. I had never thought to do that.
It made perfect sense. Gelatin is well, gelatin. It really would make no difference if it had the Knox name on it, why not buy it at the health food store.
Gelatin has become quite common for people to take for bone and joint problems, so many health food stores carry it. Not only do they carry it, it is much cheaper than you can buy at the grocery stores.
I used to use gelatin occasionally in recipes, but since eating gluten free, I am using it more often. Buying it at the health food store saves me quite a bit of money.
Where do you buy your gelatin?