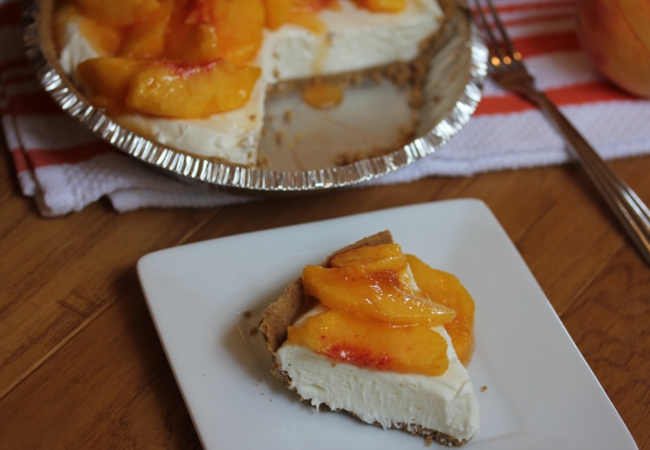 This delicious no bake peach pie has a creamy pie filling topped with peaches in a simple no bake crust. This pie is perfect for summer.
Last week I bought half a bushel of local fresh peaches. Fresh from the orchard peaches are the best. We ate most of the peaches fresh, but I knew that I wanted to use several of the peaches in a dessert.
As I was looking through the August Cooking Light magazine a recipe for no bake peach pie caught my attention. It looked so easy and so good that I knew I had to try it.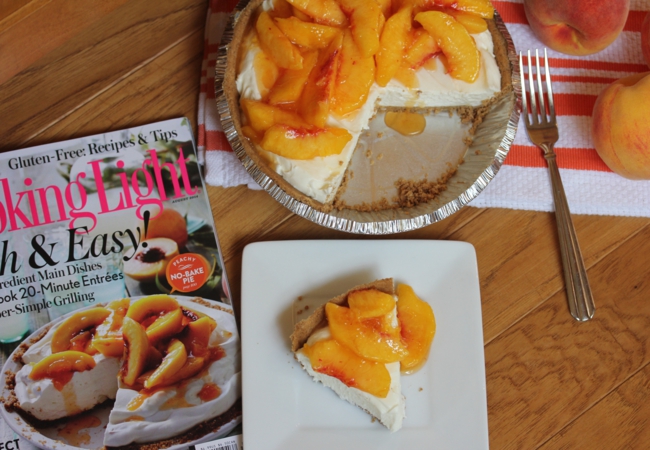 Doesn't that look delicious!
Often times when I make a recipe it looks nothing like the picture in the magazine or cookbook. This time however it looked almost exactly like the picture in Cooking Light. I am not sure if I have ever had a recipe turn out this close to the real thing. I had to take a picture of the pie next to the magazine just to show you how close it looked to the magazine version.
And not only did this peach pie look good, it also tasted good! We loved this. It was light and creamy and the perfect summer dessert.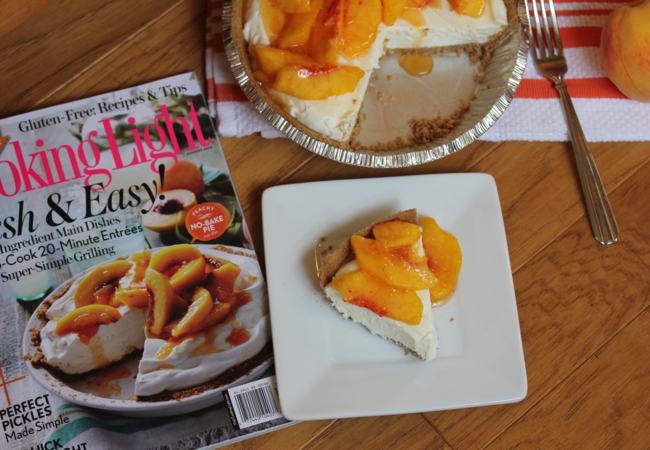 Because some in my family are gluten free I did change up the recipe slightly because I needed the crust to be gluten free. The original recipe was a version of a graham cracker crust, but it added melted white chocolate to the crumb mixture. This sounded like a great idea, but I did not have any gluten free graham crackers. I did however have a pre-made gluten free cookie crust.
I loved the idea of the flavor of white chocolate with the filling and peaches, so I decided to change it up and add melted white chocolate to the filling. It worked great. I got the flavor of the white chocolate and a crust that everyone in my family could eat.
I wrote the directions with the white chocolate added to the filling, but feel free to add it to the crust if you would prefer.
To do that you just mix the melted chocolate into the crust and press it into the pan. Freeze for 20 minutes or until set. And then make the filling as directed, but leave out the melted chocolate.
The recipe also called for peach schnapps, which I did not have and don't think I have ever bought, so instead of going out and buying some just for this recipe, I left it out. I am sure the pie would have tasted great with it, but it worked fine without it also.
If you love peaches, this is a must try summer dessert.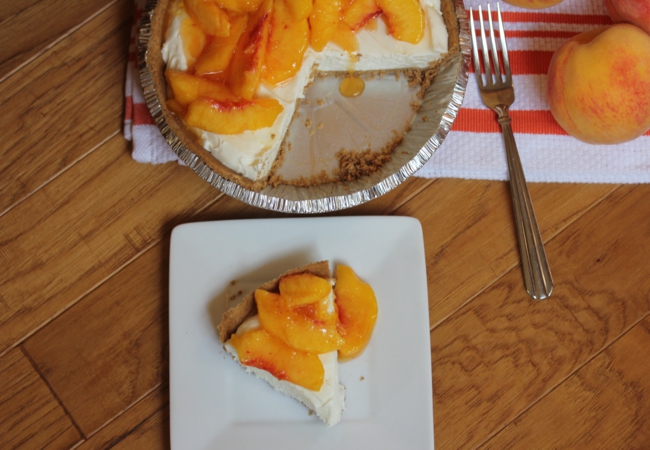 Yield: 12 pieces
No Bake Peach Pie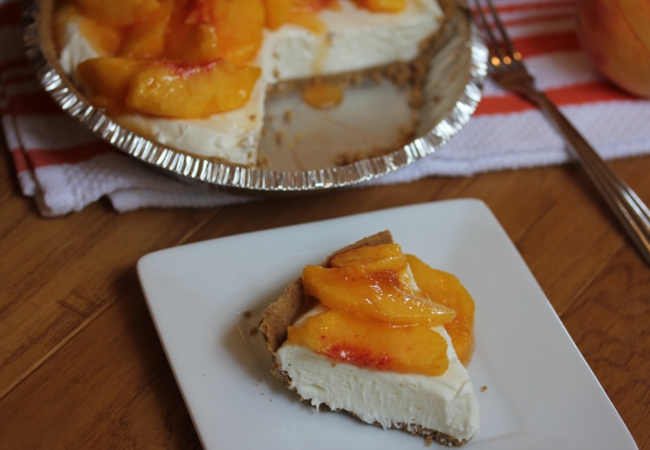 No bake peach pie is creamy, delicious, and perfect for summer.
Total Time
2 hours
10 minutes
Ingredients
1 graham cracker crust- I used a gluten free cookie crust
3 1/2 ounces white chocolate, chopped and melted
5 ounces 1/3 less fat cream cheese, softened (regular cream cheese would work also, but it would not be as light of a recipe)
1/3 cup powdered sugar
1/2 teaspoon vanilla
2 cups frozen whipped topping, thawed
2 tablespoons peach spread or jam
1/2 teaspoon lemon juice
3 peaches, peeled and cut into wedges
Instructions
In a bowl beat melted white chocolate, cream cheese, powdered sugar, and vanilla until smooth.
Fold in whipped topping.
Spread into graham cracker crust.
In a small bowl heat fruit spread in microwave for 30 seconds or until heated. Stir peaches and lemon juice into fruit spread and stir carefully to coat peaches.
Carefully spoon over pie filling.
Refrigerate for 2-4 hours or until pie is set.
Notes
If you are gluten free be sure to use a gluten free crust and read labels to make sure that the ingredients are safe for your family.
Nutrition Information:
Yield:
12
Serving Size:
1
Amount Per Serving:
Calories:

221
Total Fat:

11g
Saturated Fat:

6g
Trans Fat:

0g
Unsaturated Fat:

5g
Cholesterol:

4mg
Sodium:

101mg
Carbohydrates:

29g
Fiber:

1g
Sugar:

20g
Protein:

2g
Nutritional values are approximate and aren't always accurate.