On Monday my Facebook stream seemed to be full of negative stuff. I know there are a lot of negative and depressing things going on. All you have to do is spend a few minutes watching the news or reading the newspaper to see that, but so often we get stuck in the negative.
It is easy to look at our own lives and what is going on around us and see only the bad things. We all do this. But Monday I was tired of that. I wanted some positive and thought others could use a little positive as well. So I shared this on my Facebook page and on Instagram.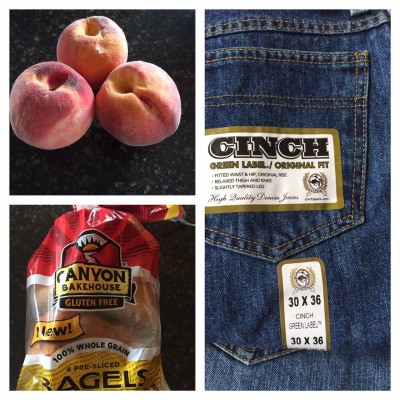 I keep seeing so many negative posts and updates on social media that I am thinking about changing it up and sharing some what I am thankful for posts. Because there is always something to be thankful for. So, today I am thankful for a morning run before it got hot, fresh peaches, gluten free bagels, and a farm and ranch store that actually had jeans in a 36 inseam for my son.
That post got quite a few likes and comments, so I think you all agreed with me that we could all use a little more positive in social media. So, this is what I shared on Tuesday.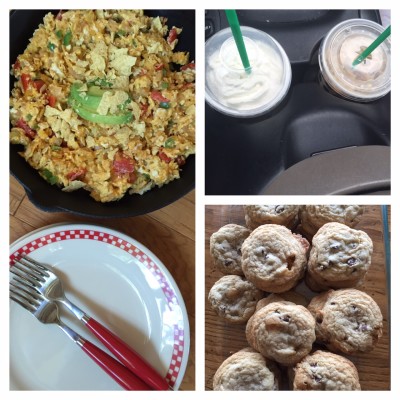 I enjoyed doing a what am I thankful for post yesterday and plan to do them often. Maybe not everyday but at least a few times a week. It is so easy to focus on the negative and not the positive. We all need more positive. So today I am thankful for pretty dishes and avocados that make not so pretty food look better. I am also thankful for homemade cookies and for Starbucks after a dr appointment with my coffee loving child.
And again you all enjoyed it. So I decided to share another one on Wednesday.
My son and I started a project Monday that involved taking down a large section of our deck. I have not had time to work on it again, but yesterday and today he went out and worked on it all by himself without being told he had to do it. He just went out and did it for a few hours both days. There are times when the teen years are really tough but then there are times like this when you realize it is all worth it. So today I am thankful for a son who likes to work. I will gladly turn this project over to him to finish. And it is not just the fact that he is working on it so I don't have to work on it. It is the attitude behind him doing it. He is throughly enjoying taking on this project and I am enjoying letting him. I am seeing a small glimpse of the man he is becoming. And just so you don't think we have it altogether we are still working on having the same willing attitude when it comes to math. 🙂
And yesterday I shared this.
I am enjoying these daily thankful posts because it is making me stop and think about the little things even on the crazy days. So today I am thankful for a new doctor who spent almost an hour talking with us and was willing to start thinking outside the box when it comes to controlling my daughter's asthma. And yes I am thankful even if it means more changes to our diet. She truly listened to our story, made suggestions, and took time to care. And I made sure to apologize to the staff for totally making the dr run behind. I am sure it messed up their whole morning that she spent so much time with us. I was thankful for the time she spent with us, but I did feel sorry for the patients that had to wait on her because she spent time with us. It makes you think about why Drs often run late. It is not usually their fault. It is often simply because they took time to truly care about a patient and it made them run behind. So I am very thankful for the time she spent with us.
Ok enough about Drs. I am also thankful for a homemade smoothie, finding items that make food allergies easier, and my crock pot that makes crazy days a little less crazy.
I am thinking about continuing to share thankful posts on Facebook and Instagram. It has been fun sharing them and it has made me really stop and think everyday about being thankful for the little things. I won't share them here on my site often, but I do think it would be fun to share at least a few a week on social media. Plus I love all the comments you all left about what you were thankful for.
What do you think? Should I keep sharing what I am thankful posts? And I would love to hear what you are thankful for this week!