My son's birthday was this week. We do not do a lot for birthdays. Neither my husband or I grew up having big birthday parities. In fact neither of us are really party people. We like simple things and keeping things simple.
Once we had kids, we never really thought about having a big party and going all out for birthdays. We prefer to keep it simple, with just family. And since we don't have a lot of family close by, it is easy to keep it simple. I do however let my kids pick what they want for their birthday cake each year. They always enjoy this and it is much cheaper than buying a cake.
The problem is I do not really enjoy cake decorating. I love to bake cakes. I love to spend time in the kitchen making a cake taste good. But I do not enjoy spending a lot of time making a cake look like something other than a cake. I love the results other people get when they spend the time doing it, just don't like to do it myself
In the past my kids have requested things like a baseball cake, a butterfly cake, a caterpillar cake, and a bunny cake. I have tackled all of these and they have turned out okay. My kids are usually thrilled, even if I am not, and that is what counts.
When I asked my son a couple of weeks ago what kind of cake he wanted for his birthday this year, he said, " A chocolate OU cake. " I asked him, what kind of OU cake because I was not sure what he was thinking. He said, "You know a chocolate cake with the letters OU on it. " I thought, wow that is easy, I can do that. For those who might not follow college sports, OU, as in the University of Oklahoma, is my husband and son's favorite college football team. And I know for all my family in OR, it is the wrong OU, but what can I say. I live in Oklahoma now.
So here is the OU cake.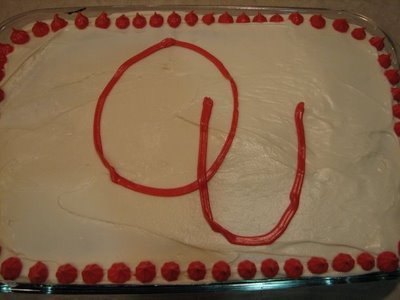 I was pretty happy at how the cake turned out. I made a chocolate cake, recipe coming soon, in a 9×13 pan and frosted it with cream cheese frosting. It was simple and pretty easy to do, especially since my cake decorating skills are quite lacking. The one mistake I did make though was that I should have tried to find a better color for the red. I used the gel paste, which is my favorite when coloring frosting, but red is tough to do. It takes a lot to get it red. My red looked more pinkish then it should. I thought it was okay, my son disagreed. He wanted to know why he had a pinkish, purplish cake, as he put it. But besides the color not being quite right, he was pleased.
For those of you that are new to my blog here are a couple of cakes I have tackled in the past.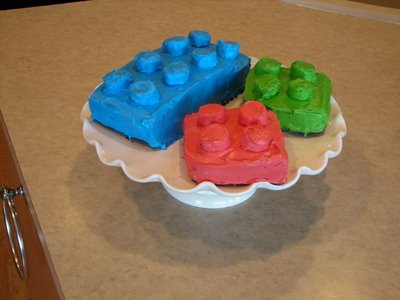 Lego Cake – I think this was my favorite of all the ones that I have done. It turned out really well.
Sunflower Cake – This cake is really easy and will serve a large group of people because of all the Twinkies. Kids love this one.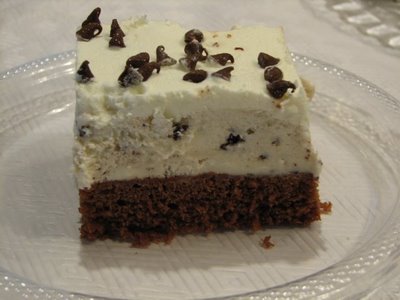 We also enjoy making Ice Cream Cakes and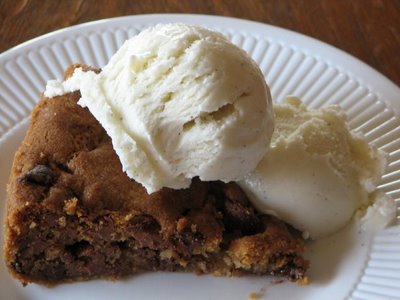 Cookie Cakes for birthdays.
And even though I am not big on parties in general, I have joined in on the fun of the Ultimate Blog Party 2009. I hope to find lots of new blogs and welcome to all of you who are visiting me for the first time. If you are here for the first time, let me tell you a little about myself.
I have been married for 14 years and have three kids. I grew up in the NW Oregon, but now live in Oklahoma. I love to cook and try new recipes. I am always looking for new things to make in the kitchen. Over the last year I have been trying to cook healthier and to get away from packaged foods due to my daughter's health. I don't always cook as healthy as I should, but I am trying. This blog is all about my adventures in the kitchen.