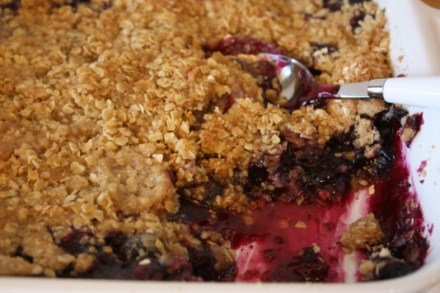 One of my favorite things about summer is all the fresh fruit that is available. From strawberries to blueberries we enjoy it all. And one of our favorite ways to enjoy fruit is in cobblers.
What I love about making cobblers is that they are quick and easy to make and contain everyday ingredients
This blueberry cobbler is the same basic recipe as my strawberry cobbler, but I used blueberries. This is so simple and so good.
I have made this with both fresh and frozen blueberries and it worked well either way.
And for my gluten free readers I posted my gluten free version in my allergy section. It is also really good.
Blueberry Cobbler
4 cups blueberries
½ cup sugar
2 tablespoons cornstarch
¾ cup brown sugar
¾ cup quick cooking oats
½ cup flour
½ cup butter
In a bowl toss blueberries with sugar and cornstarch.
In a separate bowl combine brown sugar, oats, and flour. Cut in butter until mixture is crumbly.
Place blueberry mixture in a 8×8 dish.
Sprinkle oat,flour mixture over the top of the blueberries.
Bake at 350 for 25-30 minutes.
Serve with ice cream or whipped cream.