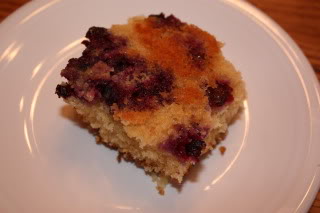 I made this cake recently with fresh blueberries. I have made blueberry coffee cakes before, but this is one of the best I have made. It was really good. It is a recipe from the Cook's Illustrated America's Best Lost Recipes cookbook. Cook's Illustrated rarely fails me. I love their recipes. And this one is no exception.
The Lost Recipe Cookbook is a really good cookbook. I have tried several recipes in it and they have all been good. I like this cookbook because they are old fashioned recipes like many of our mom's and grandmothers made. Some of the recipes are from the early 1900's. Others are old Pillsbury Bake Off recipes and others are recipes that have been passed on from generations. This is the same cookbook that my Milk Cake came from. If you like Cook's Illustrated books and magazines, I highly recommend America's Best Lost Recipes.

Blueberry Boy Bait Coffee Cake
2 cups all-purpose flour (Plus 1 tablespoon to toss with blueberries)
1 tablespoon baking powder
1 teaspoon salt
1 cup butter, softened
1/2 cup white sugar
3/4 cup packed light brown sugar
3 large eggs
1 cup milk
½ cup fresh or frozen blueberries, divided (if using frozen do not defrost)
Topping
½ cup blueberries fresh or frozen
1/4 cup white sugar
1/2 teaspoon cinnamon
In a bowl, whisk together flour, baking powder and salt.
In work bowl of mixer, cream together butter, white sugar and light brown sugar on medium-high until fluffy, about 2 minutes. While mixer is running, add eggs one a time. When well combined, alternate adding flour mixture and milk. Mix until just incorporated; do not over mix. Stir briefly by hand to finish.
Toss 1/2 c frozen blueberries with 1 t flour, then fold them into the batter.
Grease and flour a 9x13x2″ baking pan. Pour batter into prepared pan and spread evenly. Sprinkle remaining 1/2 c frozen blueberries evenly over the top of the cake batter. Stir cinnamon into sugar and sprinkle over the top.
Place pan in a preheated 350°F oven on the middle rack for 40-45 minutes or until a toothpick inserted in the center comes out clean. Cool in pan 20 minutes, then turn entire cake out onto a rack, then invert onto a cutting board or serving platter.