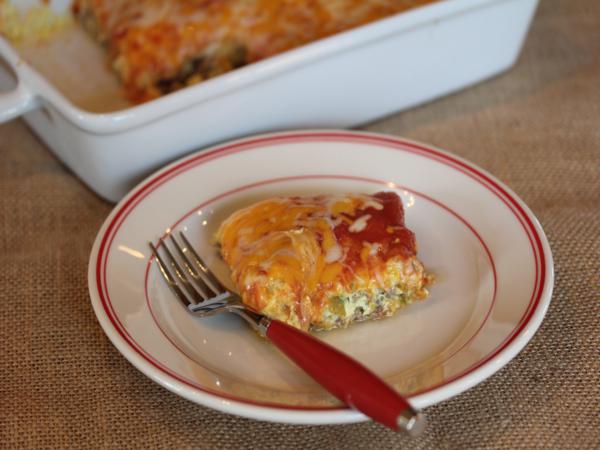 Chili Relleno Casserole is one of my family's favorite meals. It is quick and easy to make and everyone loves it. So, it seemed natural to turn the same basic idea into a breakfast version.
I simply replaced the ground beef with ground breakfast sausage and it was delicious. This works great for a breakfast or brunch, but also works well for breakfast for dinner.
Breakfast Chili Relleno Casserole
1 pound ground breakfast sausage
1 green pepper, chopped
1/2 teaspoon salt
1/4 teaspoon ground oregano
1/4 teaspoon garlic powder
2 cups shredded cheddar cheese
2 cups shredded monterey jack cheese
2 cans (4 ounces each) chopped green chilies
4 eggs
3/4 cup milk
1- 8 ounce can tomato sauce
In a skillet brown ground breakfast sausage. Add green pepper and cook until pepper is tender.
Add green chilies, salt, and spices to meat mixture and set aside.
In a bowl combine eggs and milk.
In a 9 x13 pan layer 1/2 of meat and about 1/2 cup cheddar cheese and 1/2 cup monterey jack cheese.
Add another layer of meat and another layer of cheese. Leave remaining cheese to use on top after baking.
Pour egg milk mixture over the top of the cheese.
Bake at 350 for 30 minutes. Remove from oven and spread tomato sauce over top. Then sprinkle with remaining cheese. Bake for 7 more minutes.
Remove from oven and let sit about 10 minutes before serving.
Enjoy!