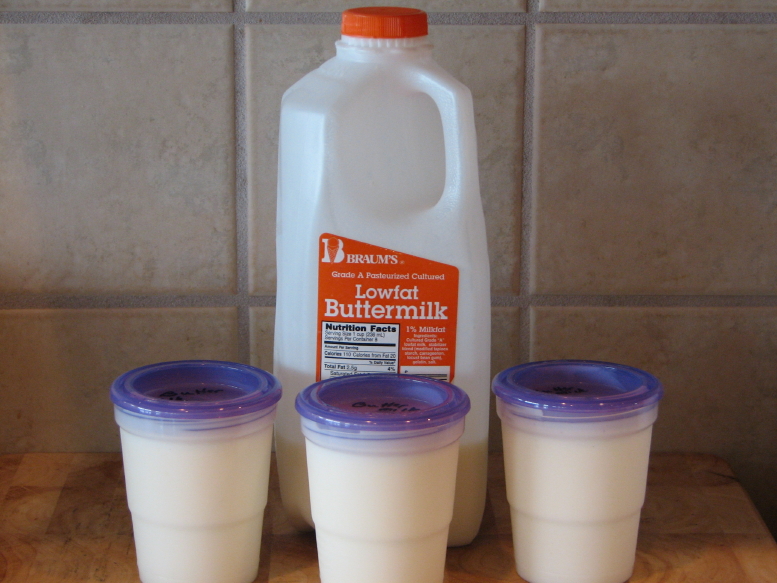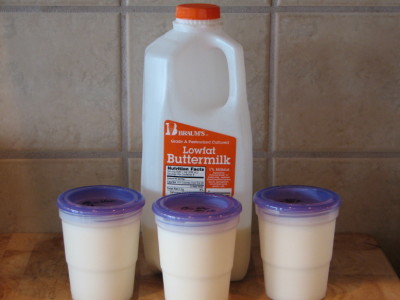 Whenever I post a recipe that contains buttermilk, like my cookie recipe yesterday, I usually get a few comments or emails from readers who say they do not keep buttermilk on hand.
You can almost always find buttermilk in my fridge, so not having it on hand seems odds to me. This got me thinking about buttermilk and whether or not most people keep buttermilk on hand.
To me buttermilk is a staple in my kitchen. I use it in pancakes, biscuits, muffins, quick breads, and even things like cookies. I have also made buttermilk syrup that we use on pancakes and waffles. Yes, I know you can buy buttermilk powder and I have used this before. I also know that you can substitute buttermilk by using 1 cup of milk and 1 tablespoon of vinegar or lemon juice. I have also done this a few times.
But I don't think either of those are as good as buying and using buttermilk. Buttermilk is thick and creamy; you can't get that texture with either the powdered buttermilk or the milk/vinegar trick. Buttermilk also has a unique tangy taste that I don't think the other options have. In my opinion things like biscuits are just not the same made without buttermilk. They are not as flaky or tender. I think the same goes for pancakes and other recipes that call for buttermilk. So, maybe this makes me a bit of a food snob, but buttermilk works for me better than any of the other options.
I know many of you probably do not keep it on hand because you won't use it all before it goes bad. But did you know that you can freeze it? I have done that before and it works great.
Today on Twitter I asked what others thought about buttermilk being a kitchen staple. Now I am really thinking that I am in the minority here. Most people don't keep buttermilk on hand. Here are some of the replies that I got on twitter.
Phoebe said, "I usually do not keep buttermilk–but I've slowly begun to realize that the real deal makes a HUGE difference! "
Amy said, "I just do the vinegar in milk trick. I'm sure buttermilk would be better, but I don't keep it on hand."
"I do the vinegar/milk thing too. Seems to work out alright for me, but I'm sure real buttermilk is tastier! " said Micropreemies. She also said that she has done this with my Buttermilk Chocolate Bread and it worked great.
"We try to keep buttermilk on hand as well. To me biscuits aren't biscuits with out buttermilk." said https://tia-mimi.blogspot.com/
Foodie Reflects said, "It's easy to make buttermilk with milk and lemon juice. I find in baking that I usually just need a little buttermilk & can't always find it in sm amounts. Easier to make it. "
So, now I am really curious, what do you think? Is buttermilk a kitchen staple in your house? Or do you think the milk and vinegar trick or buttermilk powder work just as good?