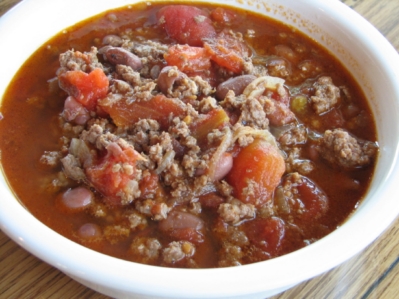 I saw this recipe a long time ago on the food network. It was on a show Sara Moulton was doing. We really enjoy chili and at the time I wanted a new recipe.
I gave this one a try and it has been a favorite since then. It is the chili recipe that I use the most. It is easy and really good. It does take some time to cook, but it is worth it.
This recipe contains a lot of chili powder so you may want to cut it back a little. I usually use about 2 Tablespoons. My husband would enjoy it with the full amount of chili powder, but it is too spicy for the rest of the family.
I hope you give this one a try. It really is good.

Cattle Drive Chili
1 pound ground beef
1/2 teaspoon salt
1/2 cup thinly sliced onions
1/2 cup boiling water
3 tablespoons chili powder combined with 3 tablespoons water
1 can whole peeled tomatoes, chopped ( Or use diced tomatoes, I use what I have)
1 tablespoon sugar
1 can red kidney beans
Season beef with salt.
Brown beef in hot skillet.
Add onions, water, chili paste, tomatoes, sugar.
Cover and simmer for 1 hour.
Uncover and cook for another 1/2 hour.
Add one can red kidney beans and cook until heated through.
Water can be added for desired consistency.
Serve and enjoy!