Cherries and chocolate combined together in this delicious Cherry Double Chip Cookie recipe!
I have decided that December 2020 is cookie month. It is a month for baking and sharing cookie recipes.
I recently shared five cookbooks that I bought in 2020. It is no secret that I love cookbooks and have an extensive collection.
Years ago I did a cooking through my collection series. Each week I would share a cookbook I loved. I would try a recipe from the cookbook and share what I liked and didn't like about it.
It was a fun series and a way to share cookbooks I loved and why I loved them.
One of my goals for 2021 is to use my cookbook collection more and I want to bring you along for the journey.
I am going old school back to my early days of blogging for this series. I will be sharing what I am cooking and what works and what doesn't work.
One of the cookbooks that I bought in 2020 was The Southern Cookie cookbook. It is a cookbook by Southern Living.
I love Southern Living cookbooks and have quite a few of them. Today I decided to start my 2021 cooking goal early and I am highlighting my new Southern Living cookie cookbook and a recipe from it.
The Southern Cookie Cookbook
If you love baking cookies or know someone that does this is a great cookbook!
It includes recipes for rolled cookies, drop cookies, filled cookies, and more. It has classic recipes and modern takes on classic recipes.
(And for those that are gluten free, this cookbook is not gluten free. My plan is to work on adapting some of the recipes to gluten free. When I do that I will try to share both versions like I am today.)
The recipe I am sharing today is for the Cherry Double Chip Cookies. I love the combination of chocolate and dried cherries so I knew that this was a recipe that I needed to try.
The results were delicious! My family loved them.
The recipe calls for almonds, but I think they are optional. Add them if you want them or leave them out if you don't want them.
Gluten Free Cherry Double Chip Cookie Recipe
If you are gluten free be sure to check out the gluten free version that I shared. You can find my recipe for Gluten Free Cherry Chocolate Chip Cookies over on GF Kitchen Adventures.
You can use a gluten free for these cookies, but they really do turn out better with the individual gluten flours so be sure to check out my gluten free version.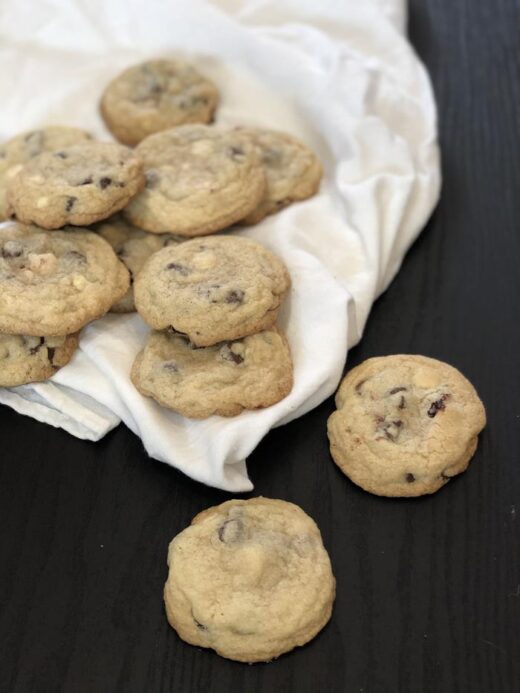 Yield: 5 dozen
Cherry Double Chip Cookies
Cherry Double Chip Cookies are a delicious cookie filled with two kinds of chocolate and cherries.
Ingredients
1/2 cup dried cherries
3/4 cup butter, softened
3/4 cup sugar
3/4 cup brown sugar
2 eggs
1 1/2 teaspoon vanilla extract
2 1/2 cups plus 2 tablespoons all purpose flour
1 teaspoon baking soda
3/4 teaspoon salt
12 ounces semisweet chocolate chips or chocolate chunks
1 cup white chocolate chips
1/3 cup slivered toasted almonds, optional
Instructions
Preheat oven to 350 degrees.
Microwave 1 tablespoon water and dried cherries in a bowl for 15 seconds. Stir. Microwave for 15 seconds more. Let stand 10 minutes. This helps soften the cherries.
In a mixing bowl combine butter, sugar, and brown sugar until creamy.
Add eggs and vanilla until well combined.
In a bowl combine flour, baking soda, and salt. Gradually add to butter mixture.
Stir in chips, cherries, and nuts if using.
Drop by tablespoonfuls onto cookie sheets.
Bakie for 9-12 minutes. Or until the desired degree of doneness.
Transfer to a wire rack to cool.
Nutrition Information:
Yield:
60
Serving Size:
1
Amount Per Serving:
Calories:

94
Total Fat:

6g
Saturated Fat:

3g
Trans Fat:

0g
Unsaturated Fat:

2g
Cholesterol:

13mg
Sodium:

76mg
Carbohydrates:

12g
Fiber:

0g
Sugar:

10g
Protein:

1g