Chicken Salad with Tomatoes and Bacon is easy to make and can be used in so many different ways.
I love not only quick and easy recipes, but recipes that can be used in several different ways. This chicken salad with bacon and tomatoes is a perfect example of that.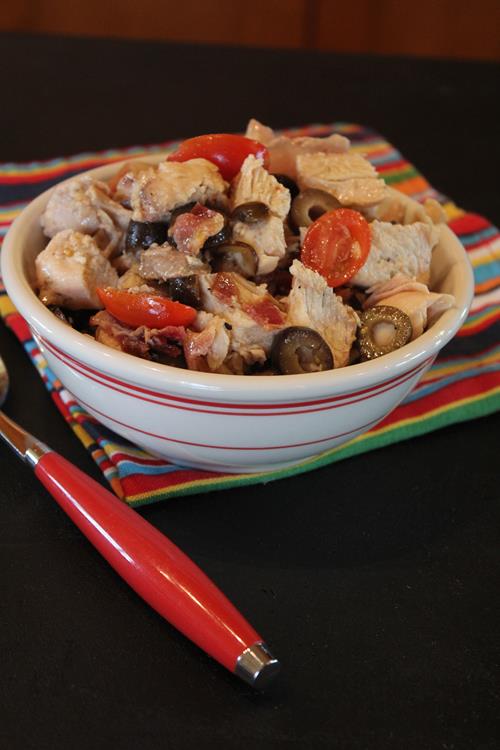 This is a new favorite at our house and it is perfect for this time of year.
This chicken salad is so easy to  make and can be served in several ways. We love it just served as is in a bowl. It can also be served on lettuce for a main dish salad.
It is also delicious served as a wrap. We used some of it with lettuce and gluten free tortillas and it was so good.
You can also eat this on bread like you would a regular chicken salad.
See what I mean about this being used in so many different ways. Next time I make it I think I will make extra dressing and add some pasta for a simple pasta salad.
Chicken Salad with Bacon and Tomatoes
6 cups cooked chicken
1- 6 ounce can black olives, drained and sliced
1/2 pound bacon, cooked saving 5 tablespoons of the grease for the dressing
2 cups cherry tomatoes, cut in half
shredded cheese, optional
2 cloves garlic, minced
5 tablespoons reserved bacon grease, or oil
1/4 cup cider vinegar
2 tablespoons dijon mustard
In a bowl whisk together garlic, bacon grease, vinegar, and mustard. Set aside.
In a large bowl combine chicken, bacon, tomatoes, and cheese if using.
Add dressing to chicken mixture and stir to combine.
Serve as is or on lettuce for a salad or as a filling for wraps.