This gluten free deep dish pizza is so good that even the non gluten free people in my family love it!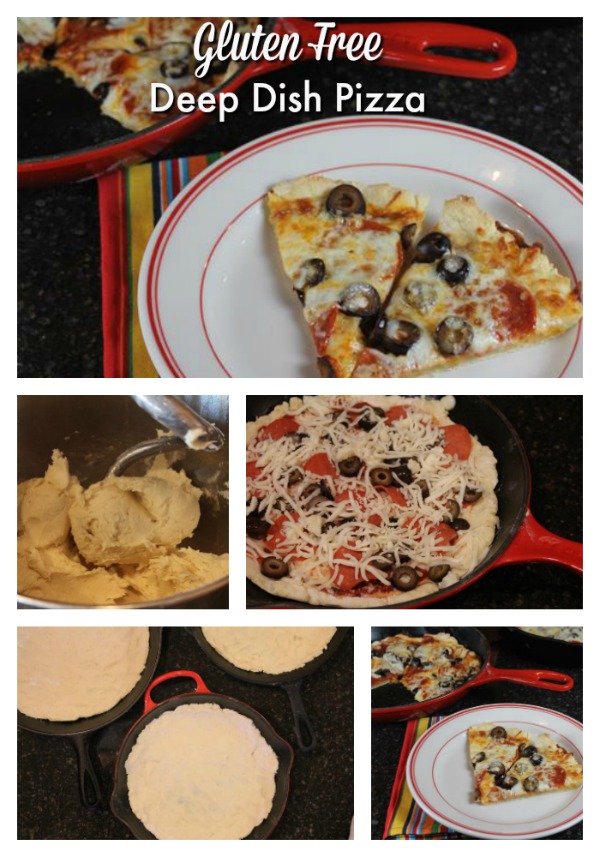 Over the last few months I have shared pictures of my gluten free pizza cooked in cast iron pans on Instagram and Facebook. Many of you asked for the recipe, but I was still working on getting it just right.
Well, I finally have it just how I want it and today I am sharing it with you!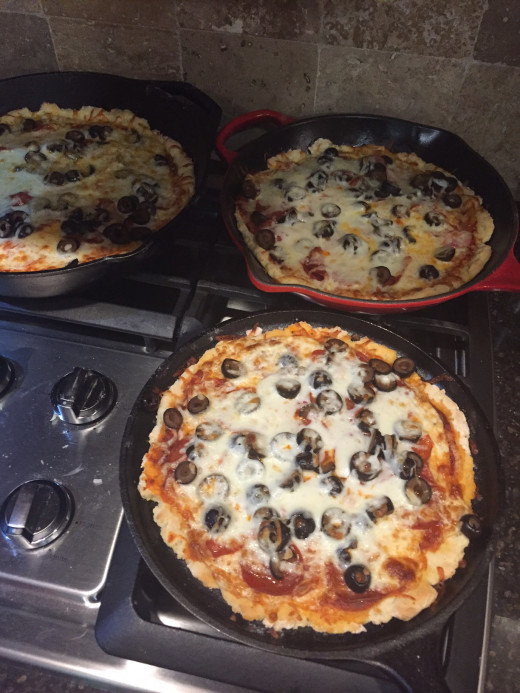 I am sorry that it took me so long to share this recipe. I really wanted to get it just right. This is one of those recipes that took me forever to get how I wanted it. I have been working on this pizza crust for at least 2 years.
I kept changing up the flours and the amounts. I played around with the xanthan gum until I got it just right.
And then I changed up the pans I cooked the pizza on.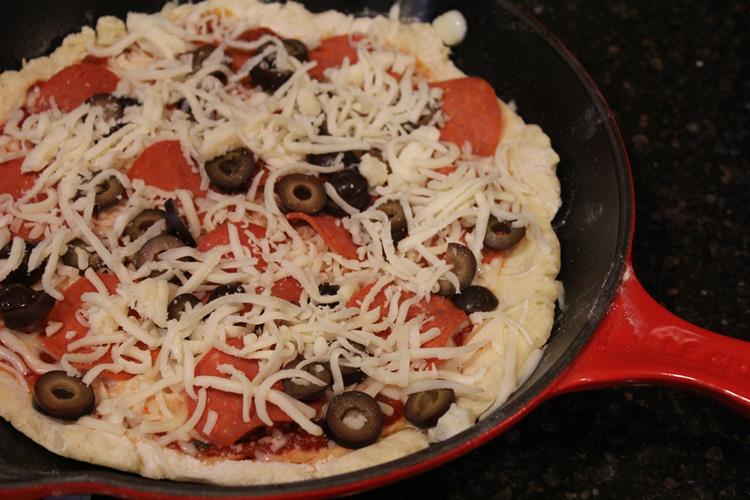 It may not be the prettiest of homemade pizzas, but it is delicious and you can't always say that about gluten free pizza.
My favorite way to cook this pizza crust ended up being in cast iron pans. Cooking it in cast iron pans gives it a deep dish style pizza that we loved. But if you don't have cast iron pans you can still make this pizza. It won't be 100% the same, but it is still very good.
If you don't have cast iron pans, or don't have enough to do several pizzas, you can press this dough into a pyrex pan to make it deep dish style or press it out onto a cookie sheet that has been lined with parchment paper for a thinner gluten free pizza crust.
This dough is pretty versatile, so no matter how you make it, it is so good. It has become my favorite pizza dough to work with. Cooking it in cast iron though is definitely my favorite way to cook it.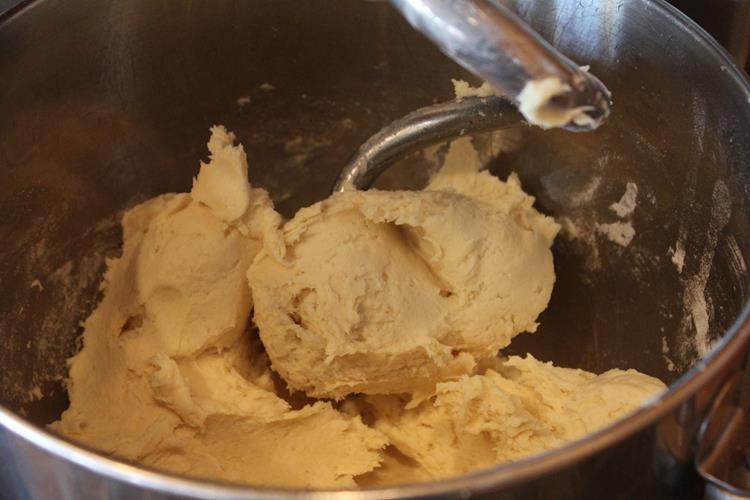 I love this gluten free dough. It is not the exact same as regular pizza dough, it doesn't have gluten, so it won't be, but it is one of the easiest gluten free yeast doughs that I have worked with.
It is slightly sticky when pressing it out, but it is not as bad as many gluten free doughs that I have worked with and a little gluten free flour on your hands and dough keeps it from sticking as much when pressing it out.
I make this recipe in three cast iron pans. You can really vary though what you make it in. If you want a deeper thicker crust you can make it in two or three pans. If you want a thinner crust use four pans. Or make it in one cast iron pan and one cookie sheet or pizza pan.
And even if you don't like deep dish pizza I think you will like the results with cooking pizza in cast iron. It helps the crust crisp up and gives it a great texture. If you don't like a thick deep dish type of crust, just press it out thinner in the cast iron pan.
On gluten free pizzas I also prebake the crust. I bake it for about 8 minutes than I top it and bake it for 8-10 more minutes. I have found that prebaking the crust seems to give it the best texture.
One of the things I get asked all the time when it comes to gluten free baking has to do with gluten free flour blends and if they will work in specific recipes. If you have read my site for long you know that I am not a huge fan of gluten free flour blends. I do use them some and they work in some things, but this recipe is not one of them.
I have tried this recipe many times with several blends and it is just not the same. Yes, it works and you can eat it. It is okay, but it is not the same.
If you want the best gluten free pizza dough use the individual flours. It really does make a big difference in the final results because you control the flours and the amount of gums in the recipe. You can't control those things with a blend.
Now for the recipe!
Yield: 10
Gluten Free Deep Dish Pizza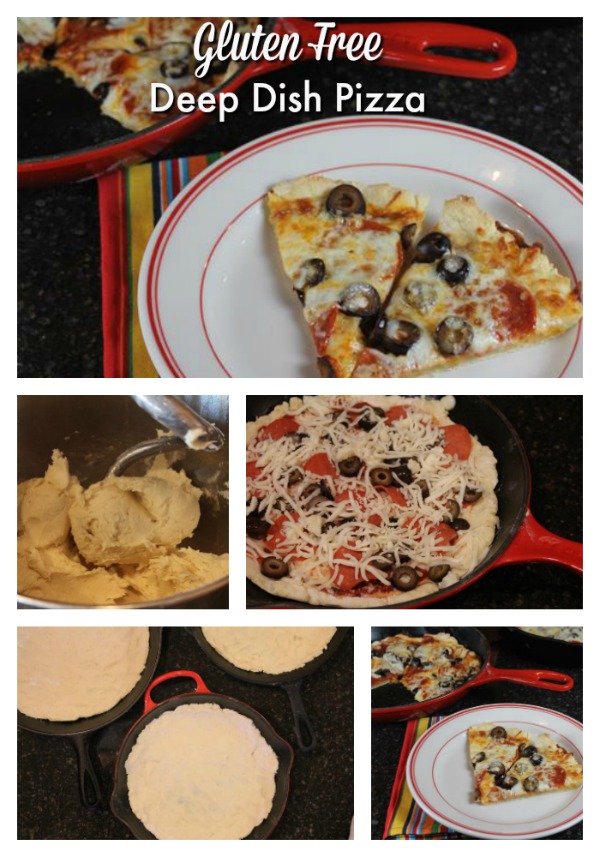 Gluten Free Pizza can be delicious with this deep dish gluten free pizza.
Total Time
1 hour
35 minutes
Ingredients
2 tablespoons active dry yeast
2 cups warm water (about 110 degrees)
1/3 cup oil
1/4 cup sugar
1 egg
1 teaspoon salt
1 1/2 tablespoons xanthan gum
1 cup white rice flour
3/4 cup brown rice flour
3/4 cup sweet rice flour
3/4 cup potato starch
1/3 cup tapioca starch
pepperoni
shredded cheese
pizza sauce and other pizza toppings
additional white rice flour for pressing out dough
Instructions
In a mixing bowl dissolve yeast in warm water. Add in sugar and let sit for 5 minutes.
Add remaining ingredients, adding xanthan gum last.
Mix using the dough hook of an electric mixer and mix for about 5 minutes or until well combined and dough forms. Scrape down sides of bowl as needed while mixing. This will not be the same texture of normal dough, but you do want to mix for about 5 minutes. If dough is too sticky add a few more tablespoons of white rice flour.
Remove bowl from mixer and cover the bowl with a kitchen towel or plastic wrap. Let dough rise for about 1 hour.
Punch dough down and divide into two, three, or four chunks of dough depending on how many pizzas you are making.
Sprinkle 2-3 tablespoons of rice flour onto each chunk of dough and knead slightly. This helps the dough not be quite as sticky.
Press each chunk of dough into a cast iron (or other similar) pan using a little more rice flour on your hands and dough as needed. You will need some rice flour, but be sure not to add too much more rice flour.
Bake at 425 for 8-9 minutes.
Remove from oven and spread with pizza sauce and other pizza toppings.
Return to oven and bake at 425 for 8-10 more minutes.
Remove from oven and cut into slices. Or carefully remove pizza from pan onto a cutting board and cut into slices.
Enjoy!
Nutrition Information:
Yield:
10
Serving Size:
1
Amount Per Serving:
Calories:

534
Total Fat:

17g
Saturated Fat:

4g
Trans Fat:

0g
Unsaturated Fat:

11g
Cholesterol:

23mg
Sodium:

433mg
Carbohydrates:

85g
Fiber:

4g
Sugar:

6g
Protein:

10g