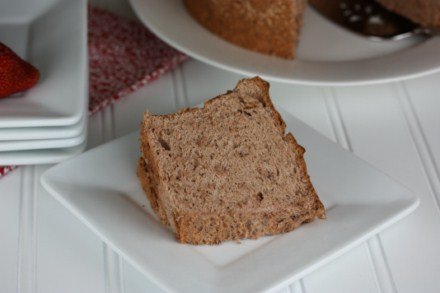 Many people love Angel Food cake and eat it often, but have you ever had Chocolate Angel Food Cake?
I have been making this recipe for years. I remember my best friend and I making this cake when we were teenagers. It is so good and makes a very impressive dessert.
I was recently adapting this recipe to be gluten free and I realized that I had never post the original recipe on my site. I knew I must fix that because this is too good of a recipe not to share.
This cake is perfect on it's own, but if you want to make it even more special, you can serve it with my chocolate whipped cream.
And for my gluten free readers you will want to check out the gluten free recipe Chocolate Angel Food Cake that I shared in my allergy section today.
Chocolate Angel Food Cake
¾ cup cake flour (it does work better if you use cake flour)
1 ½ cups sugar plus 2 tablespoons
¼ cup baking cocoa
1 ½ cups eggs whites, room temperature
1 ½ teaspoons cream of tartar
¼ teaspoon salt
1 ½ teaspoons vanilla extract
Sift together flour, ¾ cup plus 2 tablespoons sugar, and cocoa. Set aside
In a large mixing bowl beat egg whites, cream of tartar, salt, and vanilla until foamy.
Add remaining ¾ cup sugar 2 tablespoons at a time.
Continue beating until stiff peaks form.
With a rubber scraper fold in flour mixture a few tablespoons at a time. Mixture will be thick, but do not over beat the mixture. Gently fold in the flour.
Spread into a 10 inch tube pan (not a bundt pan)
Bake at 350 for 40-45 minutes or until the top of the cake springs bake when lightly touched.
Immediately invert the cake and leave upside down in the pan to cool.
Once cooled run a knife a long the sides of the pan and remove cake.
Serve with chocolate whipping cream if desired. This is also good with fresh fruit.
Adapted from Taste Of Home