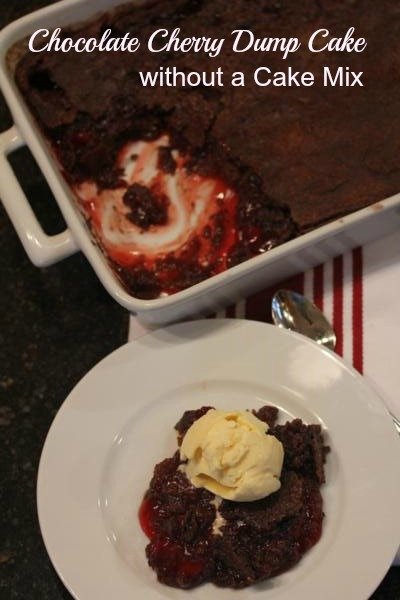 Chocolate cherry dump cake without a mix is so easy to make and only calls for a few ingredients.
Over the past few weeks I have shared several dumps cakes with you including a peach dump cake without a mix and a pumpkin dump cake without a mix.
Today I have another one that is great because it doesn't use a cake mix. This recipe is for the chocolate cherry version.
It is simple and delicious! It is perfect for those times that you need a quick dessert.
And if you are gluten free I will share the gluten free version of this later this week!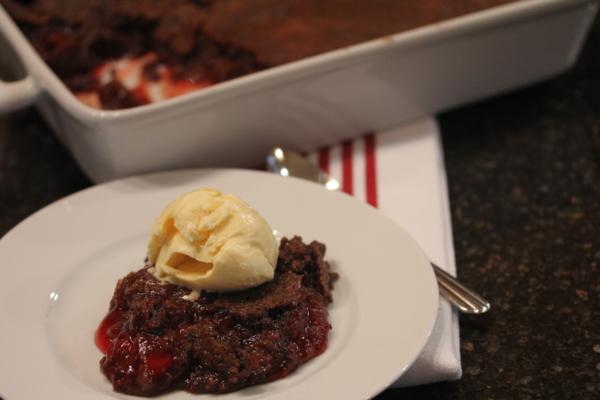 Chocolate Cherry Dump Cake without Cake Mix
A classic dump cake made better without the use of a cake mix.
Ingredients
1 cup flour
¼ cup baking cocoa
1¼ cup sugar
2 teaspoons baking powder
½ teaspoon baking soda
¼ teaspoon salt
2- 20 ounce cans cherry pie filling
½ cup chocolate chips ( Optional but good)
¾ cup butter, melted
Instructions
Preheat oven to 350 degrees.
In a bowl combing flour, cocoa, sugar, baking powder, baking soda, and salt.
Spread cherries into a 9x13 pan.
Sprinkle chocolate chips over cherries if using.
Sprinkle flour mixture over cherries evenly. Shake pan slightly to even out flour and distribute it slightly.
Slowly drizzle melted butter over flour mixture.
Bake for 50-55 minutes or until cake topping is set.
Serve plain or with ice cream or whipping cream.