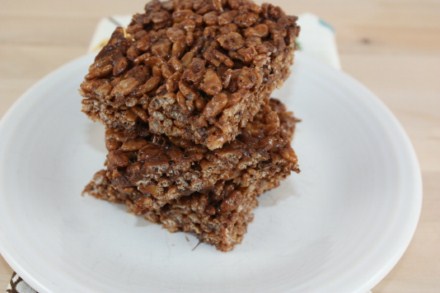 My kids love rice krispy type treats. Well okay, my husband and I love them too.
However, I like my rice krispy treats doctored up a little. Plain ones are good, but fancy rice krispy treats are even better.
Today's treats are chocolate rice krispy treats. Now, most of the time people just buy chocolate rice krispies  or another type of chocolate cereal to make them. I have made them that way, but this recipe today is my favorite way to make chocolate rice crispy treats.
What do I do to make these special? I add cocoa, and not only do I add cocoa, I add chocolate chips that melt into the marshmallows. The combination of the cocoa and chocolate chips makes for the perfect amount of chocolate.
These are really good!

Chocolate Rice Krispy Treats
6 tablespoons butter
1 (10 ½ ounce) bag of mini marshmallows
¼ cup cocoa
8 cups of rice krispy cereal (I used the gluten free kind)
½ cup chocolate chips
In a large pan melt butter, marshmallow, and cocoa over medium heat, stirring constantly until melted.
Remove from heat and add cereal. Stir until well combined.
Stir in chocolate chips until melted.
Press into a greased 9×13 inch pan.
Let sit for several hours, and then cut into bars. These are not quite as firm as regular rice crispy treats. I put them in the refrigerator to help them firm up.
Enjoy!