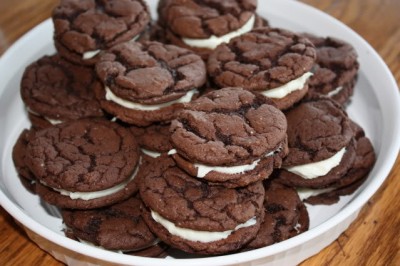 I first had these cookies when a friend brought them to a church dinner. As soon as I had one I had to find out who brought them, so that I could get the recipes. I went around asking all the ladies who brought them and I finally found out who had made them.
I loved these cookies and my husband's staff also thought these were really good. They have a little bit of a brownie taste and texture, but yet they are a cookie, and the frosting in the middle makes them even better.
As soon as I saw the recipe, I knew why I liked them. The cookie recipe is very similar to one of my favorite quick and easy cookie recipes and the frosting is basically the same as my all time favorite frosting. Someone was just smart enough put the two together.
The recipe originally called for you to put food coloring in the frosting. My friend just left the frosting white and so did I. However, I think these would be a great quick cookie for the holidays. You could do green and red for Christmas, yellow and pink for spring, orange for fall, etc.
I hope you give these a try. Your family will love them. And thanks Beth for the great cookie recipe.

Chocolate Sandwich Cookies
2 packages (18-1/4 ounces each) devil's food cake mix
4 eggs, lightly beaten
2/3 cup vegetable oil
Frosting
1 package (8 ounces) cream cheese, softened
1/2 cup butter, softened
3 to 4 cups confectioners' sugar
1/2 teaspoon vanilla extract
Red and/or green food coloring, optional
In a bowl, beat cake mixes, eggs and oil (batter will be very stiff). Roll into 1-in. balls. (I used a small cookie scoop/melon baller so they were all uniform) Place on ungreased baking sheets and flatten slightly. Bake at 350° for 8-10 minutes or until a slight indentation remains when lightly touched. Do not over cook. You want these to be chewy not hard. Cool.
In another bowl, beat cream cheese and butter. Add sugar and vanilla; mix until smooth. If desired, tint with food coloring. Spread on bottom of half of the cookies. Top with remaining cookies