Thank you for your comments on my post about buying a blender. I went ahead and spent my prize money on a Vitamix. After researching it, chatting with a few friends, and hearing what your comments were, I decided it was worth buying a Vitamix. I knew that if I was ever going to buy one, now was the time since I had my prize money. I doubt I would have ever spent the money otherwise.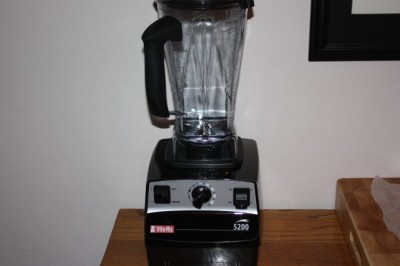 Well, it came on Thursday. My husband called me and told me it was at his office. You see we have all packages delivered to his office, because we have dogs that like to eat packages. One time they chewed up a whole box of books from Amazon. Now, every time we use those school books we think of our dogs. Ever since they chewed the books up, we ship all packages to the office.
Most of the time this works great becaue my husband just brings any packages home with him. However, I really wanted my Vitamix. I really, really wanted to try it out. But I could not justify driving in to the office just to get it a few hours earlier. So, I waited patiently, or maybe not so patiently, until he brought it home. I tried it out right away and I have used it four more times since then.
And all I can say is WOW! It is quite the machine. Even my husband who really has no interest in my kitchen appliances or gadgets was impressed by this machine. This thing has some major power. I was amazed at all the things it can do. I can't wait to try it out some more.