Need an easy and delicious snack or dessert? Try Chocolate Yogurt!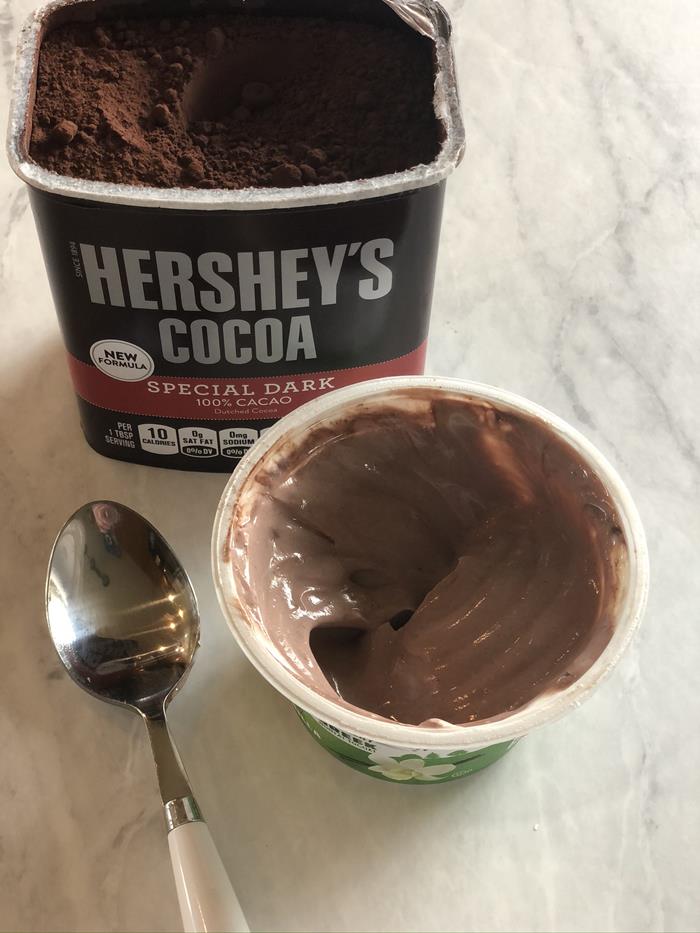 This really isn't much of a recipe. I almost didn't share it. But since I have been enjoying it almost everyday, I thought you might enjoy it too!
We all need quick and easy recipes right now. I doubt that I am the only one that feels like they are in the kitchen way more than normal right now.
Between breakfast, lunch, dinner, and snacks for everyone at home right now the kitchen is getting a lot of use.
This idea of chocolate yogurt is not original to me. I have seen several versions of it online and finally decided to give it a try.
The other versions that I have seen called it something entirely different. Since it is yogurt and chocolate, I am just going to call it what it is, which is chocolate yogurt.
All you need to make this are two ingredients!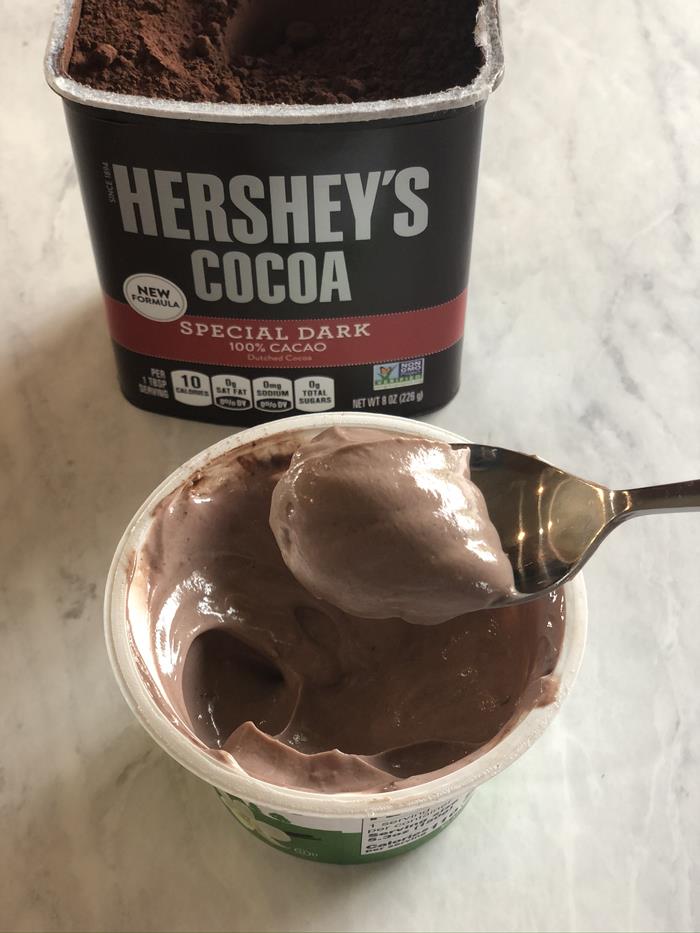 You need Greek vanilla yogurt and dark or dutch processed cocoa. That is it!
You stir one or two teaspoons of cocoa into the yogurt. Stir well and enjoy!
I like about two teaspoons of cocoa in mine, but my daughter used a little bit less. Start with about a teaspoon and add more until you get the chocolate taste that you want.
The original versions of this that I have seen on social media used plain yogurt or plain Greek yogurt and Stevia or a natural sweetener.
Right now I am about using what I have. I didn't have any plain yogurt, but we had quite a bit of Greek vanilla yogurt.
I rarely have plain yogurt because we just don't use it that often, but we almost always have Greek Vanilla yogurt on hand because two of my kids love it.
I also didn't have any Stevia. In general I don't use it. I have had trouble finding one that we like and I kind of gave up finding one.
So instead of sweetening plain yogurt I just used an already sweetened vanilla yogurt. It worked great! I love this chocolate yogurt.
I have made this with several different brands of Greek yogurt and they all worked fine. Dark or Dutch processed cocoa works way better for this. It gives it a better flavor.
I have been enjoying this for an easy lunch, snack, and even dessert! I also tried it with a coconut milk yogurt and it worked fine as well for a dairy free version.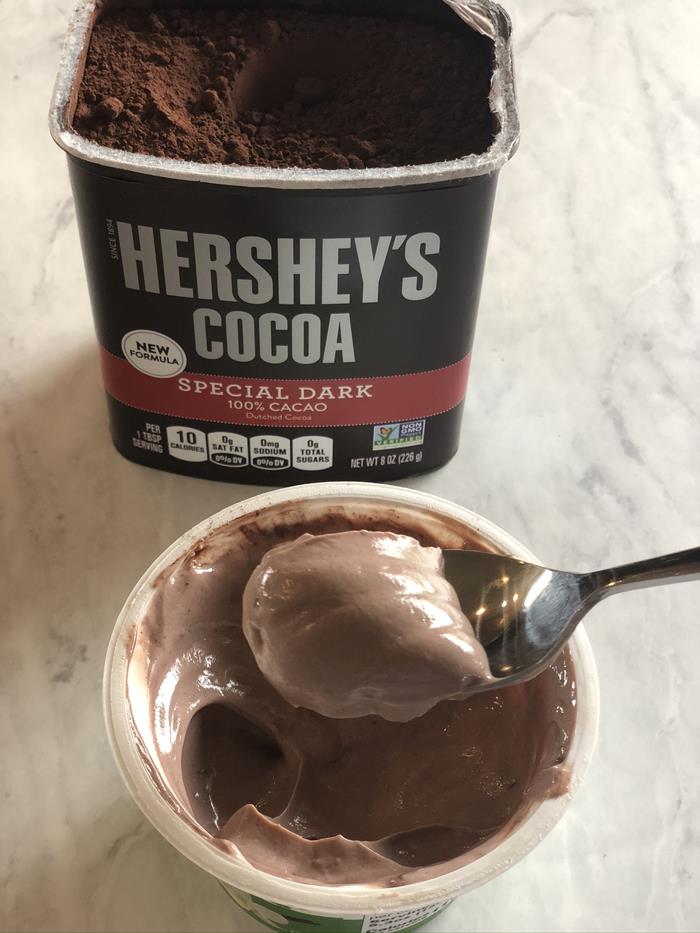 Yield: 1 serving
Chocolate Yogurt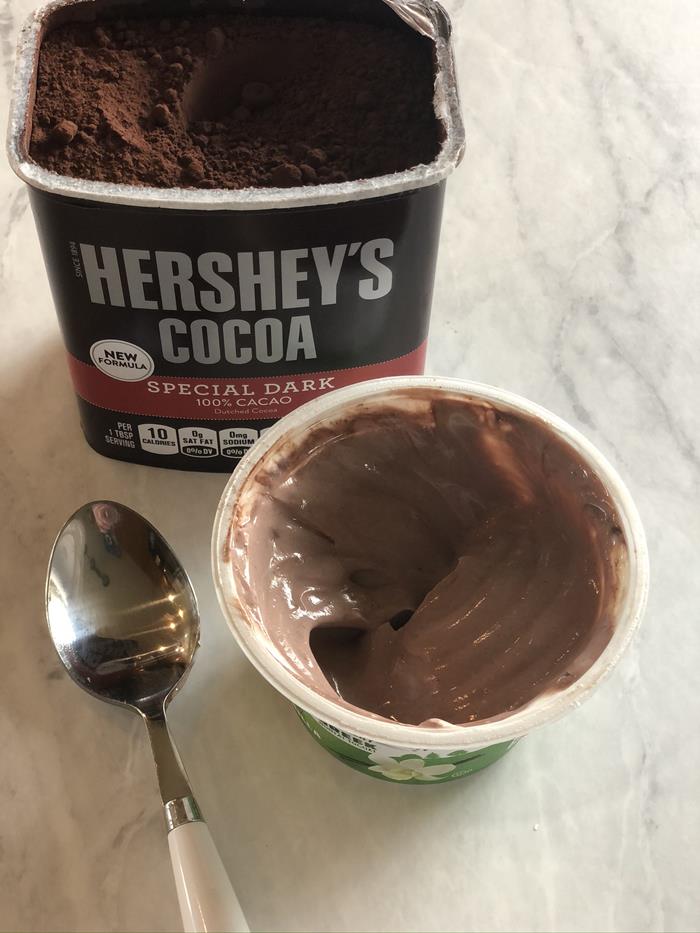 Two ingredients are all you need for this easy breakfast, lunch, snack, or dessert.
Ingredients
1 - 6 ounce Vanilla Greek Yogurt
2 teaspoons Dutch or Dark Chocolate Cocoa
Instructions
Stir 1 teaspoon of cocoa into yogurt. Stir until combined. Add more cocoa as desired for taste.
Nutrition Information:
Yield:
1 serving
Serving Size:
1
Amount Per Serving:
Calories:

205
Total Fat:

4g
Saturated Fat:

2g
Trans Fat:

0g
Unsaturated Fat:

1g
Cholesterol:

6mg
Sodium:

60mg
Carbohydrates:

26g
Fiber:

3g
Sugar:

21g
Protein:

16g