Are your kids constantly hungry and asking for snacks? Or do you need some easy on the go snacks? Try Homemade Trail Mix!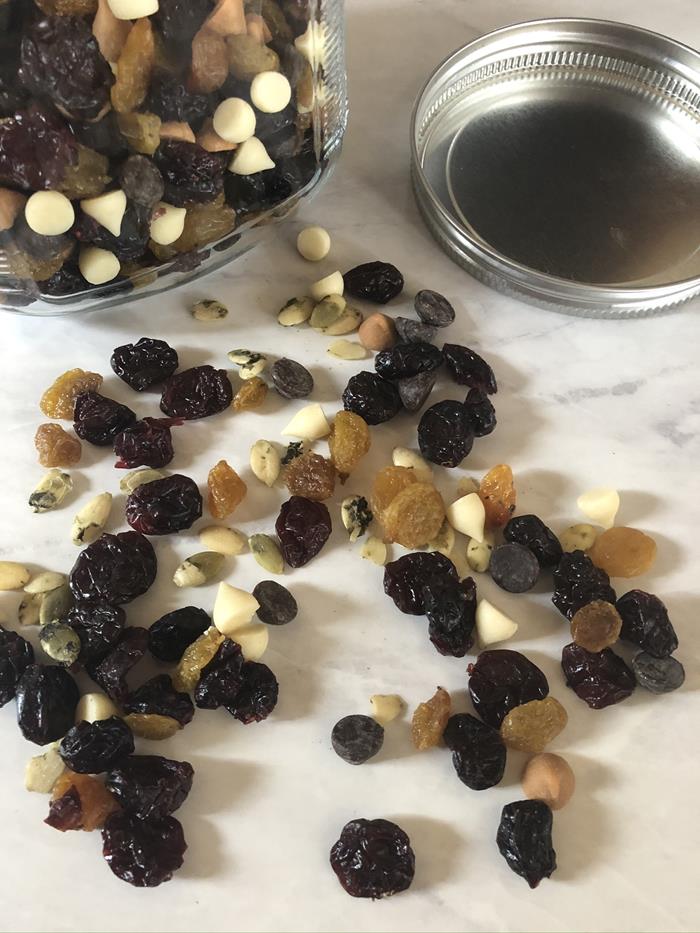 Homemade trail mix is one of my favorite things to keep on hand for my kids to grab for a snack.
My daughter recently informed me that I needed more snack recipes on my site. She said that many families are staying at home right now and need more ideas for easy snacks.
After looking around my site I realized that she is right. I don't have very many snack ideas.
My chex granola bars make a great snack. Homemade nut free Larabars and chocolate yogurt also make great snacks. But besides a few recipes, I haven't share a lot of snacks over the years.
It is time to fix that!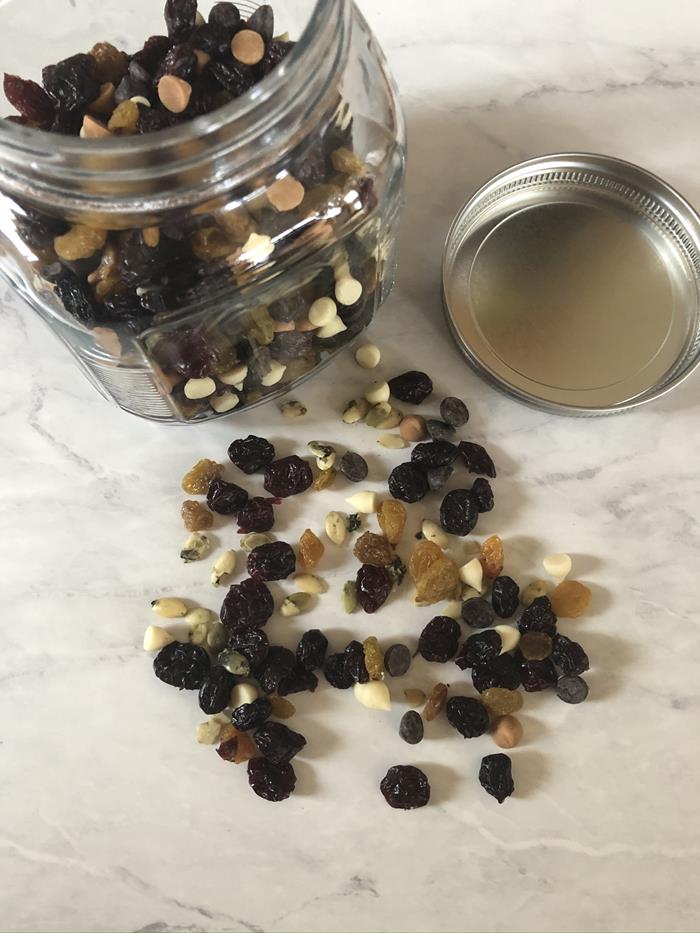 I almost didn't share how I make homemade trail mix because it is so easy and basic. It really isn't a recipe. But I think that my daughter is right. People need some ideas for easy snacks right now.
I made a jar of homemade trail mix earlier this week and it was gone in two days. That is how much my kids love it. I think your family will too!
When I was looking through my archives for snack recipes, I did find a post from 2009 where I shared a little bit about hungry kids, kids helping in the kitchen, and homemade trail mix.
This is the picture I used way back in 2009.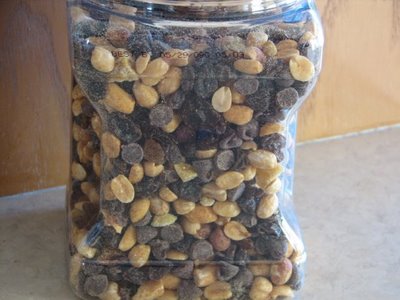 That picture is from before my daughter developed her peanut allergy. I would take a peanut jar that was had just a few peanuts left and I would add dried fruit and chocolate right into the jar. I would mix it up and let my kids snack on it.
Using the peanut jar worked great. So save your peanut jar or container for your homemade trail mix.
I now leave out the nuts and use pumpkin seeds instead. But that is what is great about homemade trail mix. You can make it your own.
Often times store bought trail mixes contain something that no one likes. When you get to the bottom of the bag or container there is often a whole bunch of one thing. Or is that just my family that does that?
When you make your own you can pick and choose what goes into it.
That is why this really isn't a recipe. I use a couple of cups of dried fruit. Raisins, craisins, dried cherries, golden raisins, and just about any other dried fruit works.
For the salty part I use pumpkin seeds, but other seeds and nuts work too. You can even add pretzels to it.
For the sweet part I use whatever I have on hand. It is a good way to use up those random odds and ends of chocolate chips that you might have. For the jar I made recently I had a few white chocolate chips and butterscotch chips that I added to it.
When my kids were little they loved it when I added M&M's to the mix. You really can change it up and make it your own.
This also makes for a great snack or lunch on the go. We like to mix it up and put it into small zip top bags or containers so that we can just grab it if we need a quick snack to take with us.
If you have never made homemade trail mix give it a try!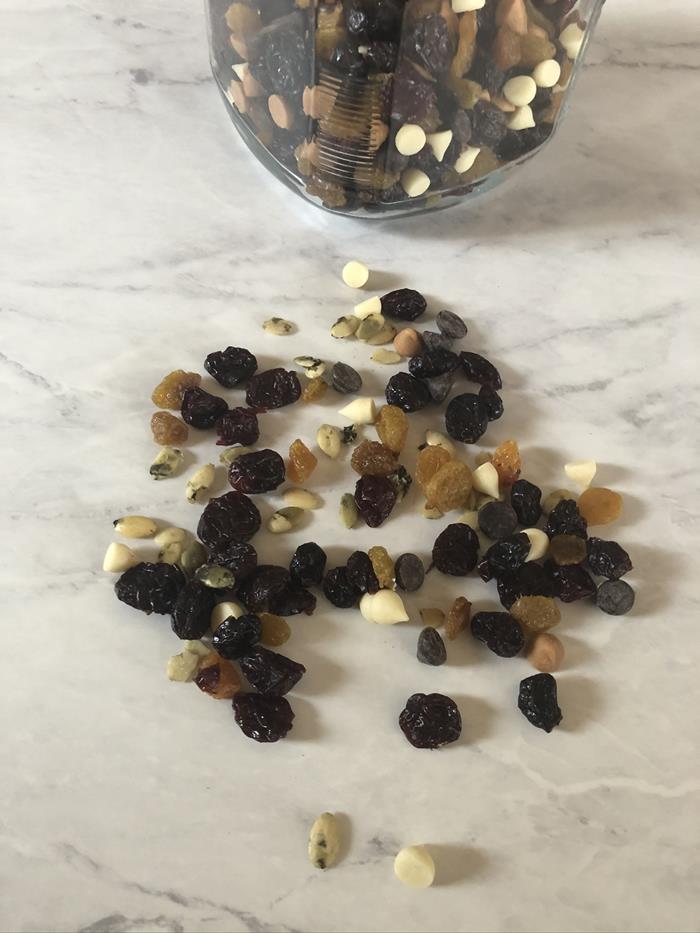 Homemade Trail Mix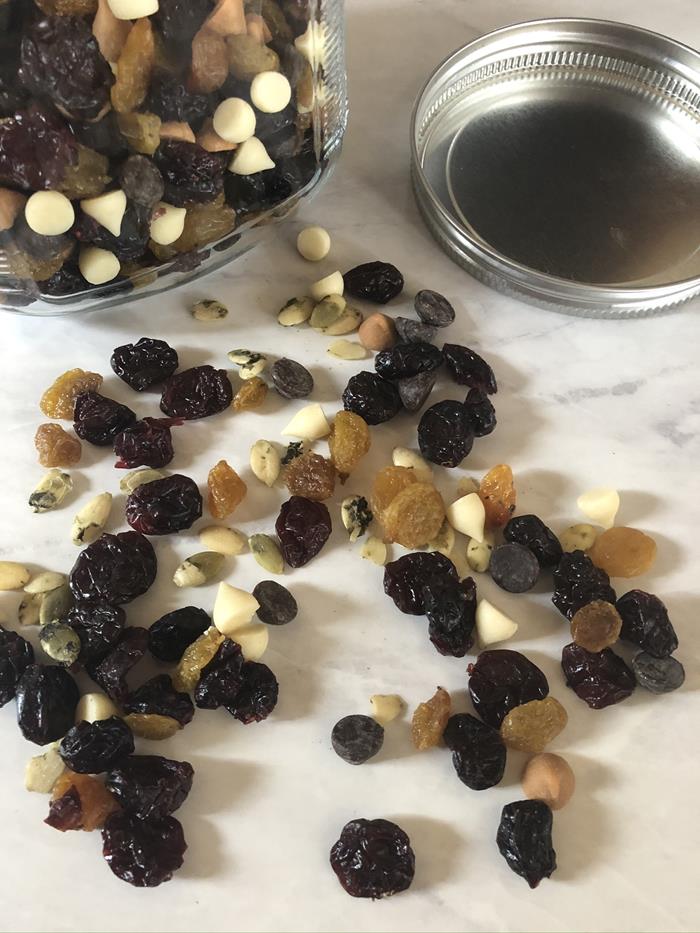 Homemade trail mix is easy to make and you can control the ingredients!
Ingredients
dried fruit, raisins, craisins, cherries, etc
nuts, seeds, or pretzels
chocolate chips, M&M's etc.
Instructions
Place ingredients in a large bowl or container.
Store in an airtight container or jar.
Notes
This works with all kinds of ingredients. Make it your own and use what you have or like on hand.