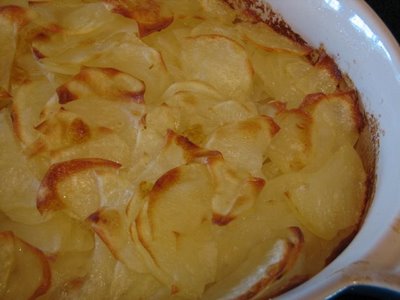 My kids and I really enjoy scalloped potatoes. My husband does not like them at all. He says he ate too many of them growing up. Since my husband does not like them I rarely make them.
A while ago I came a across a potato casserole recipe in a Gourmet magazine that caught my attention. It was kind of like scalloped potatoes, but not. I thought my husband might like this recipe, plus it was really easy. He did, in fact we all did. It is a simple recipe. This is not fancy, but it makes a great side dish to roast, meatloaf, or even chicken.
Potato Casserole
2 lbs potatoes
5 tablespoons butter, melted
½ cup chicken broth
¾ teaspoon salt
½ teaspoon pepper
Preheat oven to 425 degrees. Peel and thinly slice potatoes. You want the slices thin. I use my food processor. Toss with butter, salt, and pepper. Spread evenly into a 2 quart dish. Pour broth over top. Cover with foil and bake for 30 minutes. Uncover and bake about 25-30 minutes more or until broth is absorbed and potatoes are done.