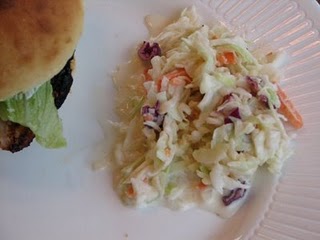 I posted recently about how my husband dislikes mayonnaise. So, today I thought I would post the coleslaw recipe that he likes best. He will eat regular coleslaw, but we really prefers one with a less mayonnaise taste.
But first, is coleslaw another one of those regional things? I grew up in OR and you see coleslaw once in awhile, but not very often. Here in OK and this part of the country, coleslaw is commonly served. You almost always see it at barbecues, picnics, and potlucks. It took me awhile to get used to it but now I really enjoy it. I am just curious if it is another one of those regional foods or not? What do you think?
Several years ago I saw a coleslaw recipe on Allrecipes that had buttermilk in it. The recipe caught my attention because it had less mayonnaise and had buttermilk in it. I tried it and and we like it but it needed some tweaking. I thought that the recipe had too much liquid and the taste was not quite what we wanted. After trying it several different ways this is the version I came up with that we like best.
Lynn's Coleslaw
1 (16 ounce) package coleslaw mix
1/4 cup white sugar
1/2 teaspoon salt
1/8 teaspoon ground black pepper
1/2 cup mayonnaise
1/4 cup buttermilk
1 tablespoon white wine vinegar
1 tablespoon lemon juice
Place the coleslaw mix in a large bowl.
In a separate bowl, combine the sugar, salt, pepper, mayonnaise, buttermilk, vinegar and lemon juice; mix until smooth. Pour mixture over the coleslaw. Stir well and chill for 1 hour or longer. Serve and enjoy!