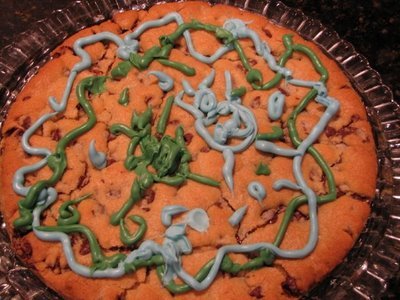 I really like the cookie cakes that you can buy at some stores and bakeries, but I do not like the price. I have always figured that I could make one just as good and it would be cheaper. This was not as easy as I had thought. The ones that you buy have just the right texture. The ones that I had tried to make were dry in the middle or just not right.
I tried making one on my pizza stone, thinking that it would help the texture. It did not. All it did was spread all out and make a mess in my oven. I just could not get it right.
Well, I finally found a recipe that works for a cookie cake. A few months ago I posted about the Martha Stewart Skillet cookie. I decided to try using this as a cookie cake. I just carefully flipped it out onto a platter and then let my kids decorate it. It turned out great. The texture was just right and decorating it was easy. Obviously, my daughter had fun with this one, but you really could decorate this for any type or birthday or event. This is a much more frugal option then buying a cookie cake.
For more frugal ideas see Biblicalwomanhood and Grocery Cart Challenge