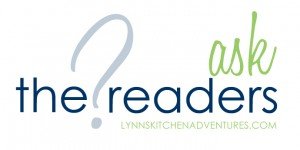 Today's Ask the Readers questions comes from a reader from my allergy section. We all know how overwhelming food issues can be, so I am hoping you all can share some tips and ideas for this reader.
We are a family of 9 (7 kids) I know at least 3 of my children have ADD/ADHD, 2 officially diagnosed, 1 the doctor
thinks, but she is handling it and does not want medication as of yet. So, my other children have the chance of this also. Along with many other learning disabilities. That said. I have heard many good things about going gluten-free with ADD/ADHD, and I have been thinking of it seriously, though I must admit I am very very afraid, nervous, scared, overwhelmed…etc etc. How do you go gluten-free in such a large family? Our grocery budget is already so very small, about $400 a month…and I bake a lot. We buy the 50lbs of flour at the local Amish store etc. All of our meals are cooked from home, going out to eat or ordering pizza happens maybe once every few months. The kids prefer homemade…But to change everything we eat all at once, I think will have a revolt…And how do I change my way of thinking. We love pastas, breads, etc. I have been adding more and more veggies and making the main dish a smaller portion, increasing veggies and fruits,.I had gestational diabetes with my last baby, so cutting out carbs (pasta, breads etc) was easier for me…but still I had some. Any direction you can give me to help me make the jump and afford it. Would be greatly appreciated. In the mean time, I love your website, menus, ideas, and recipes.
First of all, I want to say I understand how overwhelming the thought of going gluten free can be. We have all been there.
My family is smaller than yours, but I totally understand the cost issues of going gluten free. Our grocery budget has gone up quite a bit in the last few years because of all our food issues.
I also used to grind my own wheat and loved to bake. Going gluten free for us was the total opposite of how we ate before. We were whole grain homemade baked goods type people. The change to going gluten free has not always been easy, but it has been so worth it for the health benefits.
One of the things I always try to tell someone that is new to gluten free is to step back and look at what you can have. Don't focus on the can't, focus on the can.
Fruits, vegetables, potatoes, eggs, beans, rice, meat, salad, etc are all naturally gluten free.
Mexican food can easily be made gluten free by using corn tortillas and using gluten free or homemade seasonings. My taco fries, tater tot nachos, tortilla pie, and mexican pizza are all gluten free simply by reading labels and making sure your ingredients are gluten free. None of those things contain odd or unusual things.
Asian food like fried rice and stir fry can be made gluten free by using gluten free soy sauce. Chili and soup can also easily be made gluten free simply by making sure your ingredients are gluten free. Homemade pudding can be made with cornstarch. Flourless cake is another easy gluten free dessert.
If only part of your family needs to be gluten free you could try cooking two kinds of pasta. Regular pasta and gluten free pasta for those that need it. Now, this makes for a bigger mess and is more to deal with, but it would cut down the cost of feeding everyone gluten free pasta. (I would not recommend doing this for those that have celiac because of cross contamination, but in a case like this it might be a good solution.)
In our house we have a gluten filled cupboard where I keep foods like cereal, regular bread, and some treats that my girls and I cannot have. We also have two toasters in our house, one that is gluten free and one that is not. Yes, we had to buy an extra toaster, but it cuts down on the expensive of feeding everyone gluten free bread. (And again this works for us, but may not work in every gluten free situation.)
Those are a few things that have worked for us.
I miss baking and my family has many foods that we miss, but the benefits we have seen have made this journey so worth it. And the longer we are on this journey that easier it gets.
What advice do you all have for this reader? Do you have tips for feeding a large family gluten free? Or for gluten free and ADD/ADHD?