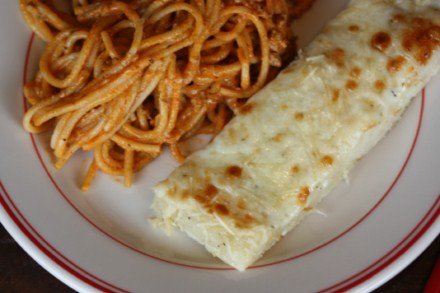 Who doesn't love cheese and bread? They just go together so well.
And what is even better than just cheese and bread? Warm bread with cheese melted on top.
These cheesy bread sticks are so easy, yet so good. They start with a simple pizza crust. You can use a homemade crust or a store bought pizza dough if you need it to be really quick and easy. I now use my gluten free pizza crust and it works great as well.
These remind me of the cheese bread, or cheese bread sticks, that many pizza restaurants serve. And I think the trick to these is the provolone cheese.
It makes them a little different than most cheese bread. The provolone cheese melts and browns really nicely and I think more like the cheese on the cheese bread you get at restaurants.
We love this these with my one pot spaghetti, but they are really good any way you serve them.
Copycat Cheese Bread Sticks
 pizza crust dough, enough for 1 pizza crust ( I now use my gluten free pizza dough)
1 tablespoon butter, melted
1/2 cup shredded or chopped provolone cheese ( In my area most provolone cheese comes slices, so I just chop up the slices.)
1 tablespoon Parmesan cheese
2 teaspoons pizza seasoning (or you could use an Italian seasoning or a blend of basil, oregano, garlic powder, etc)
Preheat oven to 425.
Roll/press pizza crust onto a pizza pan or cookie sheet.
Combine melted butter and pizza seasoning and brush on pizza crust.
Sprinkle with cheese.
Bake for 10-12 minutes or until dough is done and cheese is lightly browned. The exact time may vary depending on how thick your crust is. (With my gluten free crust, I bake for about 7 minutes without the toppings, than add them and finish baking. The gf crust seems to work better this way.)
Cut into strips and serve.