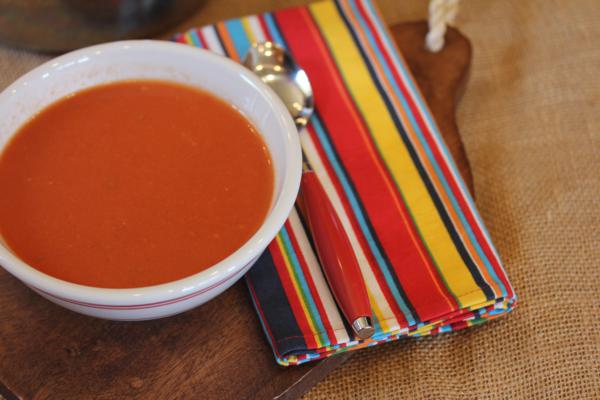 Today I am sharing a simple recipe for creamy dairy free tomato soup. Yes, it is possible to get a creamy dairy free tomato soup.
I had a hard time deciding on a recipe, but since it is fall and football season I decided on a quick and easy soup.
A warm bowl of soup during the fall and winter is always delicious. I love soup this time of year because it is easy to put in the slow cooker to keep it warm. You can make this soup up ahead of time and put in on low or warm in the slow cooker until you are ready to serve it.
Keeping it warm in the slow cooker works great for things like watching football because everyone can just grab a bowl when they are ready to eat it.
I also love soup because it is a meal all by itself or you can easily add a few side dishes or sandwiches to it. A plate of fruits and veggies, sandwiches, chips or other snack foods would all go well with this tomato soup.
And this dairy free tomato soup is so good that no one will know it is dairy free. It is rich and creamy and delicious! I served it to my whole family and we all loved it.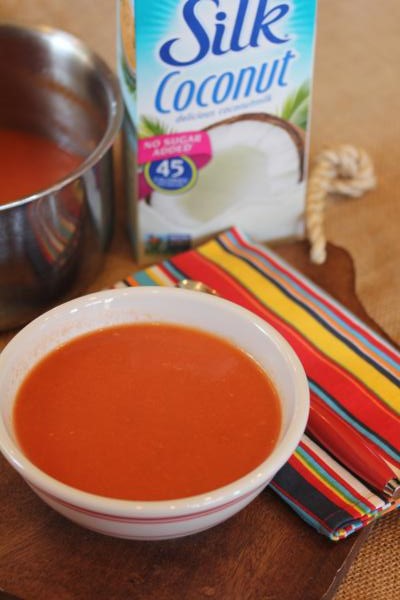 Yield: 6 servings
Creamy Dairy Free Tomato Soup
Easy and delicious creamy dairy free tomato soup
Ingredients
2 tablespoons oil
1 onion, diced
1 clove garlic, minced
1 - 28 ounce can diced tomatoes
1 1/2 cups vegetable broth or stock
1/2 teaspoon salt or to taste
1/2 cup Silk Unsweetened Coconut Milk
Instructions
In a large sauce pan heat oil. When oil is hot add diced onion to the pan and cook on medium heat for 3-5 minutes or until onion is tender. Add minced garlic and stir.
Add tomatoes, salt, and vegetable stock. Cook on low for 10 minutes.
Using an immersion blender or a regular blender puree ingredients. If using a regular blender let ingredients cool slightly before putting in the blender.
Once pureed pour back in the pan and add coconut milk. Stir well and cook over low until heated through.