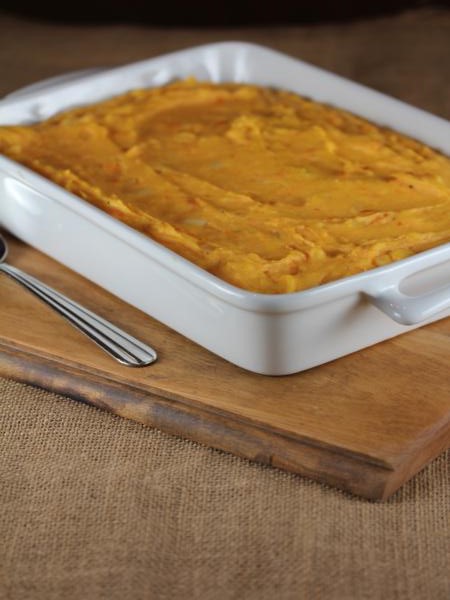 If you are looking for something a little different to serve for potatoes this Thanksgiving I have just the recipe for you. And by different I mean different in a good way. This takes regular potatoes and sweet potatoes, both Thanksgiving classics, and combines them into one delicious dish.
Two different types of potatoes with butter, cream, and cream cheese added. Really delicious! I mean how can it be bad with all that added to it?!
I made these a few weeks ago and my daughter said, "Mom you have to make these again because they are so good." And that is from the daughter that does not like sweet potatoes at all. Yes, they were that good.
As you can see from the pictures I leave a few lumps in my mashed potatoes. My dad has often said that a few lumps in mashed potatoes just mean that they are real potatoes and not instant ones. And I think I have to agree with him.
A few lumps here and there make them more homemade and home style. If you like your mashed potatoes really smooth, just mash them or beat them a little longer than I did.
I would love to hear what you think. Do you like really smooth mashed potatoes or are a few lumps okay?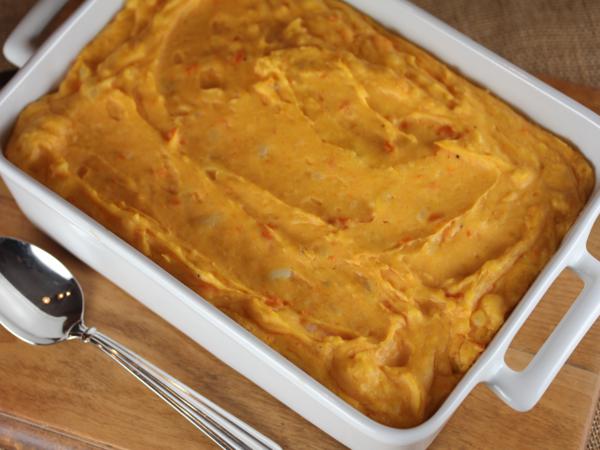 Creamy Double Mashed Potato Bake
3 pounds russet or gold potatoes
2 pounds sweet potatoes
1/2 cup butter
1- 8 ounce package cream cheese
1/3 cup heavy cream
1/3 cup milk
1 teaspoon salt
pepper to taste
Peel potatoes and cut them into chunks.
Place potatoes in a large pot and fill with enough water to cover potatoes.
Bring to a boil, deduce heat and cook for 20-25 minutes or until potatoes are tender.
Drain potatoes.
Mash potatoes adding butter, cream, and milk to potatoes while mashing.
Add salt and pepper to taste.
Spread into a 9×13 pan and bake at 350 degrees for 20-25 minutes or until heated through.
These can be also be made ahead, spread into pan, and refrigerated until ready to bake. Just remove from the fridge 1-2 hours before baking so that it comes to room temperature before putting in the oven.