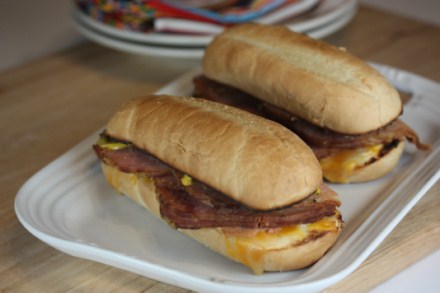 We love these sandwiches.
The first time I made them, but husband said, "Wow this tastes just like it came from a really nice deli. " And he was curious what exactly I did.
And then we went on to eat the whole batch I made. Yes, you can say we loved this and I loved how easy it was.
I was not really sure what to call this recipe today. It is hot ham sandwiches that you cook in the crock pot, but you don't cook the whole sandwich in the crock pot, only the filling part.
Since you cook the majority of this in the crock pot though, I decided to call them crock pot ham sandwiches.
I used a thinly sliced pre packaged small ham I bought, but you could easily use a deli type sliced ham, or I think even leftover ham from a holiday meal. Really, any type of ham should work for this.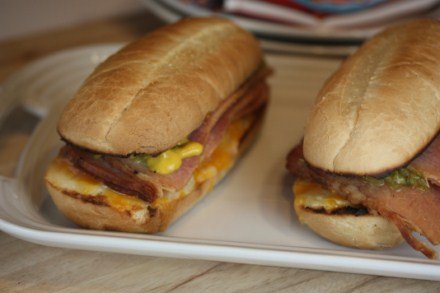 Crock Pot Ham Sandwiches
2 pounds thinly sliced ham
2 cups apple juice
2/3 cup brown sugar
1/2 cup relish
2 teaspoons dijon mustard
rolls or buns
sliced cheese
Separate ham slices and place in a slow cooker.
Combine apple juice, brown sugar, relish, and mustard. Pour over ham.
Place lid on crock pot and cook on low for 3 hours or until heated through.
Remove ham slices from the liquid.
Place cheese on sliced rolls or buns and place under the broiler or in a toaster oven just long enough to melt the cheese and toast the buns.
Place meat on top of cheese and serve with additional mustard.
Serve and enjoy!
Inspired by an old Taste of Home Recipe