Ground Beef Tomato Macaroni Soup is a basic homemade tomato soup with ground beef and macaroni. It is quick and easy to make using basic pantry ingredients.
My husband's family has a recipe for tomato macaroni soup that they have been making for years. My husband grew up eating it. His parents and grandparents made it all them time.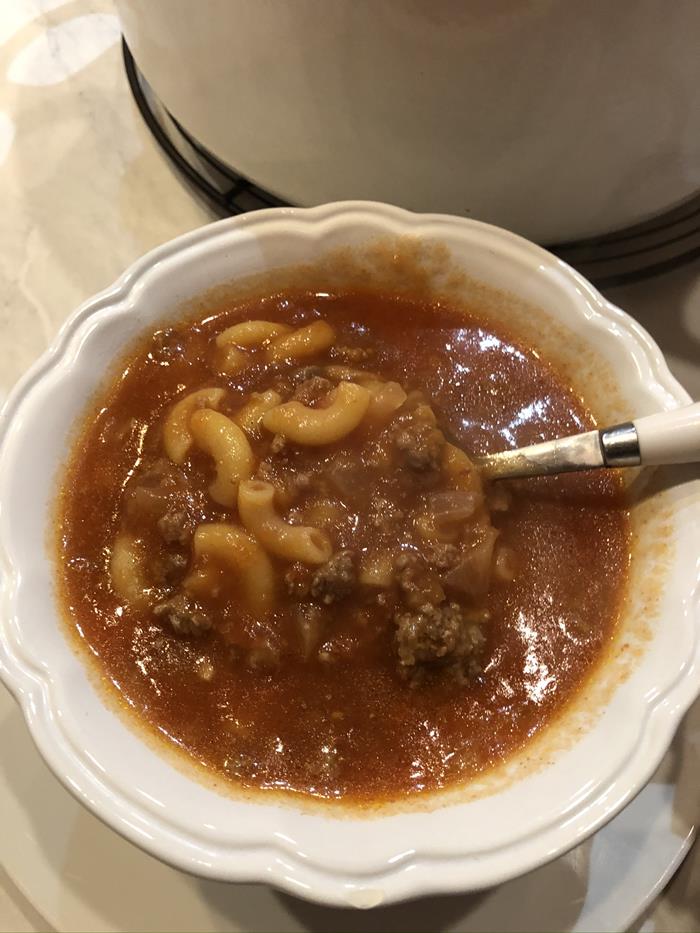 My husband and I ate it during our early years of marriage because it was so inexpensive to eat. I always thought of the recipe as a depression era recipe because it was so basic. In fact, it was almost too basic.
My husband would totally disagree with that. He loves it because it is so basic. I however have never loved the soup because it felt like it needed something more. It needed more flavor and something to make it more filling.
So over the years I have come up with different versions of a basic tomato soup. I took the concept of my husband's family recipe and have turned it into different versions that are more filling and more flavorful.
This soup is my favorite version. It is a fairly classic tomato soup with ground beef and macaroni added to it.
I love this soup during the fall and winter. It is quick and easy to make with ingredients that I almost always have on hand.
Can Tomato Macaroni Soup be made gluten free?
Yes it can. I make it gluten free using gluten free pasta. The version is the picture is made with gluten free pasta.
What ingredients are in Ground Beef Tomato Macaroni Soup?
ground beef
onions
garlic
tomatoes
chicken or beef broth
macaroni
salt
pepper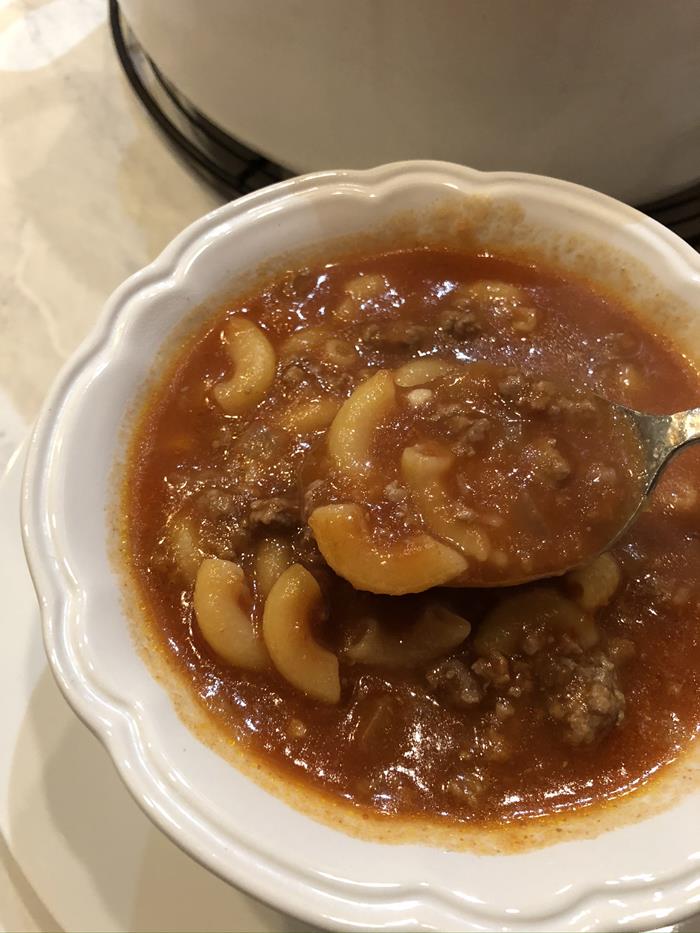 Yield: 10 servings
Ground Beef Tomato Macaroni Soup
Homemade Ground Beef Tomato Soup is a quick and easy dinner using basic ingredients.
Ingredients
1 pound ground beef
1 cup chopped onions
1 clove garlic, minced
3- 14 ounce cans diced tomatoes
2 - 14.5 ounce can beef or chicken broth
1 1/2 cups uncooked macaroni ( gluten free pasta works well too)
salt and pepper to taste
Instructions
Puree tomatoes in a blender or food processor. Set aside.
In a large pan cook ground beef and onion until onion is tender and ground beef is done. Drain off any fat.
Add garlic to meat mixture and cook for 1 minute.
Add tomatoes and broth to meat mixture.
Bring to a boil. Stir in macaroni.
Reduce heat to low and cook for 10-12 minutes or until macaroni is tender.
Salt and pepper to taste.
Notes
If you are gluten free use gluten free pasta and be sure that your broth is gluten free.