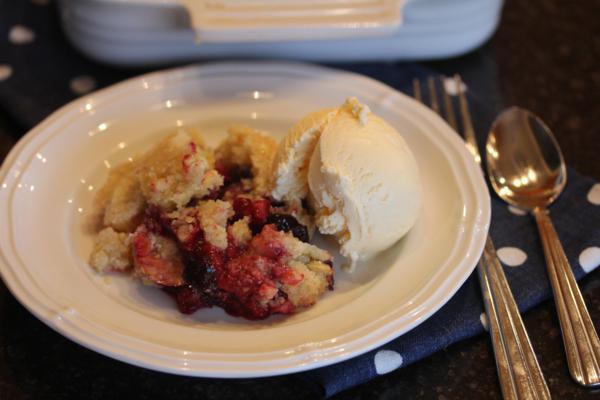 Easy Berry Cobbler is the perfect dessert for spring and summer. It works with just about any type of berry. Frozen or fresh berries both work well.
One of the things we grow in our garden each year is blueberries. We love to eat them fresh from the garden and I also love to fill my freezer with them to use in baking during the fall and winter.
It is just a month or two from blueberry season here in Oklahoma and I recently realized that I still have quite a few blueberries from last year in my freezer. Which means that I need to get to work on using some of them before I have more to fill up the freezer again.
And yes I know that too many blueberries is a good problem to have!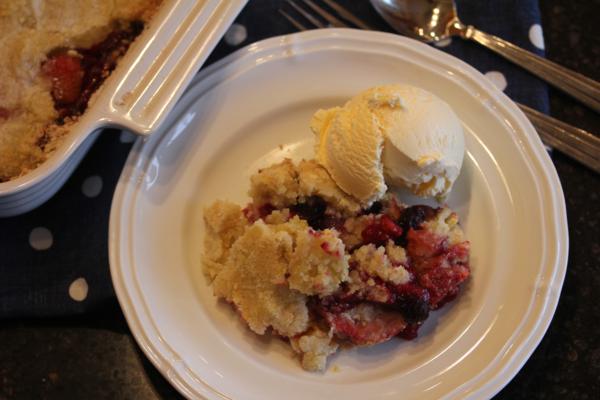 What better way to use up blueberries than in a cobbler?
We love cobbler at our house and I make it often. I usually make my cobbler with either an oatmeal type topping or a wet batter like topping. We like both of those, but this time I decided to change it up.
This recipe is more of a mix of a batter and a crumb topping. And it was delicious!
You can serve this anyway you want to, but our favorite way is warm from the oven with a scoop of vanilla ice cream. Delicious!
Easy Berry Cobbler

Easy berry cobbler is a simple dessert using fresh or frozen berries.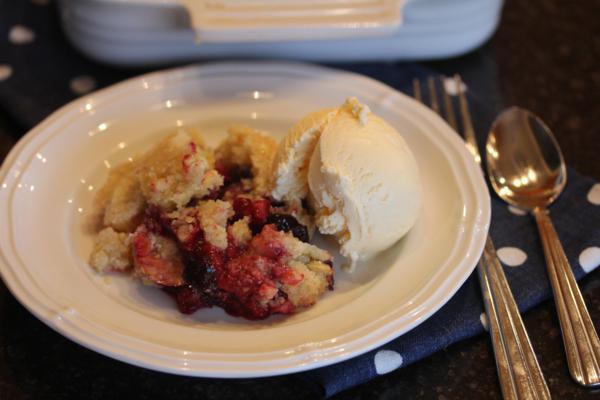 Preparation Time: 10 Minutes
Cook time: 35 Minutes
Total time: 45 Minutes
6 servings
Ingredients:
4 cups blueberries, blackberries, strawberries, or a combination berries

1 tablespoon lemon juice

1 egg

1 cup sugar

1 cup flour ( I used a gf flour blend)

6 tablespoons butter, melted
Instructions:

1. Preheat oven to 375.
2. Place berries in a 9×9 dish.
3. Sprinkle with lemon juice.
4. In a bowl mix together egg, sugar, and flour. Mixture will be thick. Pour over fruit.
5. Drizzle with melted butter.
6. Bake for 35-40 minutes.
7. Serve with ice cream or whipping cream.

Recipe adapted from Oregon Berries