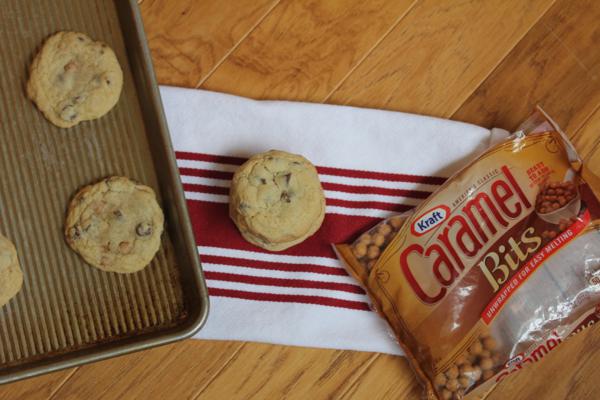 Today I have a quick baking tip for you. If you love chocolate and caramel this is for you. Or really if you just love caramel this is for you.
Have you seen the Kraft Caramel Bits on the baking aisle near the chocolate chips?
I hadn't seen them until recently. As soon as I saw them I added them to my cart because I love just about anything caramel.
When I bought the package I was not sure quite how I was going to use them. Except maybe eat them straight from the package.
They sat on my counter for a few days and I decided to try them in cookies. I knew it had to be a chocolate chip cookie because what better thing to go with caramel than chocolate?
I took my favorite gluten free chocolate chip cookie recipe and stirred in about 1 cup of the caramel bits. That is all I did.
They were delicious! Especially warm just after they came out of the oven. The caramel and chocolate were soft and gooey and so good!
Ever since I had these caramel bits, I have been thinking of all kinds of ways to use them. They would be great stirred into just about any chocolate or chocolate chip cookie recipe.
I think they would also be delicious in homemade brownies, gluten free brownies, or just a basic box mix. Again you can't go wrong with chocolate and caramel.
And of course they are also very good straight from the package!
Have you tried the Kraft Caramel Bits? If so what did you use them in?