I have been eating homemade yogurt since I was a kid. I was a very sickly child. I had a lot of health problems and allergies,that are to long to describe in this post, but because of this my mom made almost all of our food from scratch. She made the majority of her baked goods with whole grains and honey and she made everything she could from scratch. One of those things was yogurt and she made really good yogurt, including flavored ones.
Fast forward quite a few years and I no longer ate very healthy. What I considered healthy was the store bought yogurt, like yoplait. This yogurt is really good and tasty and yes a low fat breakfast or treat, but it is full of sugar and other ingredients that are not so healthy. This is the yogurt my family and I ate for years.
Long time readers know that my daughter suffers from severe asthma. Her main triggers are chemicals and smells. After she was diagnosed I really started to look around at the things in my house and the foods that we ate. I really started to read labels and pay attention to the ingredients of the foods we eat.
One of the things we ate a lot of was yogurt. Once I really started paying attention to what was in the yogurt I felt bad feeding it to my family. I decided to try some of the healthier, more organic yogurts in the stores. My family did not like them at all. They did not like the taste or texture. I could use them in smoothies, but my family enjoyed eating a bowl of yogurt for breakfast and they did not like these healthier varieties.
I decided that I needed to figure out how to make really good yogurt at home. This actually was not the first time I had tried. I had tried in the past in order to save money. Homemade yogurt is usually more frugal, but I had not found a homemade yogurt my family would eat. Sometimes it was sour and other times the texture was off. I tried all the tricks, I used powdered milk. I tried gelatin. I tried whole milk and I tried low fat milk.
I used several different methods of cooking it. I tried the crock pot and I tried the overnight in the oven trick. I never got consistent results. Sometimes it would turn out and my family would eat it, but most of the times I ended up using it for cooking or smoothies. The main complaint was it was too sour and had poor texture. They would not just sit down and eat a bowl of it like they wanted to.
But when I visited my parents in June my mom made some of her homemade yogurt. She had not made it in years, but had recently started making it again. One bite had me, it was the best homemade yogurt. This is what I had been looking for, but had not been able to get.
What was her trick? A yogurt maker, yes a yogurt maker and I came home and bought one just like hers. Now, I know many of you that make your own yogurt will disagree with this. But in my opinion if you want really good and consistent results you need to use a yogurt maker. A yogurt maker gives you the perfect environment for the yogurt cultures to work. It is the perfect temperature that you need to get consistent results. It is not too hot or too cold. There is not guessing, no messing, it gives you the easiest, best results every time. The yogurt maker I bought the Euro Cuisine Yogurt Maker. and I love it.
I know this is not the most frugal option, but I think it does pay for itself. Plus, my main goal is not just the cost. I am trying to find a healthy alternative to the store bought varieties and not only that, I want a homemade yogurt my family will eat and enjoy. I have finally found it.
The basic recipe I use came with my yogurt maker. It is the easiest homemade yogurt I have made. It says that it gives you a more European style yogurt because you do not heat the milk. From what the recipe book says, heating the milk gives you an American style yogurt.
You may find that this recipe works using some of the other methods, like the crock pot or oven, but I have only made this in my yogurt maker.
See it is thick and creamy.
Homemade berry yogurt is easy to make and tastes great.
Here is what I do.
Yield: 10 servings
Easy Homemade Berry Yogurt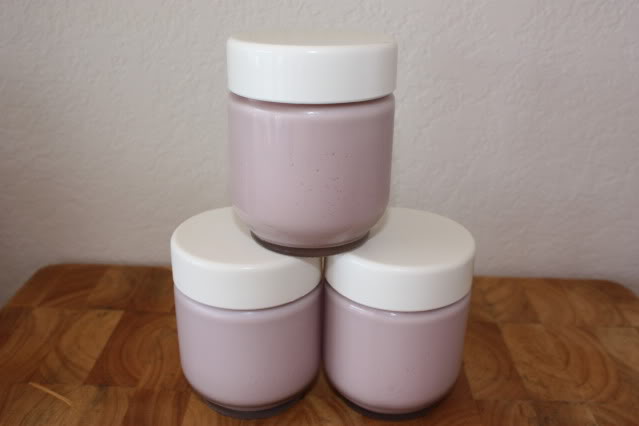 An easy to make flavored homemade yogurt
Total Time
8 hours
10 minutes
Ingredients
4 3/4 cups milk at room temperature ( do not use fat free milk, it does not work well)
8 ounces of high quality plain yogurt (yes this is more than most recipes, but it works)
10 tablespoons of powdered milk
For flavored yogurt use:
1/4 cup of jelly or jam, I use homemade ( we like jelly because it has no seeds in it and we like the berry flavors best because they have a stronger flavor)
Instructions
Your milk must be at room temperature! I measure it out and place it in a bowl that is covered for a few hours.
Once the milk is at room temperature mix together the remaining ingredients, including the jelly. I find this mixes together best in a blender. It helps the jelly mix in really well. But if you are just making plain yogurt you can mix together with a whisk.
Fill yogurt cups and heat in yogurt maker for 7-8 hours.
Remove, let cool to room temperature, refrigerate, and enjoy.
Nutrition Information:
Yield:
10
Serving Size:
1
Amount Per Serving:
Calories:

119
Total Fat:

3g
Saturated Fat:

2g
Trans Fat:

0g
Unsaturated Fat:

1g
Cholesterol:

12mg
Sodium:

108mg
Carbohydrates:

16g
Fiber:

0g
Sugar:

15g
Protein:

7g
Nutritional values are approximate and aren't always accurate.