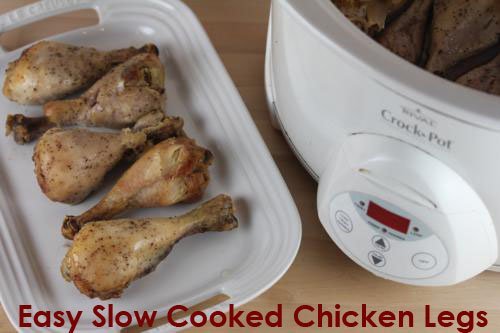 Easy Slow Cooked Chicken Legs is one of those recipes that is almost to simple to be good, but these are really delicious, kid friendly and inexpensive to serve.
Add buttered rice or crock pot baked potatoes and you have a simple and healthy dinner for your family.
If you need more crock pot recipes be sure to check out the recipes in my weekly crock pot series.
Easy Slow Cooked Chicken Legs
3 pounds chicken legs (or whatever amount you want to cook)
1 tablespoon (or so) seasoning salt- I like to use the homemade version of Paula Deen's seasoning salt (Amount may vary depending on amount of chicken and the flavor you want.)
Rub seasoning salt all over the outside of the chicken legs.
Place in crock pot and cook on low for 7-8 hours or until chicken is done.
Serve and enjoy!