This week I have quite a few very random pictures from my week for you. I also wanted to share a few thoughts on Mother's Day.
A few years ago I shared some thoughts on what Mother's Day means to me. It still pretty much says how I feel. I feel blessed just to be a mom. And last year I shared a few thoughts Mother's Day in the modern world we live in. I still feel the same way. Mother's Day is so much more than a fancy breakfast or a bouquet of flowers.
Now for this week's adventures.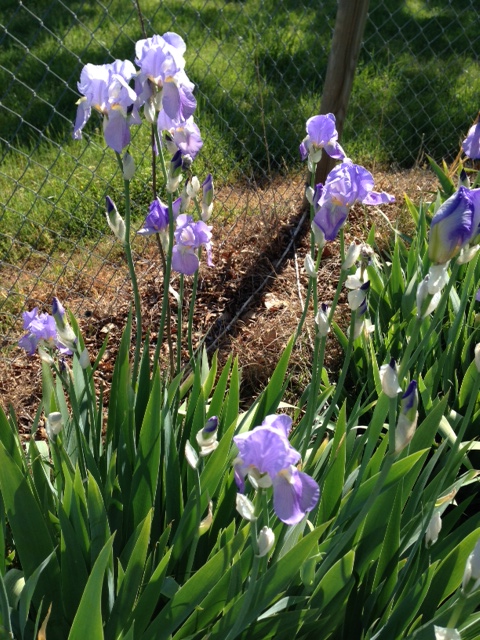 I am loving these flowers this year. I planted these quite a few years ago, but this is the first year that they have really done well. They are so pretty.
My family had steak and salad for dinner one night and I turned it into steak salad. I admitted last week that I was not much of a meat eater, and turning a steak into a steak salad pretty much proves that.
Gluten free raspberry chocolate muffins made by my daughter. I am loving all the cooking they are doing lately.
Last Friday night during our movie night I saw something at our pond, but could not tell what it was. Once I got a closer look, I realized it was a bald eagle. We were able to watch it for a few minutes and even got some good pictures of it before it flew off. It was a beautiful sight to watch.
One way I manage to fit work here on my website in is to fit it in when I can. Each week when my kids have piano lessons I try to fit in some time for website work. My husbands office is not far from where they take lessons so my day often looks like the picture above. Yes, I hide out in the upstairs supply closet area next to some old chairs and the toilet paper. What can I say except that it is quiet and has free internet. It may not be glamorous, but I can get a ton done in a short amount of time. This week it also involved a Dr. Pepper to help conquer the headache I had.
The older my kids get the fewer leftovers we have, so leftover night doesn't happen often at our house. One day this week though I realized that we had a ton of leftover food in the fridge and decided it was going to be leftovers for dinner that night. It was nice to enjoy a night off cooking.
We took care of our neighbors chickens for a few days this week. My kids are now trying to convince me we need chickens. And I am trying to convince them I have better things to do than take care of chickens. I am afraid they have seen the glamorous side of it because they only did it for a few days. Keeping chickens when you live in the country with three dogs, plus snakes, coyotes, cougars, raccoons, and more, is not for the faint of heart. Fresh eggs are nice, but I am not sure they will be able to convince me that it is worth it. They have not given up on trying though.
I shared a gluten free blueberry swirl coffee cake over at GF Mixes this week. Doesn't that look delicious?! And it is quick and easy to make because it uses my gluten free baking mix. Today, Friday May 9th, is the last day to get my Gluten Free Baking Mix ebook for only 99 cents. So if you do not have it, now is the time.
I plan to spend most of Saturday working in the yard and garden. I just could not resist the 50% off all berry plants at Lowes this week.
I hope you all have a great weekend!