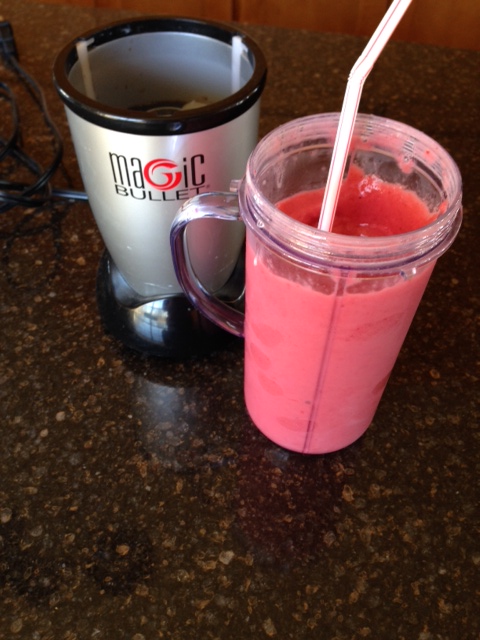 Last week I mentioned that I was going to start sharing a favorite kitchen tip or kitchen tool on Tuesdays. Last week I shared a tip, so this week I decided to share a favorite kitchen tool.
Today I want to talk about my Magic Bullet
. This is a kitchen tool my family loves.
I have heard my friend Jessica from Life As Mom talk about her magic bullet many times. She loves hers, but I never really understood why. Not that I didn't believe she loved it, I just did not think I needed one, but then I saw one in action.
Last summer my oldest daughter and I took a trip to Oregon to see my family and my parents had just bought a Magic Bullet. Now, my parents are not the type of people to buy every kitchen gadget out there. They actually have very few kitchen gadgets besides the basic blender and mixer type things. So when my dad was raving about the magic bullet, I knew there must be something to it.
During the few days my daughter and I were visiting we made several smoothies with my parent's Magic Bullet and I instantly loved it. It blends well and makes a great smoothie, but what I really love about it is how easy it is to make individual smoothies. We each made our smoothies exactly how we wanted and everyone was happy.
Before I even got back home I ordered myself a magic bullet. And as soon as the UPS driver delivered it, we started using it. It has stayed on my counter, right next to my blender ever since.
My kids love this because it lets them each make a smoothie for breakfast or lunch. One of my daughters hates bananas. Like really hates them. She can taste them in anything, including smoothies. She loves being able to make her own smoothie without bananas.
My other daughter on the other hand loves bananas and can eat them in almost anything. Her perfect smoothie contains a lot of banana, so she can make her own with as many bananas as she wants.
The Magic Bullet
lets everyone make their smoothie just how they like it. And they can easily make their own. Last summer and fall my kids made smoothies almost every day using fresh or frozen fruit that I had on hand.
My homemade smoothie kits work great too and they can make them in even less time. And if they want more fruit than what is in the kit they can easily add it.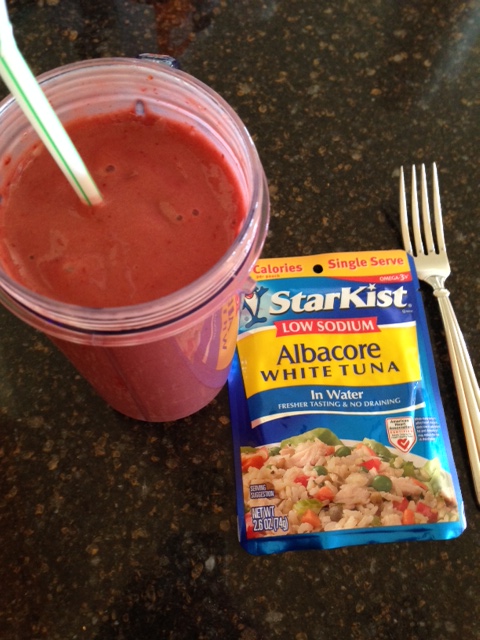 Not only do my kids love the Magic Bullet, I love it. My lunch most days is a smoothie. The above picture is a picture of my lunch one day that I posted on Instagram. Yes, I ate a smoothie and tuna fish straight from the pouch. It is quick, easy, and healthy.
I love using the Magic Bullet
because it is a little smaller and easier to clean up than my Vitamix. And there is nothing extra to clean up. I can just drink the smoothie out of the same container I make it in.
It mixes well for smoothies and blends everything together fine. I have a Vitamix so we use the Magic Bullet mainly for smoothies and milkshakes, but I know many people use it similar to how they would a normal blender.
I still love and use my Vitamix, but the Magic Bullet has been a great addition to my kitchen.
I would love to hear your thoughts on Magic Bullet. Do you love yours?