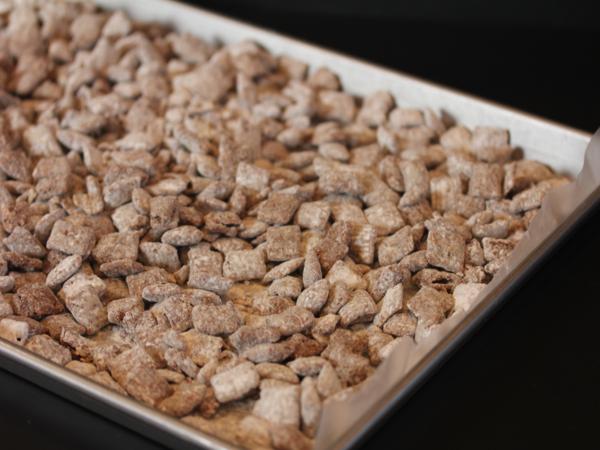 This is one of those recipes that I found when I was going through pictures last month. I took pictures of this peanut butter free muddy buddies, aka peanut butter free puppy chow, months ago, but never shared it.
I was not sure if I should post it here on my main site, or in my gluten free allergy section, and in trying to decide I ended up just not posting it. After seeing the picture again I knew I wanted to share it. I decided to share it here in my main section because I know many of you deal with nut allergies, know someone that deals with them, or your kids go to a nut free school.
If you deal with any of those things you know how hard nut and peanut free snacks can be. If you add on to it gluten free, it can be even more challenging. Today's recipe is perfect for those times that you need an easy peanut free snack.
Muddy buddies, aka puppy chow, has been a favorite with my kid for years. I often made it for movie night or when we had friends over. It really does make a perfect snack for kids.
That is until my daughter developed her peanut and tree nut allergy. All of the sudden muddy buddies was something I could not make and my kids missed it.
It might seem obvious with this recipe how to make it peanut butter free. You leave the peanut butter out. That is what I thought too. However, my kids didn't like it without the peanut butter. They said that the taste and texture were just not right.
So I knew I needed to work on making it some other way. The next logical thing to do was use a peanut butter substitute. And it worked great. Sometimes you can really taste the alternative peanut butters in recipes, but this had so many other flavors with the chocolate and sugar that you really did not notice the taste difference.
My daughter is not a huge fan of Sunbutter, but that is because she is not a huge fan of sunflower seeds. She prefers the soy butters. We don't eat a lot of soy, but we do occasionally eat the soy butters in recipes like this. If you are peanut butter free or are making this for someone that is feel free to use whatever one you like or can find.
Most of you probably don't need a recipe for this. It is the tip that it works that I wanted to share. This is the basic recipe that pretty much everyone uses. I just replaced the peanut butter with Sunbutter or soy butter, but I went ahead and shared it below for those that have never made muddy buddies.
One other thing that is great about muddy buddies is that it is easy to make gluten free with the gluten free varieties of Chex cereal. So they are also a great gluten free snack to serve those that need it.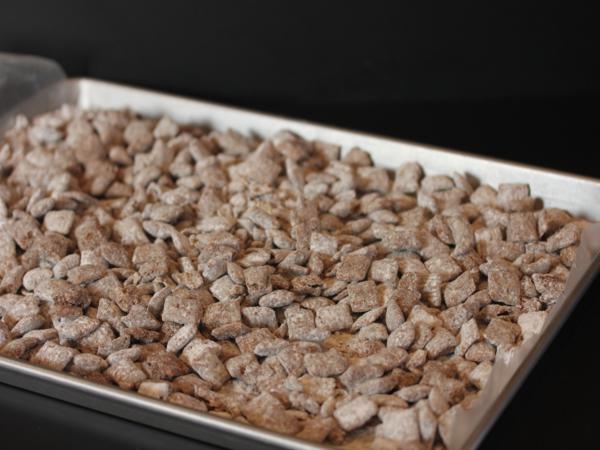 Chex Muddy Buddies
9 cups Corn Chex, Rice Chex, or a mix of both
1 cup semisweet chocolate chips
1/2 cup sunbutter or soy butter
1/4 cup butter or margarine
1 teaspoon vanilla
1 1/2 cups powdered sugar
Place cereal in a large bowl and set aside.
In microwavable bowl, microwave chocolate chips, sunbutter, and butter for 1 minute. Stir.
Microwave about 30 seconds longer or until mixture is smooth when stirred.
Stir in vanilla.
Pour mixture over cereal, stirring until evenly coated.
Pour into 2-gallon resealable food-storage plastic bag. Add powdered sugar.
Seal bag and shake until well coated. Spread on waxed paper to cool.
Store in airtight container in refrigerator.