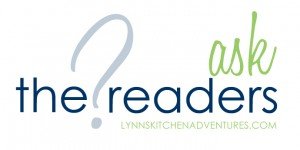 Next week is Thanksgiving, which means Thanksgiving food is on many of our minds. Today I thought we would talk Thanksgiving food for a fun Ask the Readers question.
When it comes to Thanksgiving I am all about the sides. I could honestly just forget the turkey and go for only the mashed potatoes, rolls, and vegetable sides. If I had to choose one side dish though it would be the mashed potatoes. I love mashed potatoes.
And then there is dessert. If I had to choose one it would be pie. If I had to narrow it down to a specific pie I would say pumpkin. I love pumpkin pie and have been known to eat it for breakfast the day after Thanksgiving. I am not the only one that does that am I?!
Now I would love to hear your favorite Thanksgiving food. Is it the turkey? The sides? Dessert? Or a family recipe that you have been making for years?