Over the last few week's my sister has shared two easy chicken recipes. Her turkey meatballs and her easy roast chicken. Today she is sharing another one of her favorite chicken recipes. My kids would love this made into nuggets. 
Corn flake crumbs and shredded parmesan cheese make a flavorful and crispy crust for this baked chicken recipe. With only a few ingredients, this dish is quick and easy to prepare and much healthier than typical fried chicken.
Although I usually use boneless, skinless chicken breast halves, you can cut the chicken into smaller pieces to make chicken tenders or chicken nuggets. Just remember to reduce the cooking time accordingly ( about 20-30 minutes).
We find this recipe works great for those eating gluten free/wheat free as well. Simply replace the corn flakes with gluten-free corn flakes (you can typically find these down the natural food or gluten-free aisle of your local grocery store).
The corn flakes are best ground fairly fine, so a food processor works best. If you don't have a food processor, simply place the crumbs in a resalable freezer bag and crush by rolling over with a rolling pin. This takes a little more effort, but it will also work.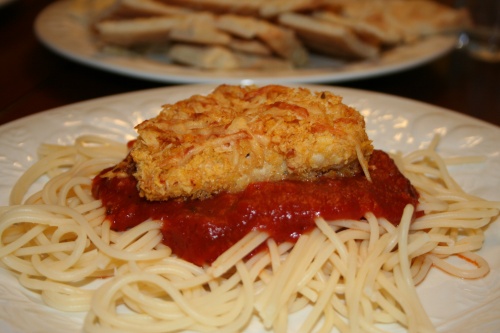 Corn Flake Baked Chicken
4 boneless, skinless chicken breasts

1 egg, slightly beaten with 1 tablespoon water

2 cups crushed cornflake crumbs

Salt and pepper to taste

2 Tablespoons grated Parmesan Cheese

1 teaspoon Italian Seasoning

½ teaspoon garlic powder
Preheat oven to 375. Grease a 9×13 pan or rimmed baking sheet.
In a shallow baking dish or pie plate, combine the cornflake crumbs, cheese, and seasoning.
Dip each piece of chicken in the egg and then in the cornflake mixture, pressing firmly with hands to help the crumbs stick.
Place chicken on prepared pan and bake in preheated oven for about 35-45 minutes or until brown and crispy and juices run clear.