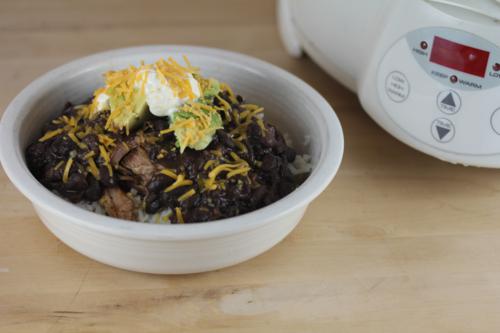 I spent the weekend in Texas and had such a fun time catching up with some great bloggers. There are way too many to name them all. Some I had met before and enjoyed catching up with. Others I knew from online, but had so much fun meeting in person. I also have a list of new sites to visit from those I met for the first time. It was a great weekend.
Vacations and time away are great, but it is always nice to be back home. Except for the catching up part and the piles of laundry that always seem to be larger after a vacation.
If I am a little slow responding to email and comments this week, it is because I will be playing catch up over the next few days. That and enjoying time with my mom, who is still here visiting for a few more days.
Now for today's recipe.
Many people talk about a rice and beans budget and often it is a negative and boring way. Rice and beans are so inexpensive to buy, but rice and beans don't have to be boring.
Rice and beans can really be changed up simply by using difference varieties and different spices. Navy beans taste totally different than black beans. And black beans taste totally different than kidney beans.
If the people in your house are getting tired of rice and beans, I encourage you to change them up. Add a new variety to the mix and cook them in a new way.
Rice and beans can be a staple in your house. And they can, and should be, enjoyed.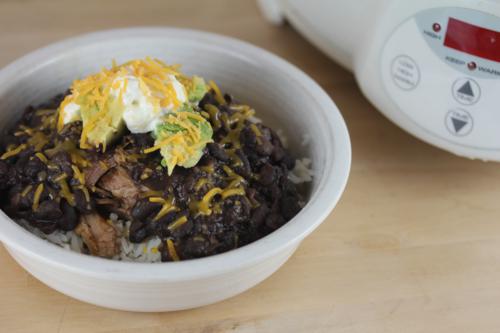 One of our favorite ways to serve rice and beans is as burrito bowls. I often do this by making my cilantro lime rice and seasoned black beans, but I recently found a recipe for Santa Fe Mexican type beans when I was looking around the cooking light website and knew they would work perfectly for burrito bowls.
I changed up the recipe a little and did not serve them on their own. Instead we layered them with a basic white rice and a spicy pork for a homemade burrito bowl. I set out cheese, sour cream, salsa, chips, and a few other toppings and everyone made theirs just how they wanted.
It was a fun and inexpensive meal to serve. The spicy pork recipe I made will be coming up next week, but you can really use just about any meat you like for this. Shredded chicken would be good and so would beef. You can also easily go meatless and make this even less expensive to serve.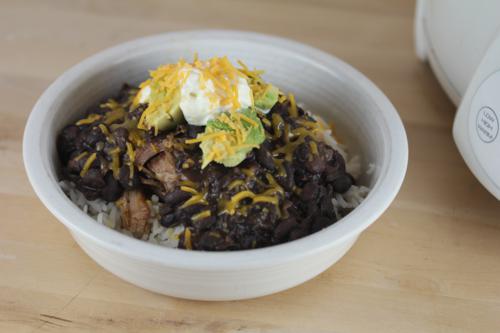 Yield: 10 servings
Slow Cooked Santa Fe Black Beans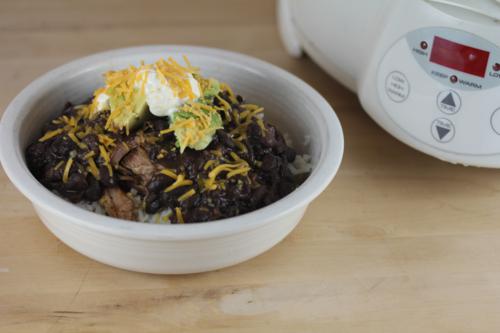 An easy homemade black bean recipe that can be used in so many ways.
Ingredients
1 pound black beans
4 cups chicken broth
1 onion, chopped
1 tablespoon finely chopped chipotle chili in adobo sauce
4 cloves garlic
1 table spoon lime juice
Instructions
Sort and wash beans and soak in water overnight. I add salt to my water when soaking my beans
In the morning rinse beans and place in slow cooker.
Add 1 cup of water, chicken broth, onion, chipotle chili, and garlic.
Cook on low for 8-10 hours or until beans are tender and done. If you check your beans during cooking time and they look like they need more water, add about 1 cup more water. These are a thick bean, so you want to be careful how much water you addd.
Add lime juice and mash beans slightly.
Nutrition Information:
Yield:
10
Serving Size:
1
Amount Per Serving:
Calories:

136
Total Fat:

4g
Saturated Fat:

1g
Trans Fat:

0g
Unsaturated Fat:

2g
Cholesterol:

12mg
Sodium:

576mg
Carbohydrates:

17g
Fiber:

5g
Sugar:

2g
Protein:

9g
Nutritional values are approximate and aren't always accurate.