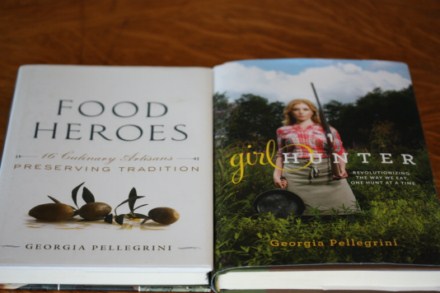 I thought I would give a quick update on my Books To Read post that I did a few weeks ago.
So far I am off to a good start. Setting the timer for 20 minutes a day has worked well and I have completed two books so far, both of which are food type books. There have been a few days that I did not read, or did not get the whole time done, but overall it has gone well.
The two books that I finished were Food Heroes
and Girl Hunter: Revolutionizing the Way We Eat, One Hunt at a Time
and I really enjoyed both of them.
Food Heroes was a fun and educational look into 16 Culinary Artisans. These 16 people are devoted to food and what they do. They love making and producing food the real way, the old way. They stay true to the food and what it is. They want to produce a product in its best form.
From potatoes and tomatoes to salami and honey, these artisans love what they do and strive to do it the best they can. They have overcome many challenges to produce the products they do, but they continue to do it because they love it and are dedicated to preserving it.
Food Heroes
reminded me a bit of my childhood. We always had a garden. I grew up picking berries and mushrooms for money. My mom canned and preserved 600-800 quarts of food each year. For many years my dad raised honey bees and for awhile we bought goat's milk from the lady down the road.
Now my parents were not artisans trying to sell a product, but there are many similarities. Growing and producing your own food is a lot of work, but the end result is so worth it. When you really care about the product you are growing or making, it shows and the results are well worth the work. There is nothing quite like growing and eating your own food. And this book reminded me of why growing your own food and buying local can be so important.
I also just finished Girl Hunter: Revolutionizing the Way We Eat, One Hunt at a Time
. I really enjoyed this book. My dad hunted when I was a kid. Many of our friends hunted and still do. My husband, son, and daughter hunt. In fact, my fourteen year old daughter got her first deer last fall and we are currently enjoying the meat from it.
So, hunting is not new to me and I am so glad that this book is helping to change the stereotype that hunting often has.
This book is not a how to hunt book though. Girl Hunter
is more stories about hunting. It helps you realize the connection that hunting and preparing food has with everyday life.
I really enjoyed the way the author was not afraid of the whole process of hunting. She not only hunted, she also cleaned and cooked what she hunted. She really connected to the food and the whole process. She not only hunted it, she did the whole process of taking it from the woods to the table. And she shares a few recipes along the way.
I will say that I bought this book with my daughter in mind since she loves to hunt, but after reading it myself, I am going to wait a bit longer to have her read it. There is nothing wrong with the book, but there are a few stories that involve some drinking and story telling by hunters that I think are a bit rough and tough for her right now. However, if she continues to love hunting this is a book I am sure she will read in the future.
And I wish this book would have emphasized more the fact that many people need to hunt. There are people who hunt simply to put food on the table and to help feed their family. This was covered some in the book, but I think it could have been dealt with a little deeper.
But again, overall I loved the book. And if you enjoy hunting, grew up with hunters, or have always wanted to hunt this is a book you will probably enjoy.
What good books have you read lately?