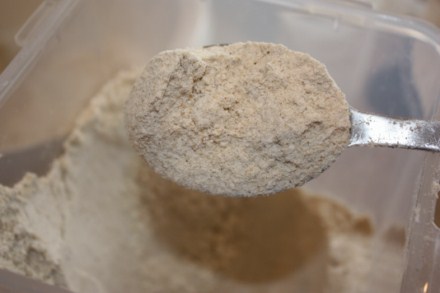 The two questions I get asked most often by readers are what is your favorite gluten free pasta and what is your favorite gluten free flour blend. I have covered my thoughts on gluten free pasta, so today I thought we would talk gluten free flour blends.
Gluten free flour blends are where many, and I do mean many, gluten free readers, authors, and bakers will disagree with me. The fact that I feel like I am in the minority is why I have never really answered this question. But after over two years of gluten free baking, and many trials and errors, I am ready to tackle the subject.
You see I do not think there is a perfect blend. I do not think there are two perfect blends. In my opinion, and gluten free baking experience, there is no blend that works well in all things.
Yes, I know that I am going against what many people think on this one, and someday I might change my mind, but for now I really do not think there is a perfect blend or gluten free flour mix.
I also know this is not what most people want to hear. Gluten free cooking can be so overwhelming. You just want your kitchen to be simple again. And I so understand that. We wish there was a magic blend that worked well in all things. I wish there was a blend that worked in everything, really I do, but it just does not work that way.
What works in pancakes is different than what works in a cookie. What works in a cake is very different than what works in a pie crust. And what might work in a yeast bread will not work in a muffin.
So, the reality is that I am not a huge gluten free flour blend person. I use them, but not a lot. I tend to find more what works for each thing. Yes, this complicates my kitchen a little, but I would rather have a really good cookie that uses the right gluten free ingredients, than just an okay cookie that uses a gluten free blend.
Now, I am not saying that a flour blend can never give you a good result. I have used some and had them work well for some things, but I have never tried one that worked well in everything. Over all I just find that I get better results using the gluten free flours instead of blends.
Every recipe is different and there is some science behind cooking and baking, and gluten free is no different and that is why no blend works the same. There is science behind cooking and what works for one recipe may not work for another recipe.
So, those are my thoughts on gluten free blends. Now I would love to hear yours?
And yes you are free to disagree with me on this, I know I am going against the grain on this one, but I would love to hear your thoughts and experiences with blends.
Have you found one that you really like and that works for all or most things or do you agree with me that there is no perfect blend?