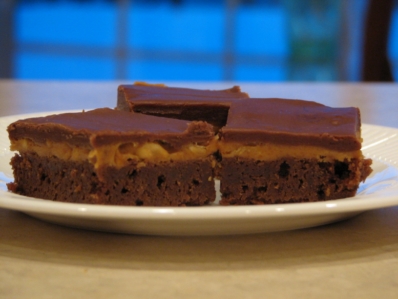 What better combination is there than peanut butter and chocolate?
We love these. I have been making these brownies for years and they are a family favorite. If you love peanut butter and chocolate as much as my family does than you will love these.

Frosted Peanut Butter Brownies
1 1/2 cups butter divided
1/3 cup cocoa
2 cups sugar
1 1/2 cups flour
1/2 teaspoon salt
4 eggs
1 teaspoon vanilla extract
1 (18 ounce) jar chunky peanut butter
1/3 cup milk
10 large marshmallow (100 little marshmallows)
1/4 cup cocoa (I like to sift it to remove lumps)
3 3/4 cup powdered sugar
Cook 1 cup butter and 1/3 cup cocoa in a saucepan over low heat until butter melts. Stir often. Remove from heat and cool slightly.
Combine sugar, flour, and salt in a large mixing bowl. Add chocolate mixture and beat at medium speed until well blended. Add eggs and vanilla. Beat until well blended. Mixture will be thick. Spread into a greased 15×10 inch jelly roll pan.
Bake at 350 degrees for 20 minutes.
Remove peanut butter from jar and place in a microwave safe bowl. Microwave for about 1 minute or until peanut butter is spreadable. Spread on brownies.
Chill 30 minutes.
Cook remaining 1/2 cup butter, milk, and marshmallows in a large sauce pan over medium heat until marshmallow melt. Remove from heat. Whisk in 1/4 cup cocoa. Gradually stir in powdered sugar until smooth. Spread over peanut butter layer. Chill for 1 hour or so. Cut into squares. Serve.