The best gluten-free chocolate chip cookie recipe is full of chocolate and so good that no one will know that it is gluten-free!
These gluten-free cookies are a little bit different than most of the recipes that I am sharing for my Year of Martha Stewart Cooking. This is a Martha Stewart recipe that I adapted to be gluten-free.
The result is the best gluten-free cookies that I have made!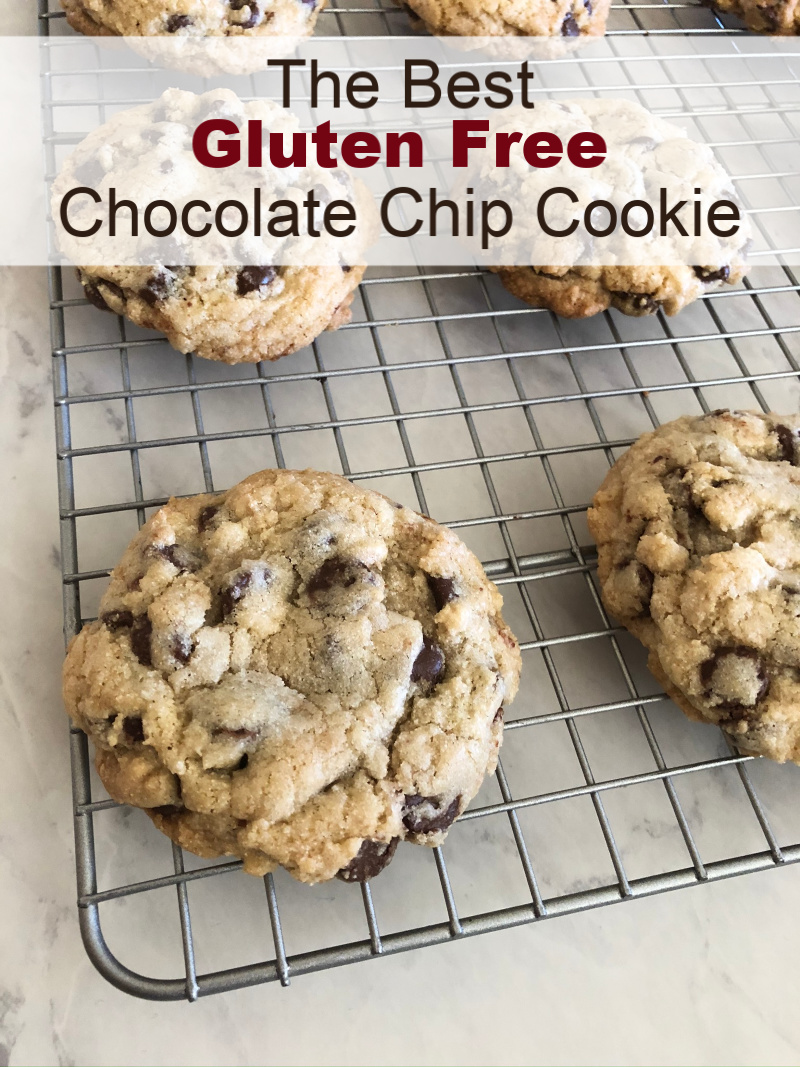 The Best Gluten-Free Chocolate Chip Cookie
I have eaten gluten-free for over ten years. In the last ten years, I have tried so many gluten-free cookie recipes.
Some have been from cookbooks, some have been from other people, and many I have developed on my own.
Many of those recipes were good. Some were so good that I shared them here with you.
But it took me ten years to say that I think I finally found the best gluten-free chocolate chip cookie recipe.
Yes, I know calling something the best is risky. But these cookies are so good!
Why do I call them the Best Gluten-Free Chocolate Chip Cookies?
I call them that because people love them. People that eat gluten-free and people that don't.
My daughter recently made these for a movie night at a friend's house. My two daughters were the only ones that ate gluten-free, but since we don't cook with regular flour at our house, she made these cookies and took them.
Everyone loved them. Multiple of the guys had three or four cookies. You don't eat three of four cookies unless they are good.
You might eat one or two to be polite, but eating four cookies pretty much says that you really liked them.
When I found out that the cookies were a hit. Not just with my family, but with a group of other people as well, I knew I had found the best gluten-free cookie recipe.
This recipe took some work though to get just right.
The original recipe came from Martha Stewart's Cookie Perfection Cookbook. The cookbook is not a gluten-free cookbook. It is a regular cookbook and the original recipe is a regular recipe, not a gluten-free one, so I came up with a gluten-free version.
I love doing this to a recipe. I start with a great recipe and I convert it to gluten-free. Most of the cookbooks that I own are not gluten-free cookbooks. They are regular cookbooks that I take the recipes from and make them gluten-free.
I will often use a gluten-free flour blend in recipes when I make them. You will see many of my recipes that contain a blend like Bob's Red Mill 1 to 1 gluten-free blend.
I will often start by trying a blend in a recipe and if I don't like the results I try the individual gluten-free flours.
The reality is that I have found that in order to get the best desserts you need individual gluten-free flours, not blends. That is against popular opinion but I have found it true more times than not.
Yes, a blend will get you good results. Using the individual flours will get you the best results. They will get you a cookie that will have people coming back for more.
For this recipe, it is worth it to make it just as it is written with the individual flours.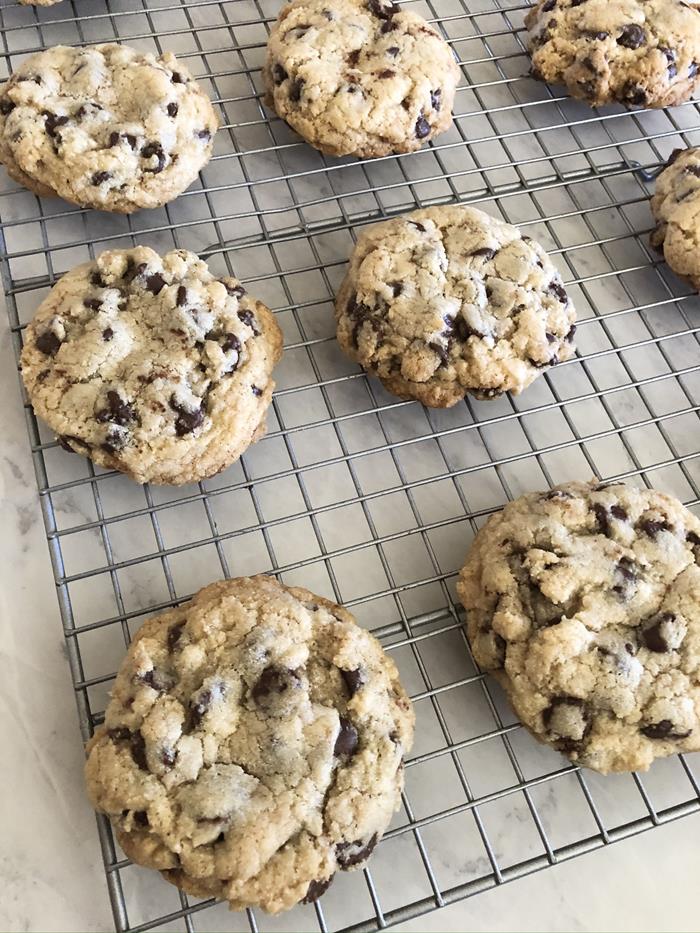 There are two things that make this recipe the best gluten-free chocolate chip cookie recipe.
The first is the amount of chocolate. These have 4 1/2 cups of chocolate chips. That is what Martha Stewart's original recipe had and I left it the same for the gluten-free version. Believe me, it is worth it to use that much chocolate.
The other thing is the individual flours, especially the sweet rice flour. Using sweet rice flour in gluten-free baked goods gives you the best taste and texture.
It can be hard to find, but it is worth it. You can find it at some Asian or health food type stores, but I usually get it from Amazon or directly from Bob's Red Mill.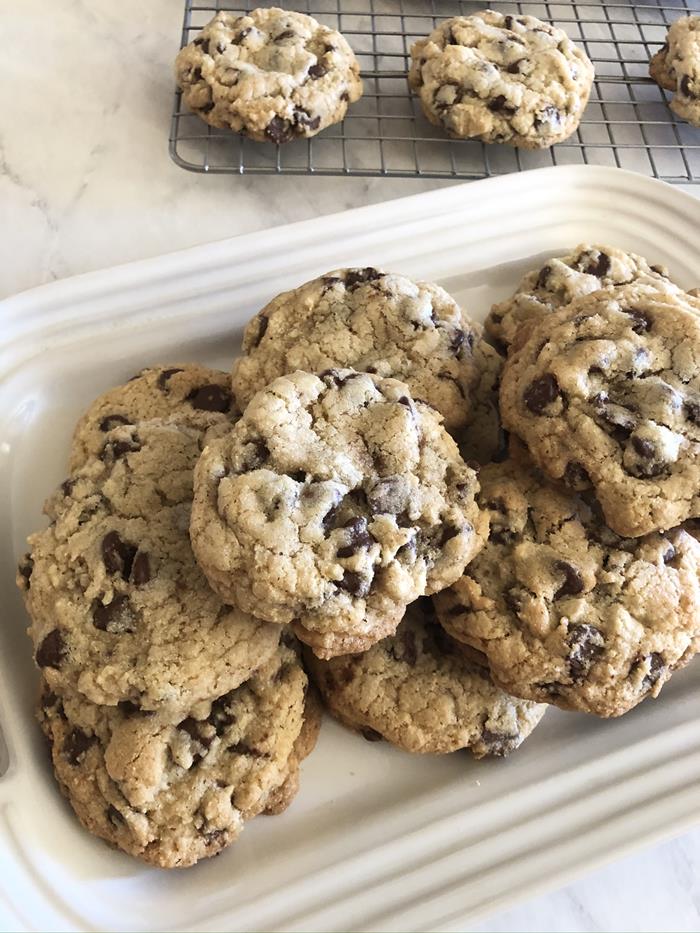 Ingredients for Gluten Free Chocolate Chip Cookies
rice flour
sweet rice flour
cornstarch
xanthan gum
salt
baking powder
baking soda
butter
brown sugar
regular sugar
eggs
vanilla
gluten-free chocolate chips
Need more gluten-free cookie recipes?
Yield: 36
Gluten Free Chocolate Chip Cookie Recipe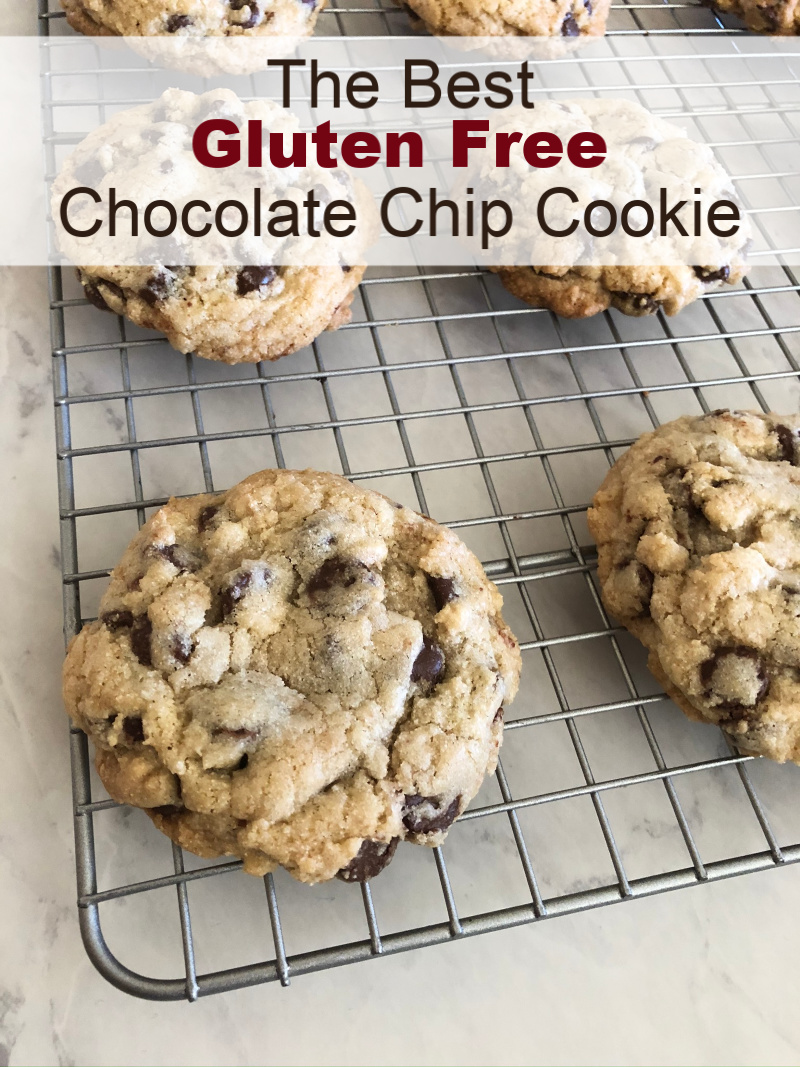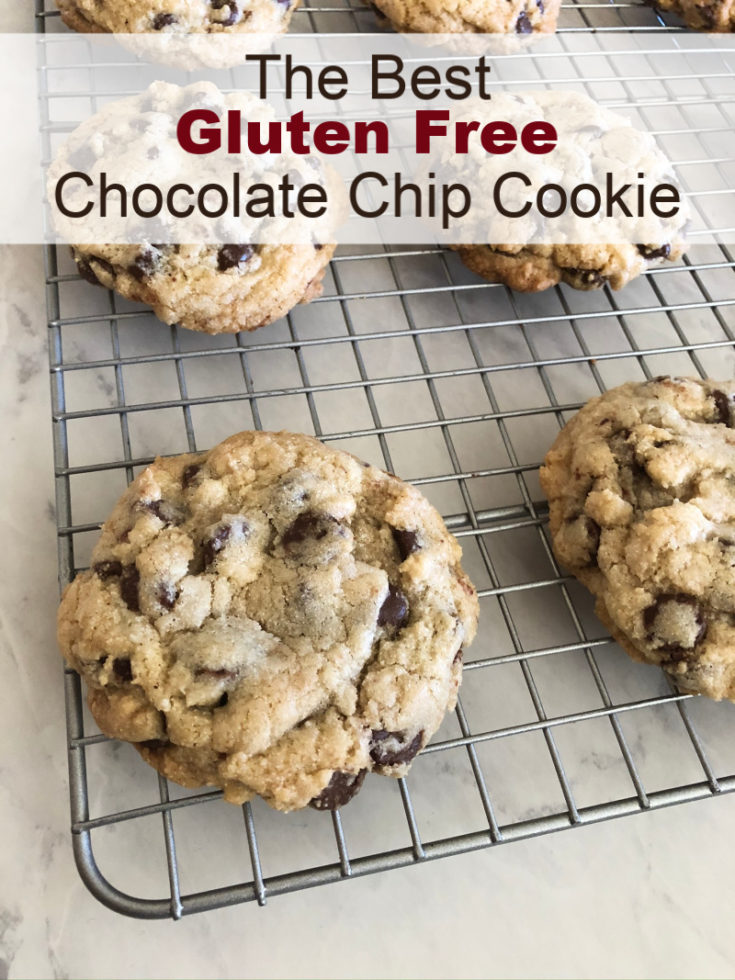 Gluten Free Chocolate Chip Cookie that is full of chocolate and so good that no one will know that it is gluten free.
Total Time
1 hour
31 minutes
Ingredients
1 3/4 cup white rice flour
3/4 cup cornstarch
3/4 teaspoon xanthan gum
1 teaspoon salt
1 teaspoon baking powder
1 teaspoon baking soda
1 1/4 cups butter, softened
1 1/4 cups brown sugar
3/4 cup sugar
2 eggs
1 teaspoon vanilla
4 1/2 gluten free cups chocolate chips
Instructions
In a bowl whisk together white rice flour, sweet rice flour, cornstarch, xanthan gum, salt, baking powder, and baking soda. Set aside.
In a mixing bowl beat butter, brown sugar, and sugar until pale and fluffy. This will take 3-4 minutes.
Add eggs one at a time.
Add vanilla and mix well.
Mixing on low gradually add flour mixture. Mix just until combined.
Add chocolate chips and mix just until mixed in.
Refrigerate dough for 1 hour. Don't skip this step it gives it a better texture and keeps the from spreading out too much.
Preheat oven to 350 degrees.
Using a 2 inch cookie scoop, scoop batter on two cookie sheets placing 12 per cookie sheet.
Bake for 11-12 minutes or until cookies are set and lightly golden around the edge.
Let cool 5 minutes and remove to wire rack to finish cooling.
Originally posted January 2020. Updated July 2021.