Need an easy fun way to use up overripe bananas? Try gluten free chocolate banana cake. It is so good no one will know that it is gluten free.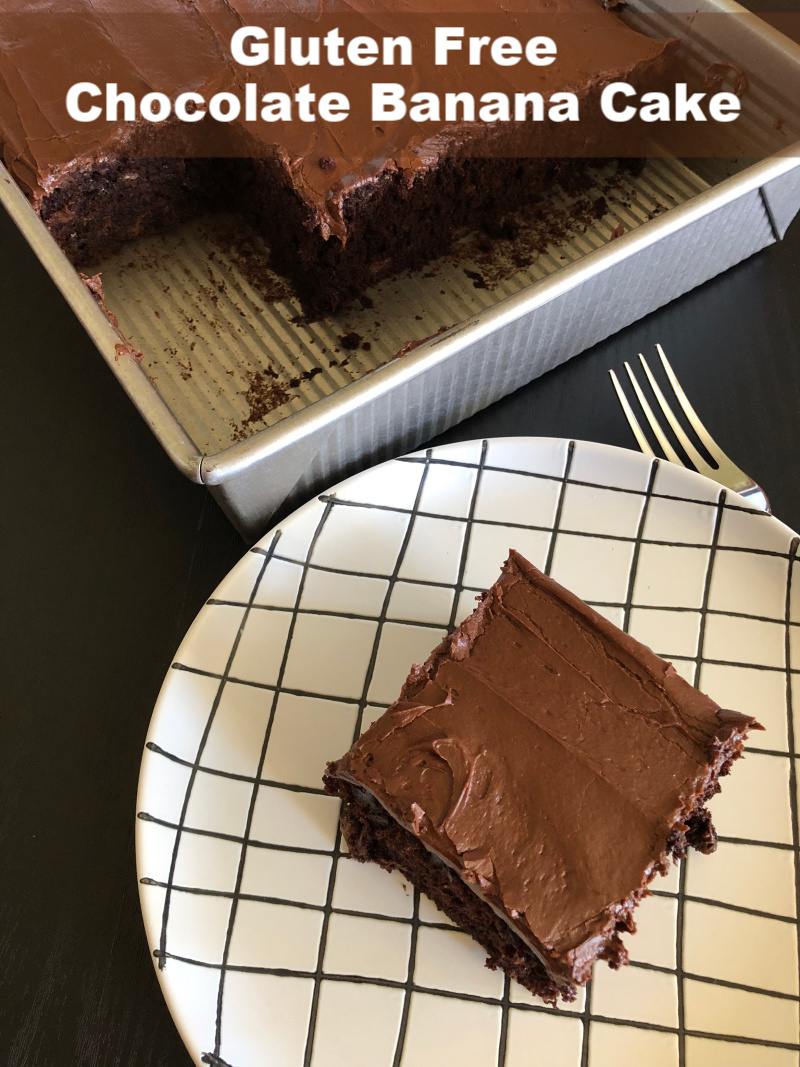 I am always looking for new ways to use up overripe bananas and what better way to use them then in a chocolate cake.
If your family is anything like ours there is almost always a banana or two on the counter that needs to be used up.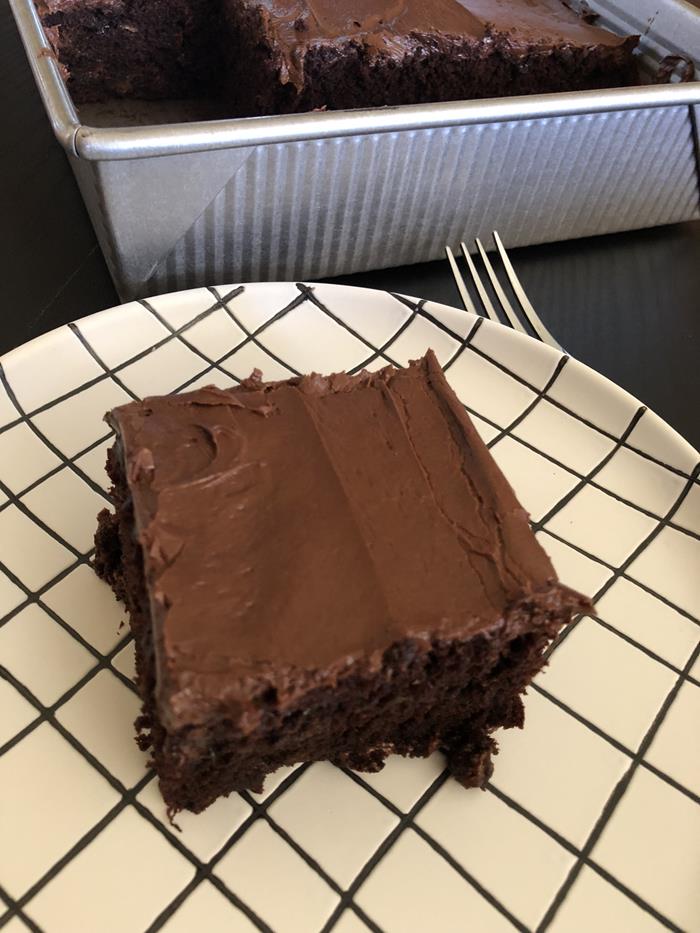 Gluten free banana bread, gluten free banana cookies, and banana baked oatmeal are all great ways to use up overripe bananas, but my family also loves it when I make chocolate banana cake.
Bananas and gluten free work well together. The flavor of the bananas and the added moisture of the bananas work well with the gluten free flours.
This cake really is so good that no one will know it is gluten free.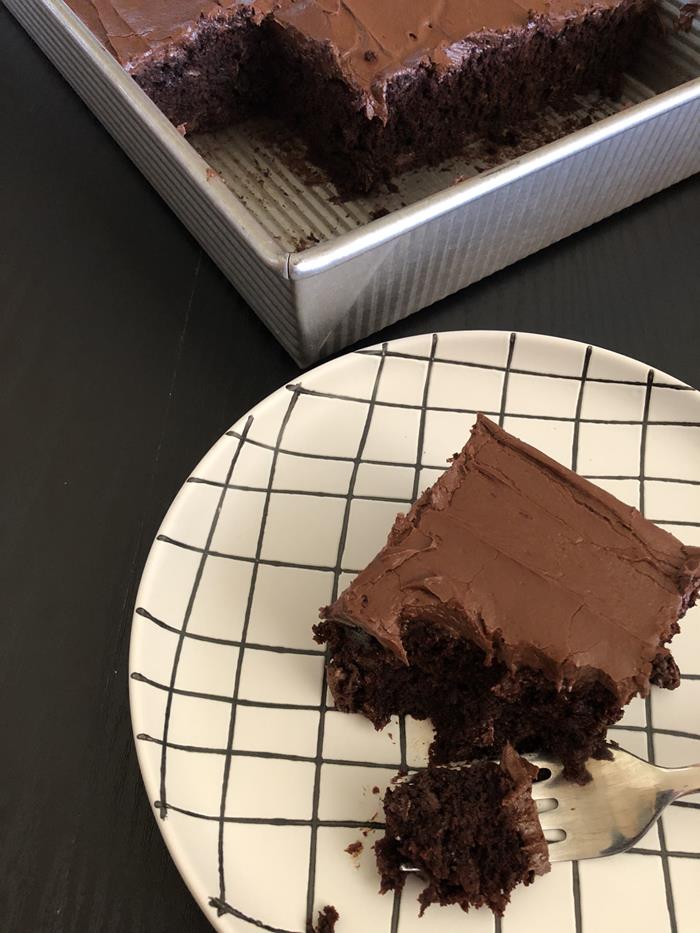 You don't have to frost this, but frosting makes cake even better. You could also use this same batter for cupcakes or a layer cake. No matter how you use this batter I think that you will love it.
Can you use a gluten free flour blend in banana cake?
The answer to that is mixed. When I share a recipe that uses individual gluten free flours it is because I have taken the time to make the recipe over and over again in order to get the ratios just right. I do this in order to have the best possible gluten free result.
In most recipes you can use a blend in place of the individual gluten free flours, but the results may not be the same. If all you have though is a gluten free flour blend that you love and you still want to make this cake, I say use the blend. If your blend has xanthan gum, like most do, be sure to leave out the gum in the recipe as well.
Yield: 24 servings
Gluten Free Chocolate Banana Cake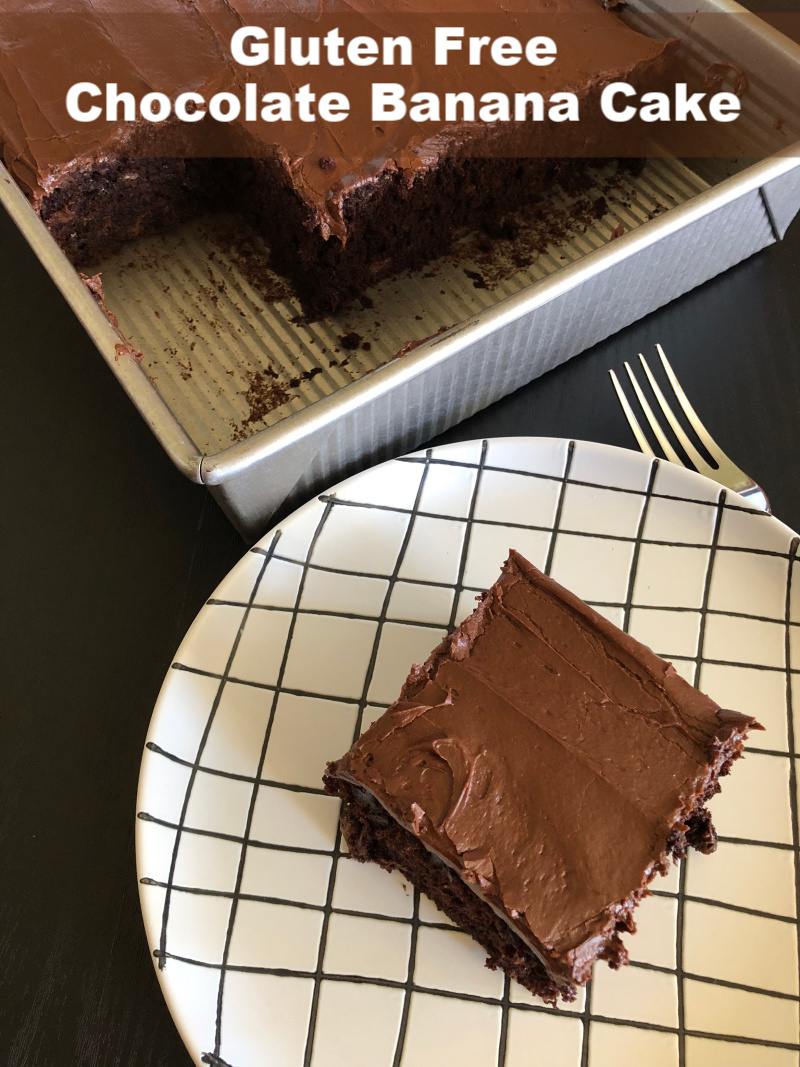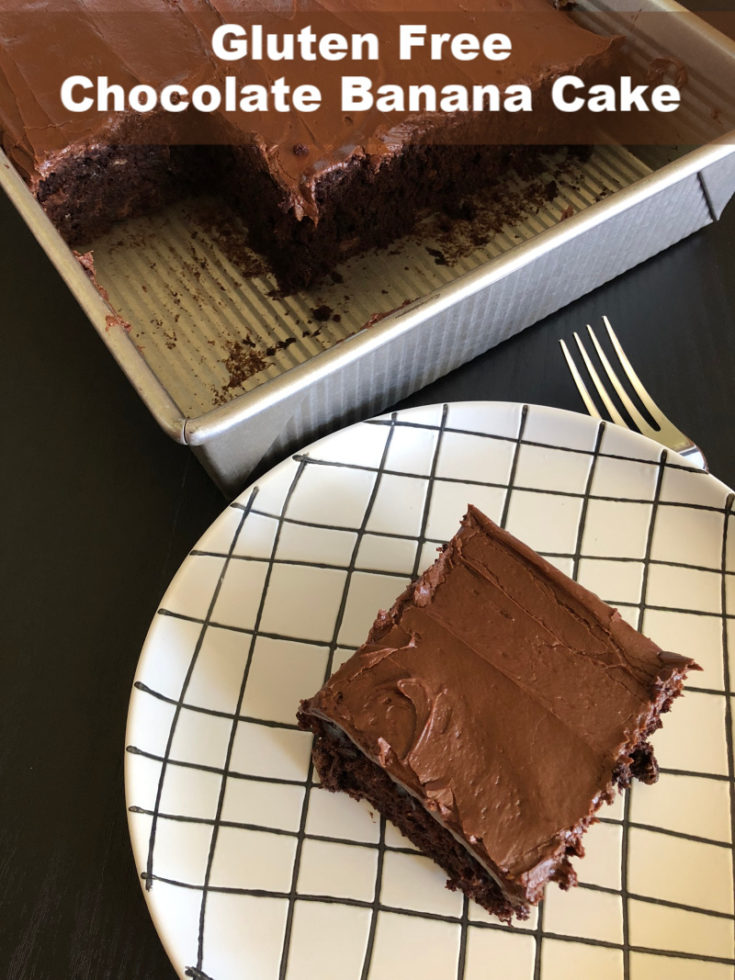 Gluten Free Chocolate Banana cake is an easy and delicious way to use up those overripe bananas.
Ingredients
3/4 cup white rice flour
1/2 cup potato starch
1/2 cup tapioca starch
1 teaspoon xanthan gum
1 cup dutch processed cocoa
2 teaspoons baking soda
1/2 teaspoon salt
5 large bananas, mashed
1 cup oil
1 1/2 cups brown sugar
2 eggs
1 teaspoon vanilla
2 cups gluten free chocolate chips
Frosting
1/2 cup butter, melted
2/3 cup baking cocoa
2 cups powdered sugar
1/4 cup milk or a little more for desired spreading texture
1 teaspoon vanilla
Instructions
Preheat oven to 350 degrees.
Grease a 9x13 cake pan. Set aside.
In a small bowl combine rice flour, potato starch, tapioca starch, xanthan gum, cocoa, baking soda, and salt. Set aside.
In a large bowl mash bananas. Stir in oil, sugar, egg, and vanilla, Stir until combined.
Stir in flour cocoa mixture and stir just until combined.
Stir in chocolate chips.
Spread batter into prepared pan.
Bake for 35-38 minutes or until toothpick inserted into the center comes out clean.
Let cool and then frost.
For frosting mix together all ingredients until smooth. This takes several minutes. Add a few teaspoons more milk if needed.