Need a quick and easy dinner? Ground Beef Taco Rice Dinner is a quick and easy recipe using a few basic ingredients.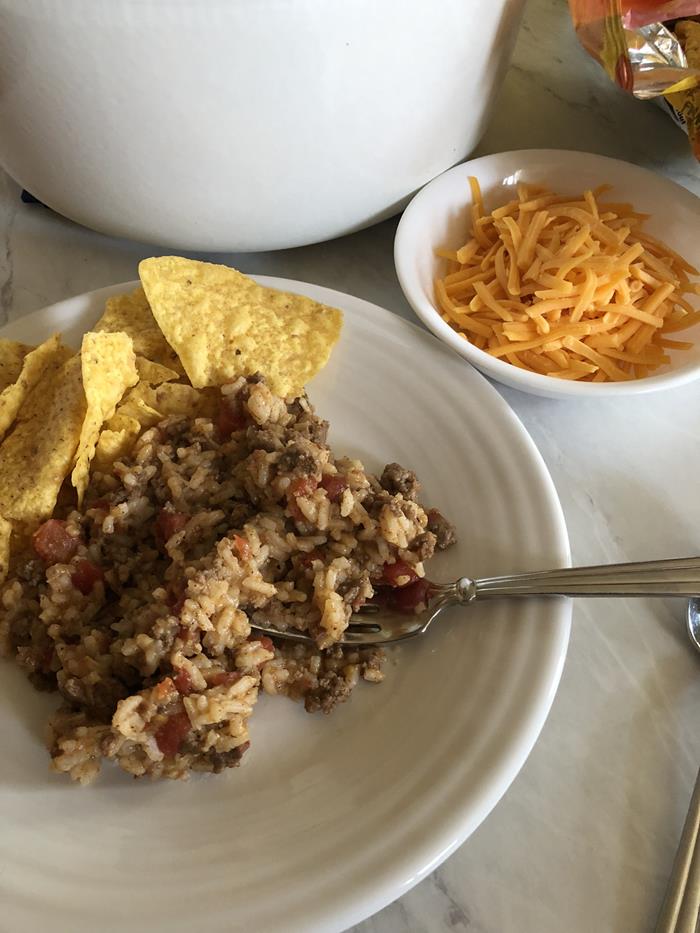 Years ago, in my early days of blogging, I did two weekly series. One featured ground beef recipes. Every week I would share a favorite recipe that used ground beef.
Every Monday during the fall and winter I would also share a favorite soup recipe for my Souper Monday series.
Readers loved those series because they were all simple everyday recipes.
I thought it would be fun to occasionally revisit some of those old recipes that I shared for those series.
Today we are starting with a simple ground beef taco rice. This isn't the prettiest of dinners, but it is so good! Even the picky eater in my family loves this one.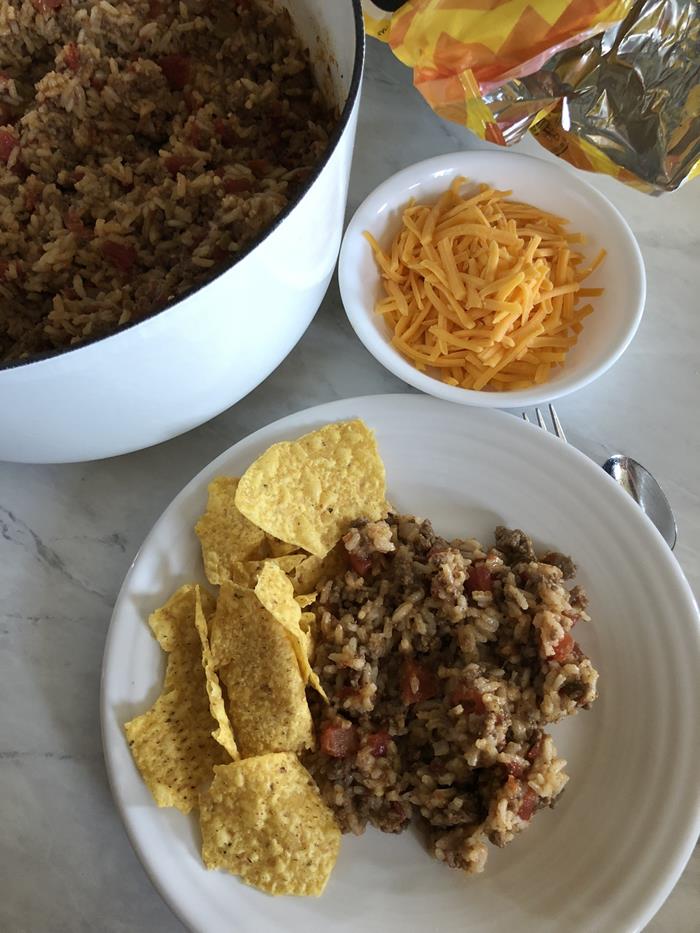 Mexican and Tex-Mex foods are some of our favorite meals because are easy to change up and everyone loves the flavors.
One of the best things about most Mexican type food is that it is normal food that is usually easy to make gluten free and dairy free.
This ground beef taco rice is an example of that. It is normal food and a normal recipe that just happens to be gluten free.
We serve this with cheese and sour cream, but if you are dairy free like my daughter is you can skip the cheese and sour cream and still have a delicious meal.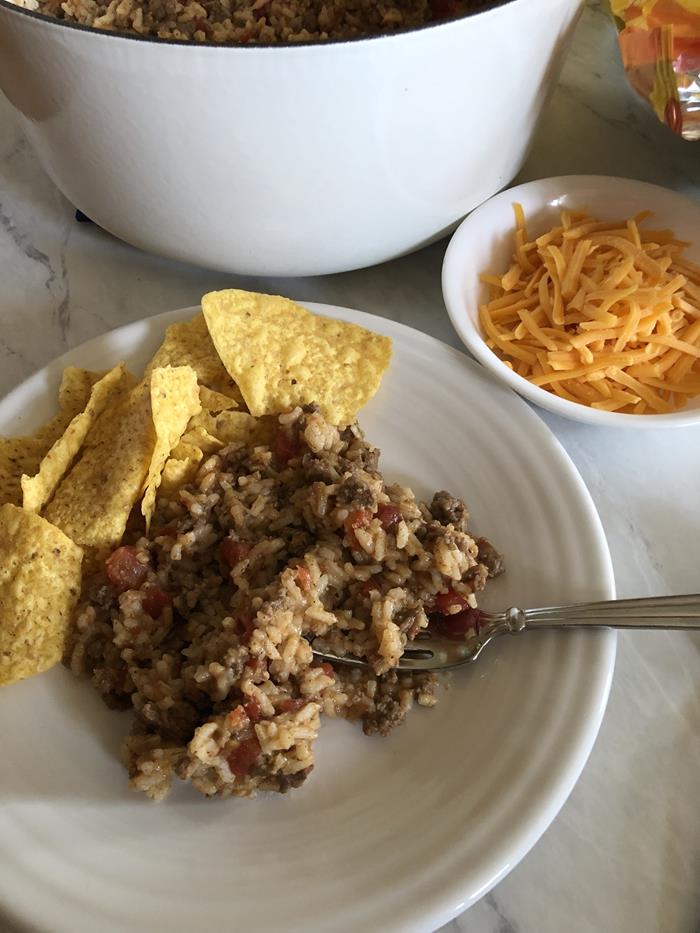 This taco rice dinner includes ingredients that you probably always have on hand.
ground beef
onion
canned tomatoes
taco seasoning
rice
salt
green pepper (optional)
Taco rice is also great leftover for lunch or dinner the next day. The leftovers even work well as a burrito type filling.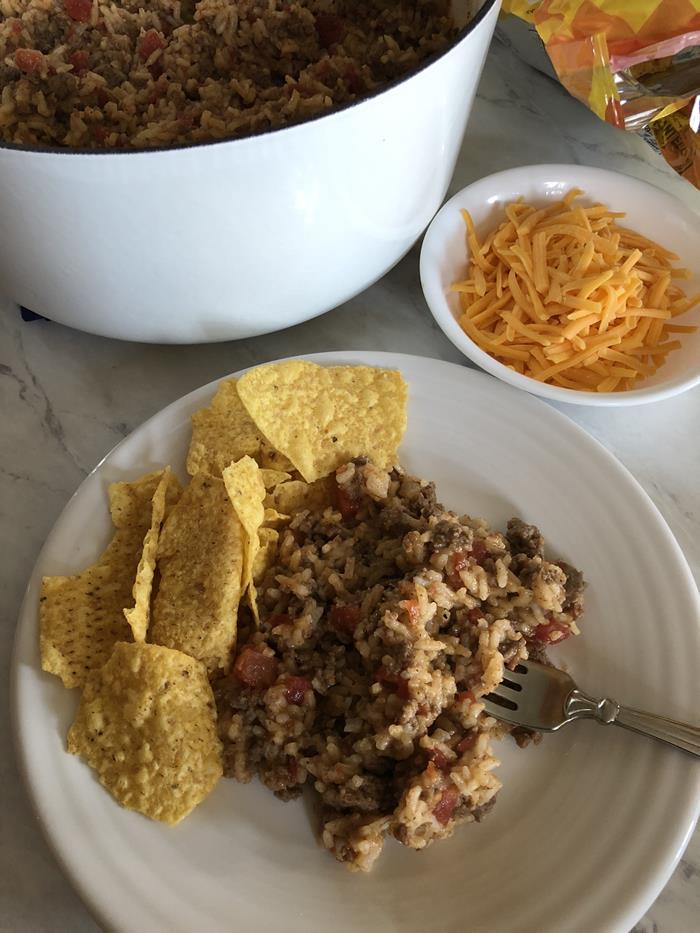 Yield: 6 servings
Ground Beef Taco Rice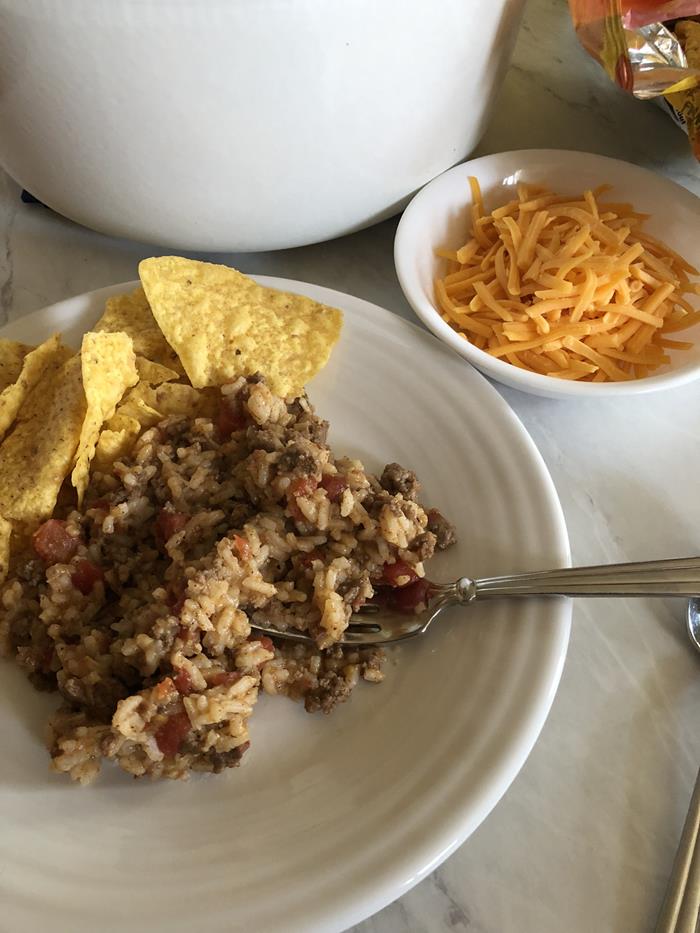 Ground beef taco rice is a quick and easy dinner using a few basic ingredients.
Ingredients
1 lb ground beef
1 onion, finely chopped
1 green pepper, chopped ( optional but good)
1 can diced tomatoes with green chilies (like rotel)
1 ¾ cups water
1 cup uncooked long grain rice
½ teaspoon salt
optional ingredients for serving: sour cream, chips, cheese etc.
Instructions
In a skillet cook ground beef, onions, and green pepper until meat is done and onions and peppers are tender.
Drain off any fat and add tomatoes with green chilies, water, rice, taco seasoning, and salt. Bring to a boil and then reduce heat to low. Cover and simmer for 15 minutes, stirring occasionally.
Uncover and cook 10 - 12 minutes more or until rice is done.
Optional: Serve with cheese, sour cream, and chips.
Original recipe posted December 2011. Updated October 2019.