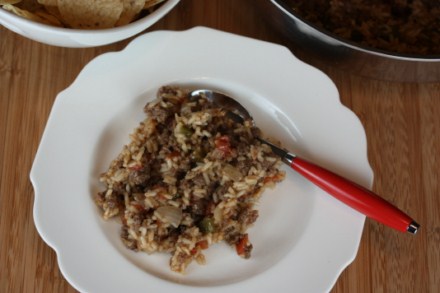 With all the holiday posts that I have done lately, my ground beef recipes and Souper Monday series have not been as regular as I had hoped, but after the first of the year, they will both be back as weekly features. I am really excited to continue both of these series next year.
Today though I do have another ground beef recipe for you and it is perfect for the busy holiday season. Ground beef taco rice dinner is so quick and easy to make. It contains pantry ingredients, and is great leftover as a burrito or enchilada type filling.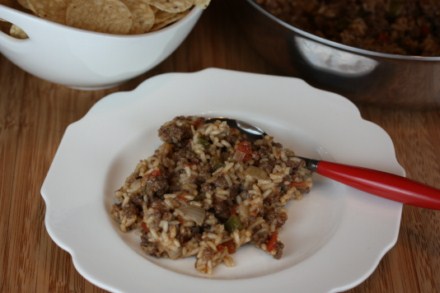 Ground Beef Taco Rice Dinner
1 lb ground beef
1 onion, finely chopped
1 green pepper, chopped
1 can diced tomatoes with green chilies (like rotel)
1 ¾ cups water
1 cup uncooked long grain rice
1 package homemade taco seasoning (or use homemade)
½ teaspoon salt
optional ingredients for serving: sour cream, chips, cheese etc.
In a skillet cook ground beef, onions, and green pepper until meat is done and onions and peppers are tender.
Drain off any fat and add tomatoes with green chilies, water, rice, taco seasoning, and salt. Bring to a boil and then reduce heat to low. Cover and simmer for 15 minutes, stirring occasionally.
Uncover and cook 10 or so more minutes or until rice is done.
Serve and enjoy!