These Gluten Free Chocolate Muffins are bakery style muffins made gluten free!
(I first shared this recipe back in 2010 when my kids were much younger. Even though my girls are much older, college aged actually, and can cook on their own just fine, I wanted to reshare this recipe. It is a great one!)
This recipe is one of my favorite gluten free recipes to make with kids. It is easy to make with just a few ingredients and kids love them.
These are not the healthiest of gluten free muffins. They are basically a cupcake without frosting, but they are so good!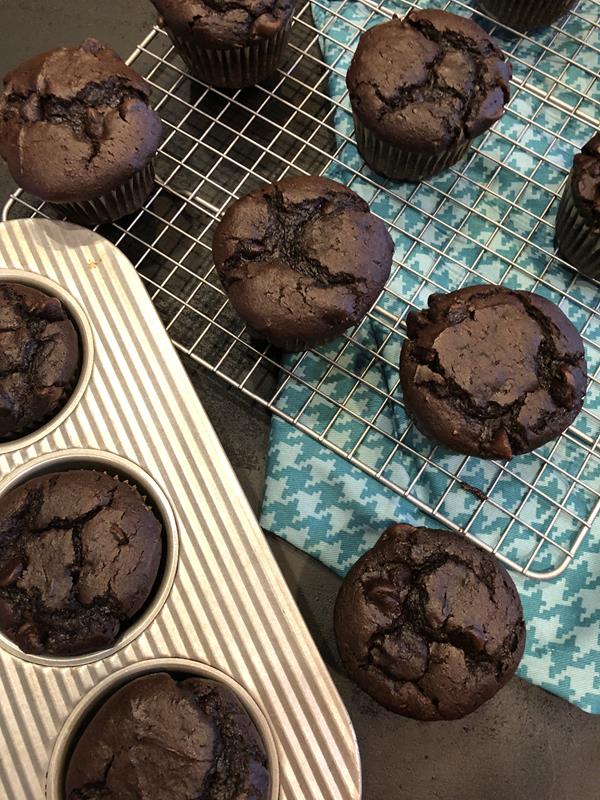 One of the things that I have missed since going gluten free is baking with my girls. Yes, they still help in the kitchen, but it is not the same.
My girls used to love baking, not only with me, but they had several recipes that they would make on their own. However, gluten free baking is more challenging and can be harder to turn over kids.
I have been trying to find at least a few recipes that are gluten free, but that are still easy enough for kids to make on their own. I decided to try and adapt an old favorite muffin recipe to make it gluten free.
I am happy to report that it worked great gluten free!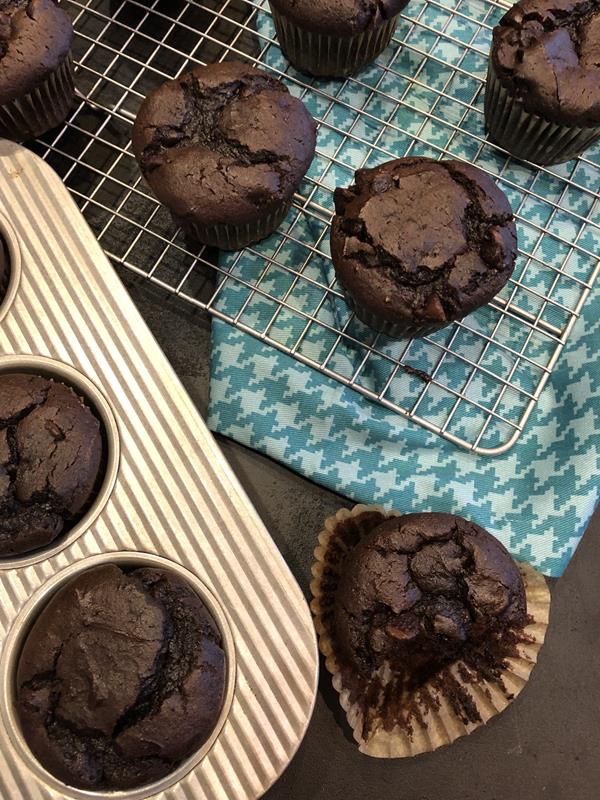 I was so happy that these turned out gluten free. Not all recipes work gluten free, but this one did. With one simple change.
I will admit that these are not the healthiest of muffins. In fact, they are really more of a cupcake/dessert than a muffin, but these make a great quick and easy gluten free recipe. We all need those once in a while.
And although these are not the healthiest of gluten free choices, it is a great recipe for cooking with kids. It will give them something easy, fun, and very good that they can make on their own, and for me that is important.
I made a few notes on the recipe about the options for make these gluten free so be sure to read those when making them.
Need more gluten free muffin recipes? Try one of these!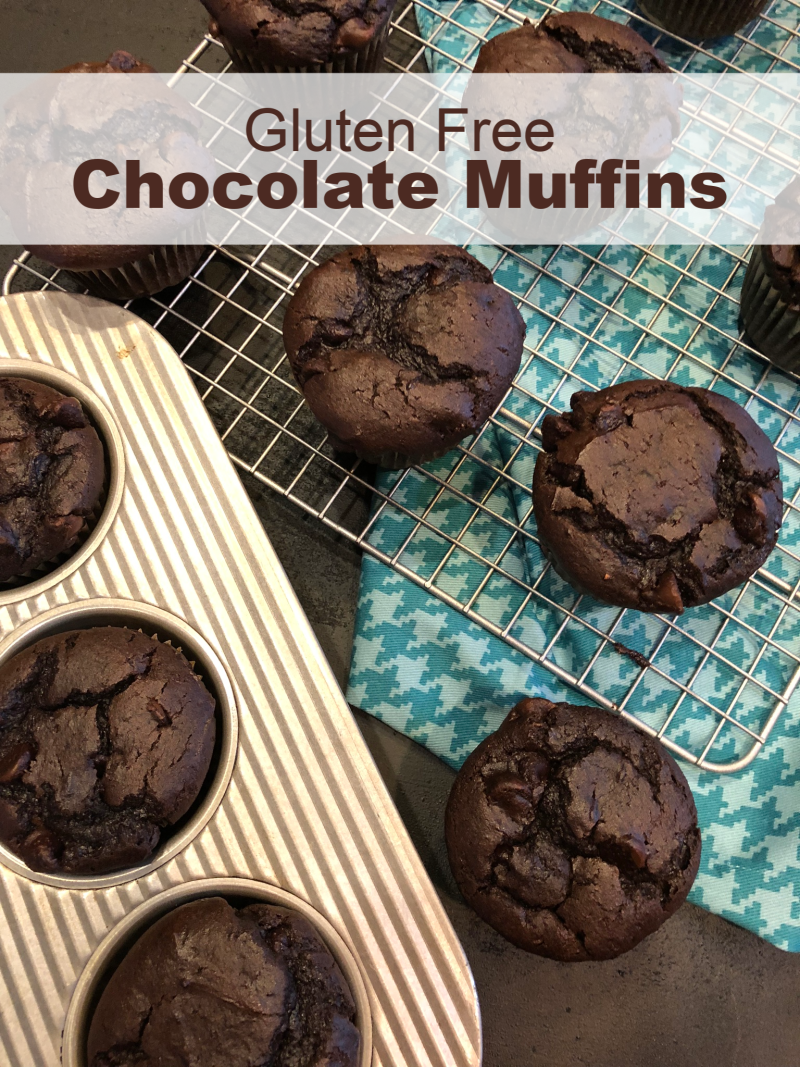 Yield: 18 muffins
Gluten Free Chocolate Muffins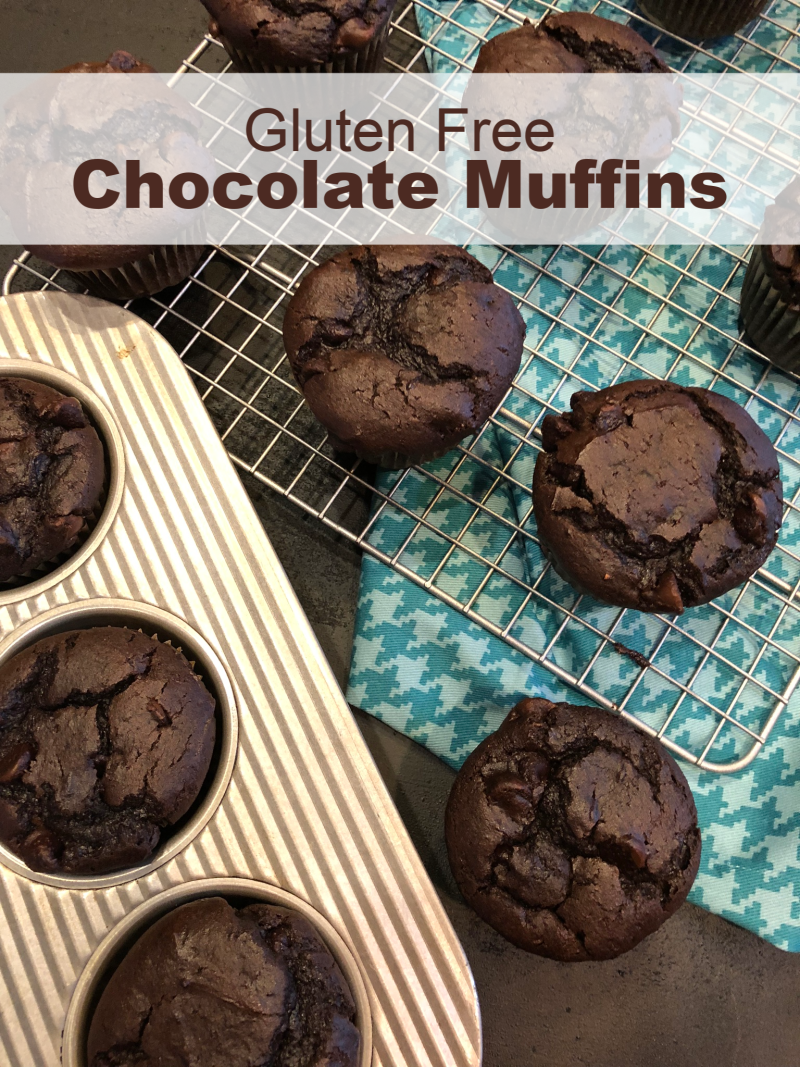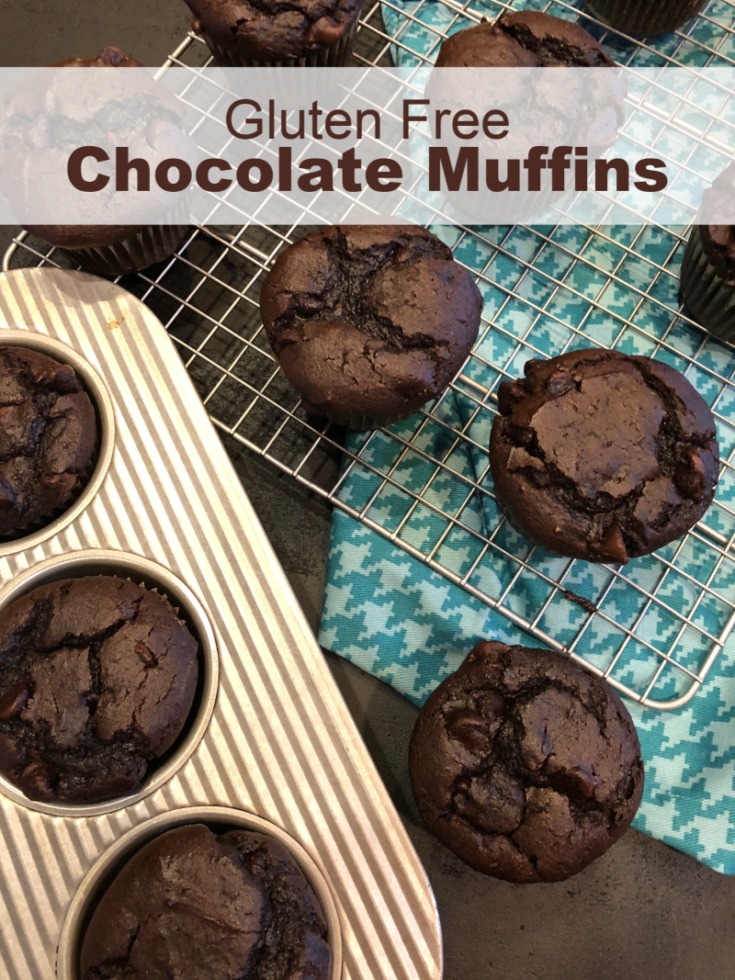 Bakery style muffins made gluten free.
Ingredients
1 gluten free chocolate cake mix ( I like the King Arthur gluten free cake mix. It needs to be a gf mix that makes a 9x13 pan.)
1 (3.9 ounce) package instant chocolate pudding ( Be sure it is a gluten free brand)
3/4 cup plain or vanilla yogurt
3/4 cup water
1/2 cup oil
3 eggs
2 cups gluten free chocolate chips
Instructions
Preheat oven to 400 degrees.
Lightly grease a muffin pan or line with muffin liners. This makes about 18 muffins. Set aside.
In a mixing bowl combine yogurt, water, oil, and eggs. Mix until well combined. Stir in cake mix and pudding mix. Mix just until combined.
Stir in chocolate chips.
Scoop batter into muffin tins filling each cup about 3/4 full.
Bake 20 -22 minutes or until toothpick inserted into the center comes out clean.
Let cool in pan for 5 minutes then remove to wire rack to cool.
These muffins will store for a couple of days. They also freeze well.
Notes
I like to use King Arthur gluten free chocolate cake mix, but any gluten free cake mix should work as long as it is for a cake that fits a 9x13 pan.
Most boxed pudding is gluten free, but be sure to read the label and research it for yourself to make sure it is safe for your family. Some gluten free people don't like to eat instant pudding mixes. Do what you feel comfortable with.
First posted June 14, 2010. Updated March 11, 2019.