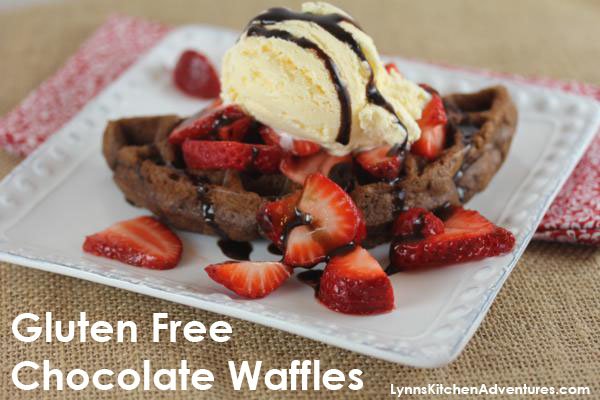 Gluten Free Chocolate Waffles. Do you serve these for breakfast, lunch, dinner, or dessert?
If you serve them with ice cream, I guess they are a dessert for sure. But if you can have peanut butter or nut butter, spread a little on top of these, and you will have the perfect breakfast or lunch. They are also good topped with fruit and whipped cream. Delicious!
My kids love them for dessert with fresh strawberries, ice cream, and chocolate sauce. Really don't those look good. Who would know those are gluten free?!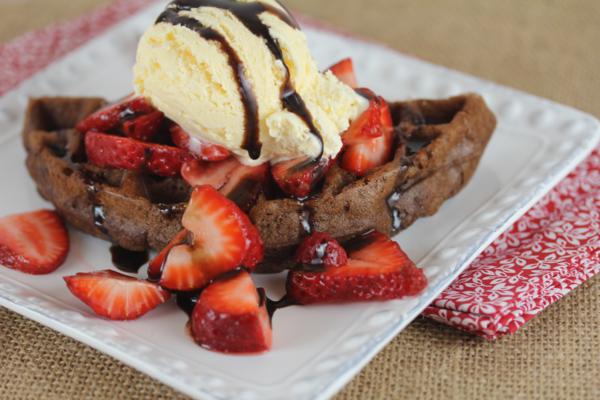 Really you can't go wrong any way you serve these. They are so good. Gluten Free Chocolate Waffles are a gluten free food that no one will think twice about being gluten free.
Gluten Free Chocolate Waffles
3/4 cup rice flour
1/4 cup potato starch
1/4 cup corn starch
1/4 teaspoon xanthan gum
3 tablespoons sugar
1/3 cup baking cocoa
1 teaspoon baking powder
1 teaspoon salt
1/2 teaspoon baking soda
3 eggs
1/4 cup butter, melted
1 teaspoon vanilla
2 cups buttermilk
3/4 cup chocolate chips
Heat waffle iron according to directions
In a bowl mix together eggs, vanilla, butter, and buttermilk.
Add rice flour, potato starch, cornstarch, xanthan gum, cocoa, sugar, salt, baking powder, and baking soda. Whisk just until well combined.
Stir in chocolate chips.
Cook on waffle iron according to directions.
Serve with fruit for breakfast or with fruit and ice cream for dessert.
For more gluten free recipes see Gluten Free Wednesdays.