These gluten free dairy free chocolate muffins are so easy to make and so good that no one will know that they are gluten free and dairy free!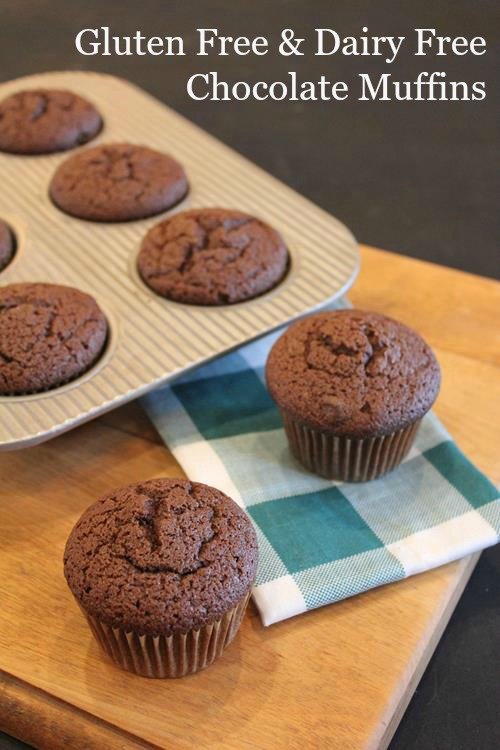 These are a new favorite muffin at our house! We have been making them and freezing them because they work great for busy mornings and lunch boxes.
These gluten free dairy free chocolate muffins are so good that my gluten eating dairy eating teenage son loves them. They are that good.
When I first made these I thought that they would be dry, but the oil in them actually kept them very moist. We couldn't really tell a difference between these and the butter version.
Gluten Free Dairy Free Chocolate Muffins
¾ cup white rice flour
½ cup sweet rice flour
¼ cup cornstarch
½ cup cocoa powder
¾ teaspoon baking powder
¼ teaspoon baking soda
½ teaspoon salt
1 cup oil
¾ cup sugar
¾ cup brown sugar
3 eggs
1 teaspoon vanilla
1/2 cup coconut milk (This is coconut milk beverage in the dairy section, not canned coconut milk)
1 teaspoon lemon juice or vinegar
1 cup gluten free dairy free chocolate chips
Preheat oven to 375 degrees.
Line muffin tins with liners or grease well.
In a small bowl or measuring cup combine coconut milk and lemon juice. Set aside.
In a bowl whisk together rice flours, cornstarch, cocoa powder, baking powder, baking soda, and salt. Set aside.
In a large bowl mix together oil, sugar, and brown sugar. Mix for 2-3 minutes or until well combined.
Add eggs one at a time.
Scrape down sides of the bowl as needed.
Add vanilla.
Add ½ of the flour mixture. Mix just until combined.
Add coconut milk.
Add remaining flour mixture and mix just until well combined.
Stir in chocolate chips.
Scoop batter into prepared muffin cups filling each cup about ¾ full.
Bake for 18-20 minutes or until toothpick inserted into the center comes out clean.
Cool on wire rack.