Last week I traveled to Minneapolis to be part of a Gluten Free Summit at General Mills. I had a lot of fun and I learned so much.
I am so glad that a company like General Mills is taking an interest in the gluten free world and that they are offering more and more products that are gluten free.
General Mills truly seemed to listen to our thoughts, ideas, and opinions and that was encouraging to see. I hope more and more companies start taking an interest in gluten free.
I got to meet new friends and spend time with gluten free bloggers that have all been dealing with gluten free much longer than I have. I learned so many new tips and ideas from just spending time with them. I wish we could have spent more time together.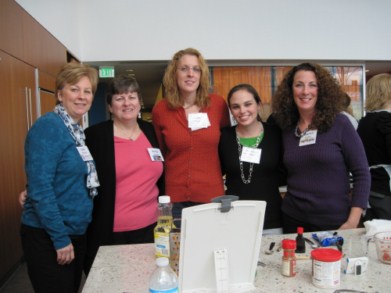 Linda, Shirley, Me (yes I am tall), Vanessa, and Maureen
We got to spend some time cooking in the Betty Crocker test kitchens, which are amazing. I only wish I had counter space like they do. 🙂
If you looking for more gluten free ideas and recipes, I highly recommend visiting the sites of the other bloggers that attended.
Cinde of Gluten Free Taste of Home
Linda of Gluten Free Homemaker

Vanessa of Celiac Princess
When I got home I realized that I had only taken a few pictures. So, I am sorry for the poor quality of the few pictures I have.